One Month in a Floating Village
A team of UC Davis engineering students and a nonprofit in Cambodia are working together to clean up the water in the Tonle Sap Lake, one of the world's most productive freshwater fisheries. The three mechanical engineering undergraduates — Joanne Wu, Rachel Muradian, and Yao Guan — spent the month of August installing sanitation systems they refined at UC Davis on the largest lake in Southeast Asia.
These devices will provide floating villages with individual septic systems that can be installed in homes. Currently the disposal of human waste goes straight into the lake that provides millions of people in this region with their homes, food and livelihood.
Staying healthy when your life is on the water
Imagine almost 100,000 people living in clusters of densely populated floating villages with houses and schools built on top of large raft-like structures. While the inhabitants have created communities on the water, they don't have the luxury of electricity or plumbing. Fecal matter dumped into the lake festers and grows harmful bacteria in the same water that people drink, cook and bathe in.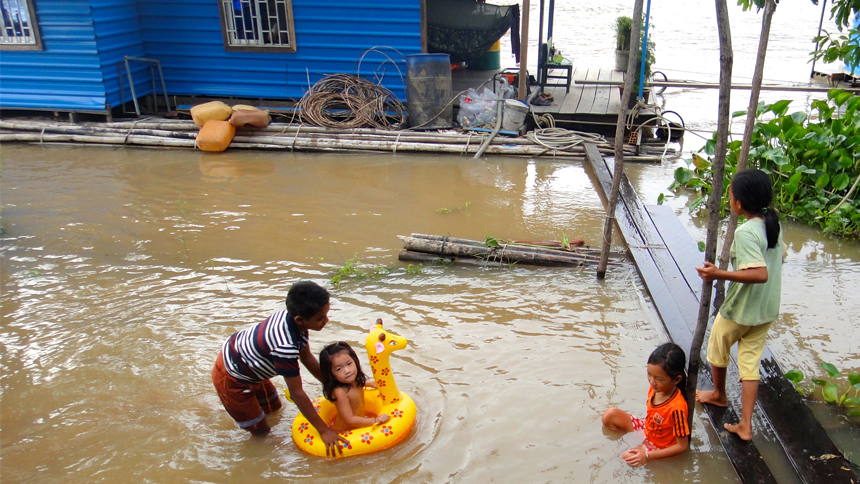 Children play in the water surrounding their floating homes. The residents don't have a plumbing system, so they dump untreated human waste into the water, causing the formation of harmful bacteria like E. coli. (Rachel Muradian/photo)
Jason Moore, lecturer in the UC Davis Department of Mechanical and Aerospace Engineering, is the advisor to the student team working on the sanitation project. He says now that so many people live in the floating villages, the lake can't absorb this volume of human byproducts.
"In the past when we didn't have as many people on the planet this wasn't an issue," he says. "But as soon as you get this density of people you have problems. We're seeing a lot of stomach-related illnesses due to giardia and E. coli."
This form of waste disposal not only hurts the humans living on the lake, but also disrupts the health of the lake's ecosystem. Tonle Sap has more than 150 fish species, the world's largest freshwater snake population, and is home to several globally threatened birds. The Mekong giant catfish also lives in the lake and is one of the largest freshwater fish in the world. And in 1997, Tonle Sap Lake was designated a UNESCO Biosphere Reserve.
During monsoon season Tonle Sap, which flows into the Mekong River, more than quadruples in size, creating a huge wetland that sustains the region and country of Cambodia. According to Conservation International, Tonle Sap and Cambodia's inland fisheries produce 500,000 tons of fish a year. This fish production accounts for more than two-thirds of Cambodia's protein consumption and is an estimated $2 billion industry.
---
About the Global Learning Hub at UC Davis
The Global Learning Hub is the nexus of global learning at UC Davis. The hub's network of domestic and international academic programs, global experiential learning, and living and leading opportunities develops capacity for all UC Davis students—undergraduates, graduates, and professional students—to engage with global issues, becoming the next generation of leaders to address challenges that affect us all. Search all global learning opportunities available at UC Davis.
As a part of Global Affairs at UC Davis, Study Abroad aims to inspire global curiosity, understanding, and engagement.
Primary Category
Tags