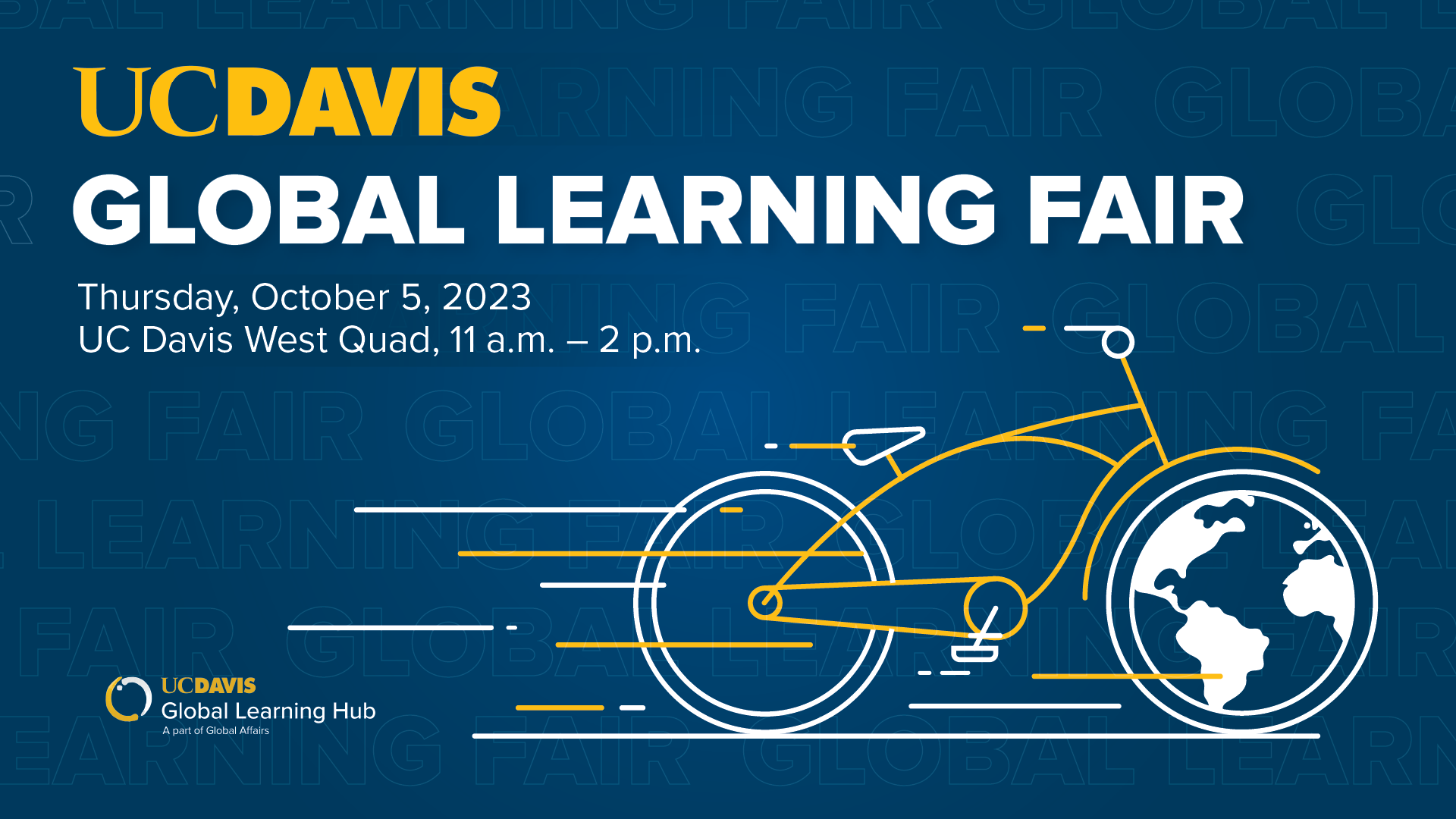 You're Invited!
Join us at the UC Davis Global Learning Fair, October 5, 2023, to learn about the variety of global opportunities and funding resources available to you. Hosted by the Global Learning Hub, the fair is comprised of in-person global leadership opportunities, study abroad programs, global internships, post-graduate global opportunities, funding for global learning programs and more!
---
At the Global Learning Fair, students can:
Hear from globally engaged students about their experiences. 

Learn from advisors, faculty, and other students about study abroad, internships, post-graduation, on-campus and virtual opportunities that will meet individual needs.

Learn why it's important to be globally engaged

.
---
Global Learning Fair Schedule and Sessions
Global Learning 101
10–11 a.m., Memorial Union, DeCarli Room, 2nd floor
Through the Global Learning Hub, every UC Davis student can find global learning opportunities available on campus, in the region, virtually and internationally. Come hear from our Advising and Outreach Coordinator about the various experiences in global learning you can participate in— including study abroad, internships, research, workshops, mentorship programs and more! 
Funding for Study Abroad
12:30–1:30 p.m., Memorial Union, DeCarli Room, 2nd floor
Are you interested in study abroad but are afraid you can't afford it? Come to our Financial Aid for Study Abroad workshop and learn how financial aid works for students planning to go abroad in one of our programs. We will show you where to find all of our program budgets and how they are structured so you can determine what is included in the program fees. We will also share online tools to help you budget and talk about scholarships available for study abroad.  
Interning Abroad: From Start to Depart!
2–3 p.m., , Memorial Union, DeCarli Room, 2nd floor
Are you interested in learning more about available internship options that can help you gain valuable work experience? Come learn about internship opportunities that will help you become competitive in your career and job search. This workshop will cover various internship program options, review funding options, help you identify your next planning steps and timeline, and address your questions and concerns.