Program Overview
Start Date:  June 26, 2023   End Date:  August 25, 2023
The UC Davis Widening Circles program enables students to explore new pathways for learning, sharing, connecting, and acting with purpose and humility in the face of global inequality and injustice.
The program includes an online curriculum, guidance from experienced mentors, peer-to-peer learning, personal reflection, multimedia storytelling and the option to pursue a virtual or in-person internship from a global network of 200+ social impact organizations.
This program will be taking place during Summer 2023 through a collaboration with Omprakash, a Seattle-based global non-profit.
We invite you to submit your preliminary registration via Omprakash (free and no commitment) so that you can learn more about the program and begin browsing internship and volunteer opportunities.
Program Benefits
Online learning, mentorship, and community

 – the Omprakash EdGE online learning platform is designed to help you reflect on the complexities of striving for justice across differences of culture and power and to examine your own location within global flows of power and resources.

Digital storytelling to document your experience 

–

each student will create a series of multimedia blog posts that eventually form a Digital Portfolio that they can share with host organizations or others; students will present their work at a live Digital Symposium at the end of the program.

Peer-to-peer learning, webinars, and periodic discussion groups

 to support community-building and critical reflection.

Optional: Social impact internships or volunteer opportunities

–

 Joining this program will enable you to access online or in-person volunteer and internship opportunities with over 200 Omprakash partners in 50+ countries. We encourage you to pursue an internship or volunteer opportunity in conjunction with your participation in this program, but it is not required to do so. 

Please note: Internship or volunteer opportunities found through the Omprakash partners network are not under control or supervision of UC Davis or Global Affairs.
Receive a certificate in Critical Global Engagement.

UC Davis students who complete an internship, can apply for and receive 

Transcript Notation

 through the Internship and Career Center

.
Eligibility
Open to undergraduate and graduate students. 
Program Cost
$500 program fee, paid directly to Omprakash. Students who elect an in-person internship or volunteer experience will have out-of-pocket expenses, including transportation to/from site and daily estimated costs which is listed for each internship/volunteer experience.
Program Funding
Thanks to the generosity of the colleges and our donors, the Global Learning Hub is able to offer financial awards to committed UC Davis undergraduate and graduate students participating in the Widening Circles Program. Students must register for the program before submitting a funding application. All UC Davis students are strongly encouraged to apply for the following funding opportunities:
$500 full program fee scholarships.

$500–$2,000 travel grants for students who add an in-person internship or volunteer position in conjunction with program

.
To be considered for the award, students must complete the registration process through Omprakash as well as the funding application through the UC Davis Experiential and Intercultural Programs Portal and respond to the prompt: How does the UC Davis Widening Circles: Global Social Impact Program relate to your personal, professional or academic goals? (500-word limit; please remember to include a title).
Applications will be considered on the strength of the essay, as well as financial need, as demonstrated on the FAFSA or CA Dream Act application.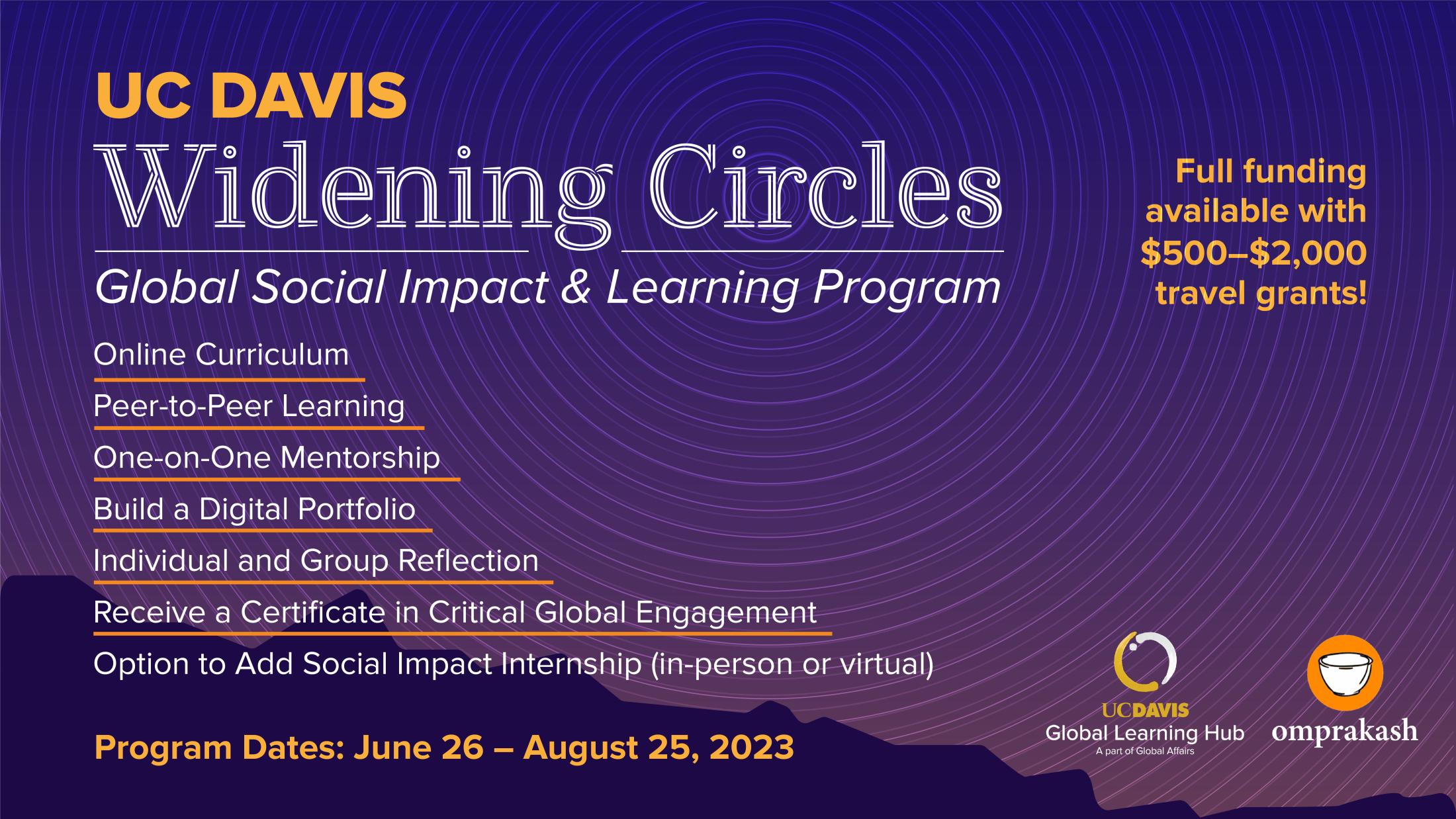 Registration Steps and Funding Timeline
Register for the program through the Omprakash Portal: After January 31
Apply for funding through the UC Davis Experiential and Intercultural Programs Portal: After February 13

Registration and Funding application extended deadline: April 6, 11:59 p.m.

$500 Conditional Funding Offers Sent: April 7

Conditionally selected students will need to complete the following program requirements by April 16 in order for funding to be confirmed:

Complete the Omprakash profile

Make mentor selections

Confirm participation

Optional: apply for 2-3 in-person internship or volunteer opportunities, if wanting to be considered for a travel grant

Attend mandatory program orientation on May 4

Travel grant offers sent: April 21

Conditionally selected students will need to complete the following program requirements by May 5 in order for funding to be confirmed:

Accept and confirm internship or volunteer opportunity

Complete and submit budget template
Program Timeline
| | |
| --- | --- |
| SUMMER 2023 PROGRAM | DATES |
| Pre-Program Orientation | May 4 |
| Program start | June 26 |
| Unit 1 (pre-program information) deadline | June 25 |
| Discussion Group Call #1 | July 5, 3-4 p.m. PST |
| Unit 2 deadline | July 7 |
| Unit 3 deadline | July 21 |
| Discussion Group Call #2 | July 26, 12-1 p.m. PST |
| Unit 4 deadline | August 4 |
| Unit 5 deadline | August 18 |
| Program symposium | August 23, 12-1:30 p.m. PST |
| Program end | August 25 |
---
Contact Information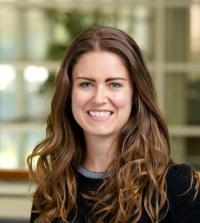 Chelsey Hawes
Program Coordinator, Experiential and Intercultural Programs
Global Learning Hub, Global Affairs
chawes@ucdavis.edu
Tags