UC Davis Scholarship Winners Advance Global Education Through Critical Language Learning and Public Service
This year, the Donald A. Strauss Scholarship Foundation has awarded two UC Davis students $15,000 each to develop community development projects both at home and abroad. Six UC Davis students—the most ever—have also received Critical Language Scholarships from the U.S. Department of State to help master critical non-Western European languages through cultural immersion programming.
The Critical Language Scholarship Program provides U.S. students with comprehensive funding to study and master foreign languages that are critical to national security and economic prosperity. Language learners gain the equivalent of one year of collegiate level study in the 8–10 week program. 
2021 Critical Language Scholarship Recipients
This summer, six fully funded UC Davis undergraduate and graduate students will be completing their cultural and educational exchange programs:
Marium Khan (Urdu)

—undergraduate cognitive science major, India and South Asia studies minor, 

College of Letters and Science

Camille Randolph (Arabic)

—undergraduate international relations major, global studies minor, 

College of Letters and Science

Alisha Singh (Punjabi)

—undergraduate political science–public service and s

cience & technology studies double major, 

College of Letters and Science

Jason Sutherland (Japanese)

—undergraduate animal science and Japanese double major, 

College of Agricultural and Environmental Sciences and College of Letters and Science

Aron Tillema (Arabic)

—Ph.D. student in religion focusing on Ancient Mediterranean religions, 

College of Letters and Science

Sunny Yan (Chinese)

, Ph.D. student in history focusing on modern Chinese history, 

College of Letters and Science
Among these students, two are pursuing Arabic languages studies and four are studying Chinese, Japanese, Punjabi, and Urdu. Participants are expected to continue their language study beyond the scholarship period, and later apply their critical language skills in their future professional careers.
UC Davis students interested in pursuing these funding opportunities are encouraged to contact the Undergraduate and Prestigious Scholarships Office.
2021 Donald A. Strauss Scholarship Recipients
A Well for All Seasons
This year, two UC Davis students will also be demonstrating the value of local and global public service through scholarships from the Donald A. Strauss Foundation, which provides funding opportunities for high-impact student projects in public service or social change. Projects are carried out between the end of the sophomore or junior year, and the spring of the following year.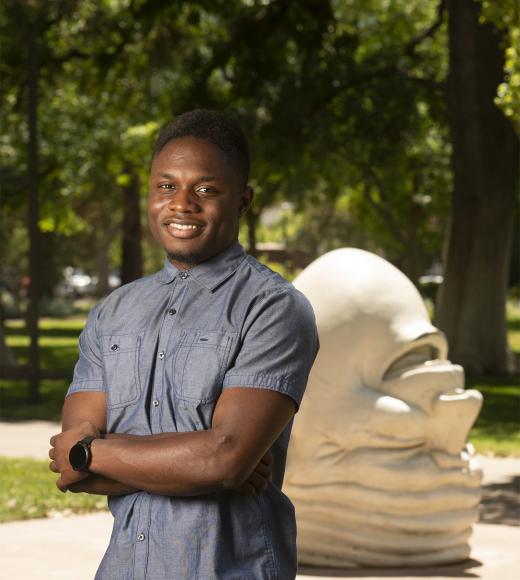 Thanks to this award, Chidubem Nnaji, a civil engineering major and construction management minor in the College of Engineering, will see his solar-powered water well project through to completion. The water well will serve the rural community in Nigeria where Nnaji was born and raised.
"Amurri is a rural community in the Enugu state of Nigeria," says Nnaji. "Because of mass poverty, residents travel five to seven miles a day in order to get usable water. My project aims to provide readily accessible clean and safe water, remove the stress and risk factors associated with traveling long distances for water, and educate families, teachers, and young students about the importance of exercising sustainable water practices."
Nnaji says he'll be able to remotely oversee installation of the machine-drilled borehole for accessing clean water in the local aquifer. By using solar panels for power, the groundwater will be pumped up to storage tanks that connect to taps for ease of use by local residents. Because the majority of his family still resides in Nigeria, Nnaji predicts that supply chain and infrastructure concerns will be minimal—he plans to directly work with the Igwes (leaders) in Amurri to ensure equitable access and successful completion of the project.
"It is such an honor to be awarded this opportunity, it is very humbling to know that my work will impact the lives of so many—especially since I could have easily been in the same situation," he says. "I will return for the public commencement of the project in December when things will be officially open to the public and the resources for the classroom curriculum will be disseminated to the teachers."
Nnaji decided to include a curriculum component to ensure that the project makes a public impact beyond simply meeting the residents' water needs. He hopes that the solar-powered well will adequately serve the community over the next decade and increase knowledge capacity around sustainable practices.
"The best way to communicate a message of sustainability across generations is through the children," he says. "The children are more welcome to new ideas and the ones to inherit the benefits of the project as they age. I also hope to pique their interest into the sciences. For me personally, the reason I got into civil engineering was on account of a simple trip to the Bay Area, where I saw the skyscrapers for the first time. Similarly, my goal is to have the physical structure pique the interests of the children so that too can blossom into higher educational goals for the future."
Addressing Local Health Inequities
Through the Donald A. Strauss scholarship, Rishi Sharma, a biochemistry and molecular biology major in the College of Biological Sciences, secured funding to continue developing a free endocrine specialty clinic at Imani, a UC Davis student-run clinic serving socioeconomically disadvantaged residents of the Oak Park community in Sacramento.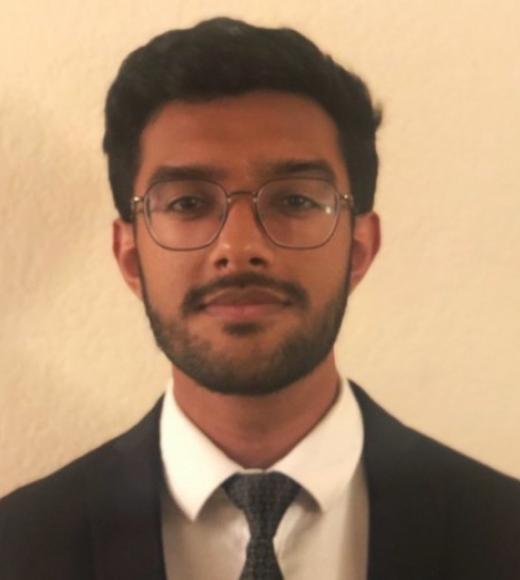 "Of the 250 annual patients that Imani sees, over half are diabetic," says Sharma. "To address the alarming prevalence of diabetes seen at Imani and in the rest of Oak Park, I am launching an endocrine clinic to provide allopathic services and fill in the voids created by systemic racism in health care."
Sharma plans to have volunteer endocrinologists from UC Davis Health and potentially other medical centers provide high quality medical care to residents—along with Imani teams helping patients apply for financial assistance programs to secure high-cost medications and holistic lifestyle and nutrition coaching focused on diabetes prevention.
"After arriving from Dubai, within my first week in this country it became clear that the principles of liberty that the U.S. is founded on are selectively removed from entire Black, Hispanic, and Indigenous communities," says Sharma. "After joining Imani Clinic and learning more about racial issues in health care, I decided to start the diabetes clinic because there was such an urgent need for specialist care for the Black community in Oak Park."
Sharma says that a secondary goal of the clinic is to expose volunteers—whether students or physicians—to the complexities of providing care to a culturally and racially diverse community. Both the services that the diabetes clinic provides as well as the larger support role the clinic plays in the community are extensions of Imani Clinic's goal of fostering the faith within each patient to know their health care needs will be met.
"In the future, I hope to extend this passion by learning more about AI technologies and how they can be leveraged to accelerate metabolic research and improve health care outcomes for humanity," he says.
---
About the Global Learning Hub at UC Davis
Through the Global Learning Hub, each and every UC Davis student can find global learning opportunities available on campus, in the region, and across all seven continents. The hub's network of local and global academic, experiential, and leadership programs helps develop capacity for undergraduate, graduate, and professional students to engage with global issues and make a difference in the world as the next generation of global problem solvers. Search global learning opportunities across UC Davis.
As a part of Global Affairs, the Global Learning Hub aims to inspire global curiosity, understanding, and engagement.
Primary Category