Global Aggies: Serving Nicaraguan Students with Special Needs
Each year the Blum Center for Developing Economies, within the Global Learning Hub—Global Affairs, partners with the UC Davis Undergraduate Colleges to select, mentor, and sponsor a cohort of students to conduct fieldwork on poverty alleviation, inequality and international development through the Blum Summer Fellowship in Poverty Alleviation Through Action (PATA) award programs.
This in-country experience provides Blum Fellows with the quintessential opportunity to implement innovative and humanitarian hands-on research and service work. In summer 2019, Laura Oelsner, a biomedical engineering major in the College of Engineering, was one of the selected Fellows who had this experience.
What set her application apart was the programming she proposed: a community development project in partnership with the Worldwide Child Relief Foundation (WCRF) focusing on special needs and technology education in the small town of La Calle Real de Tolapa, Nicaragua.
"Volunteering abroad is something I had been wanting to do for several years," says Oelsner. "Thanks to the Blum Center and WCRF, I was able to make it happen."
Inclusive Instruction at Play
In Nicaragua, many schools are unable to accommodate students with special needs, making it next to impossible for these students to attend classes. However, because Oelsner already had volunteer experience as an adaptive ski instructor for people with disabilities, she was an ideal fit to help lead weekly WCRF classes.
Most days, Oelsner helped instruct kids and adults with physical and intellectual disabilities. Laura also made home education visits to play games and practice writing and math with students who were unable to travel to the community center.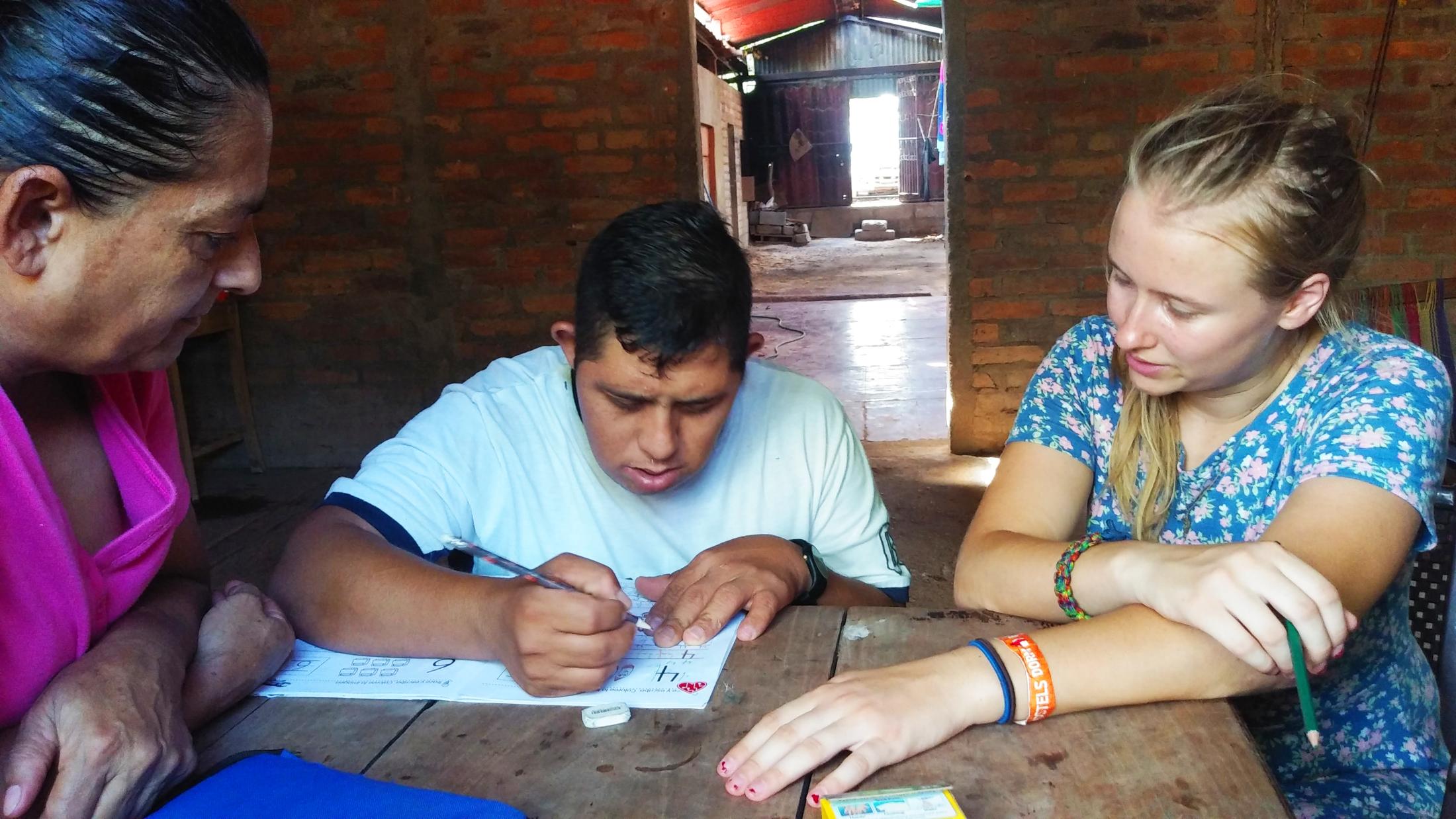 "I loved seeing the progression of the students I worked with on home visits," she says. "One student who had trouble writing and didn't fully know the alphabet when I first started working with her was reading small letter combinations and small words by my last visit. Another student had been excluded from the town's mainstream school after sixth grade because he had limited hearing. I worked on math with him—specifically multiplication—and he caught on really quickly. His learning was really impressive."
While Oelsner received great in-country support from WCRF, the daily details of how home visits would go were ultimately in her hands.
"One of my typical days involved doing a home visit to a 4-year-old boy with special needs about a 10-minute walk down the street from the community center," says Oelsner. "His mom or grandfather would welcome us in. We would play with colored blocks, a xylophone, and play catch. We'd also visit an older student either at the workshop down the street or at his home, and work on numbers."
WCRF had a reading program, Reading Palooza, for students from various neighborhoods to receive weekly visits from the librarian. Oelsner helped develop and concluded most days by helping facilitate an additional weekly reading group at the community center, with the children and librarian taking turns reading to each other. By preparing donated iPads with reading material, multiple students were able to follow along with what was being read aloud—helping spur reading comprehension, critical thinking, and engagement.
"There were lots of laughs and smiles at the reading group," she says. "We would pick the children up on a caponera—a motorbike with a bench on the front for passengers—read on iPads at the community center, color, and play outside games. We wanted to make reading fun for them, and the community center a fun place to be."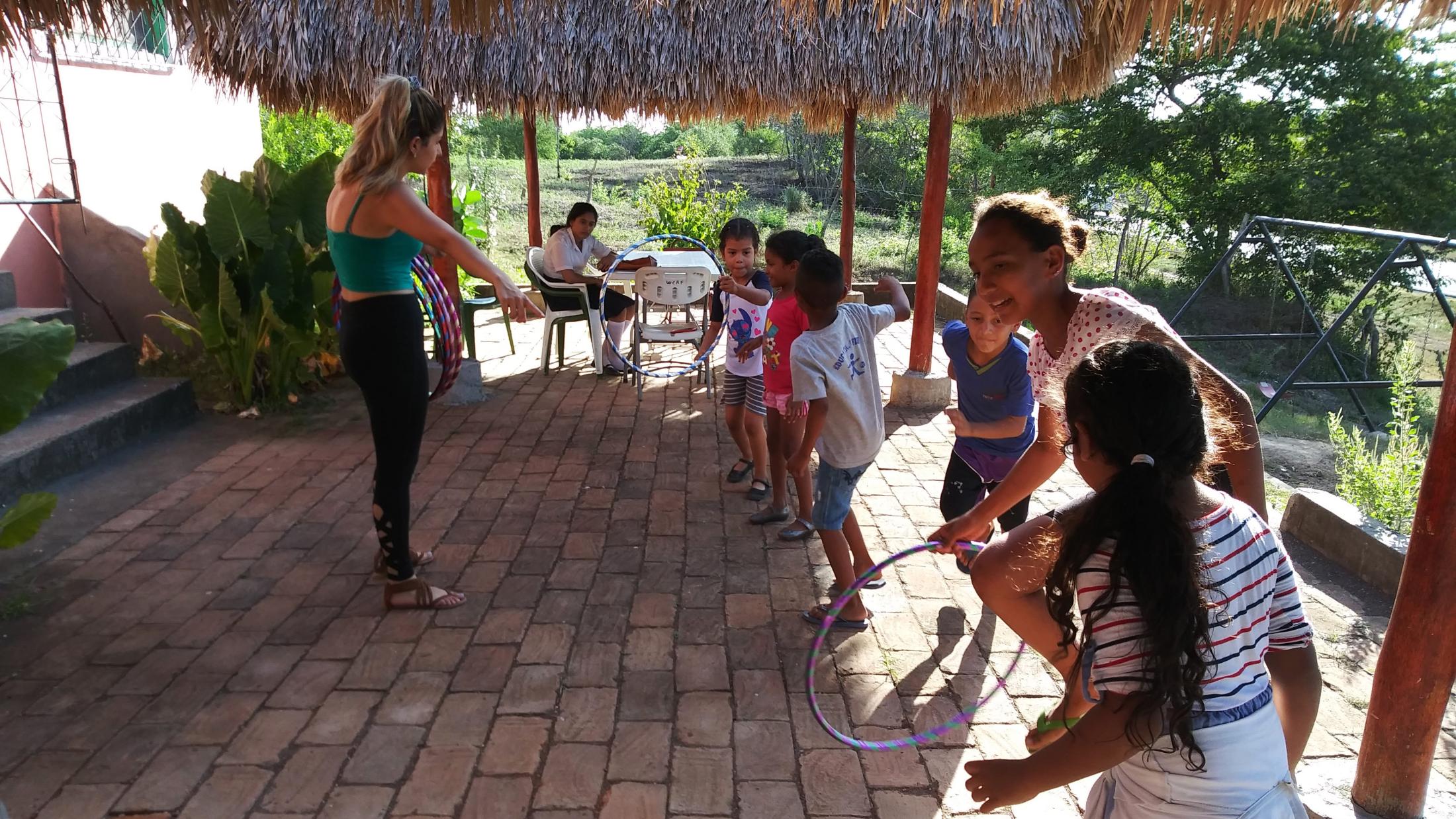 Service with Heart
While the scope of Oelsner's community development project centered on teaching special needs children and adults, once in Nicaragua she decided to increase her role in the community, assisting with the budgeting of its free meal assistance program for malnourished youth as well as creating a vision program for town residents.
"This vision program provides community members with glasses and sponsors some cataract surgeries," she says. "I coordinated getting eye glasses donations from the U.S., and I connected with a vision health nonprofit in Nicaragua to provide a mobile clinic in La Calle Real de Tolapa to match people with glasses and determine candidates for cataract surgery."
Although the fellowship was Oelsner's first experience in Latin America, she connects the success of her grant application and the kindness and receptiveness of the La Calle Real de Tolapa community to her new global understanding and perspective.
"What most stood out to me was the kindness of the people," she says. "I was a stranger in their community, yet they were incredibly friendly and welcoming. I hope I get the opportunity to return to La Calle Real de Tolapa to reconnect and serve the place and people. I saw that a little help can make a big difference, and I would love the opportunity to be that help again."
The Blum Center for Developing Economies, within the Global Learning Hub—Global Affairs, provides grant opportunities that foster Aggie engagement in more than 50 countries around the world. If you are interested in participating, please visit the Global Learning Hub website.
This is part of a series featuring Global Aggies – members of the UC Davis community who are living the Global Affairs mission: to inspire global curiosity, understanding, and engagement. Learn more about Global Aggies at UC Davis. 
---
About the Global Learning Hub at UC Davis
Through the Global Learning Hub, each and every UC Davis student can find global learning opportunities available on campus, in the region, and across all seven continents. The hub's network of local and global academic, experiential, and leadership programs helps develop capacity for undergraduate, graduate, and professional students to engage with global issues and make a difference in the world as the next generation of global problem solvers. Search global learning opportunities across UC Davis.
As a part of Global Affairs, the Global Learning Hub aims to inspire global curiosity, understanding, and engagement.
Primary Category
Tags