Sophia at Sea: How to Get Started and Make Your Dream a Reality
"
Global Aggies: Sophia at Sea" is a blog series chronicling undergrad Sophia Mares de Juan's journey as she travels, by ship, around the world studying abroad for a semester. Sophia is participating in the Semester at Sea program and will be blogging here
September 2022 through February 2023
—sharing advice, photos and reflections along the way
.
Read Sophia's first blog post
.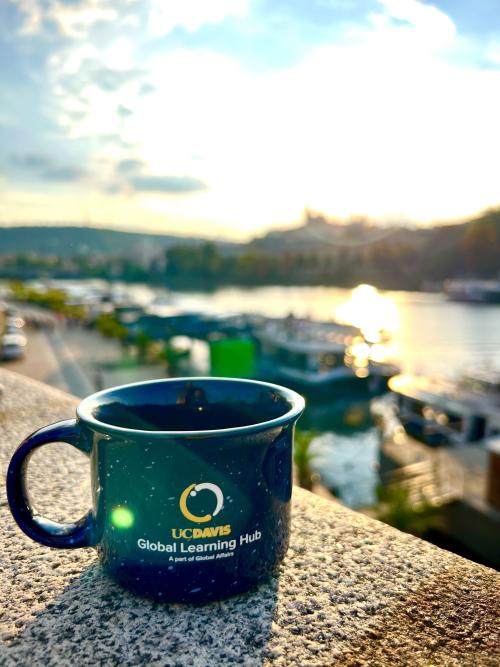 I'm sitting on the airplane on my way to Amsterdam. The nerves and excitement flow through my veins. I look through the plane window, and all I can think about is that I am about to start an adventure that will change my life perspective.
I have imagined this moment for months, and I can't believe it's happening. In January 2022, I was sitting in the Global Learning Hub on the UC Davis campus when I decided to take on one of the biggest challenges of my life: I wanted to study abroad in the Semester at Sea program.
As I mentioned in the last blog post, my friend Elisa told me about this program earlier in the year. In this blog post, I will chronicle and reflect on the past seven months and all the hard work I did to finally secure all the funds necessary to participate in the program; I still can't believe I did it! During this process, I learned an important lesson that I want to share: So much is possible when you show your passion to others and believe in yourself.
If you want to study abroad but don't know where to start, remember that you are not alone. UC Davis provided me with so many valuable resources in order to make this happen. My advisors, professors and friends were with me each step of the way.
Being a first-generation student is not easy because when it comes to starting something new or unknown, it's hard to know where to begin.
When I first heard about Semester at Sea it sounded amazing: five hundred students traveling to twelve different countries while taking college courses and having field classes at the same time. For me, learning has always been better with experiences. Everything about this program sounded great—until I heard about the cost.  
I remember calling my mom and feeling nervous, since I knew once I talked about my dream out loud things might start actually happening. I told her I wanted to take on the challenge of paying to travel the world while taking sociology and women's studies courses. As always, she supported my decision knowing that we did not have the money, but trusting in my potential and knowing I could make it happen.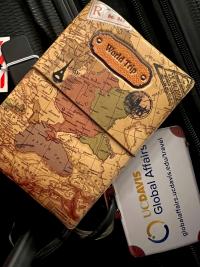 As soon as I hung up the phone, I started working on my plan to fund my study abroad program. I applied for around 20 different scholarships, got three jobs for the summer, started fundraising through GoFundMe and began selling Mexican bracelets that I made on the weekends. I remember wanting to give up halfway through; it was not an easy process, but what kept me moving forward was remembering my 'why.' 
What do I mean by "my why"? It's that fire that keeps you going; it's that thing inside you that makes you follow your dreams. My why has always been to make this world a better place through education.
Every time I felt like giving up, I tried to remember how much this experience will help me help others in the future. I know that this experience will help build a better me, which will connect directly with providing me with better tools to give back to my community. For this reason, I decided that I wanted to do my own research throughout my time on the ship. This research is not part of the program, but I want to go above and beyond to ensure this experience connects my 'why' with my future goals to help others. My primary research will center on the question "What are the motivations that Black and Latino students have to study abroad?" and how might these findings help more minorities at UC Davis see that studying abroad is possible for them. I look forward to conducting and sharing my research in future blog posts!
Studying abroad is not only about self-growth, but also about understanding how learning about different cultures helps you be more empathetic—which, I believe, will lead to living in a better world. Studying abroad is not always easy, but it is a process and the first step is always, as my mom continually reminds me, to start with one thing at a time.
We understand that costs related to studying abroad can be a challenge. UC Davis and UCEAP programs do carry financial aid. We also encourage you to review the 

Scholarships & Funding Resource webpage

 

for information and sources beyond financial aid that may be able to help

cover

costs. In addition, we encourage you to discover global learning programs available on campus, locally, in the region and across the globe (virtual and in-person opportunities are available) on our website and by signing up for our monthly newsletter, which regularly posts free and lower cost opportunities. Come by our office to talk with a peer or staff advisor or schedule an online appointment

!
---
About the Global Learning Hub at UC Davis
As a part of Global Affairs, the Global Learning Hub aims to inspire global curiosity, understanding, and engagement.
Through the Global Learning Hub, every UC Davis student can find global learning opportunities available on campus, in the region, virtually and internationally. The Hub offers global learning programs, workshops and resources that enhance all UC Davis students' academic and career pursuits through four broad areas of opportunities: Community Engagement; Global Skills and Leadership; Internships and Research; and Study Abroad. UC Davis is committed to preparing the next generation of global problem solvers and change makers. As such, we aim to prepare our undergraduate, graduate, and professional students to solve global challenges collaboratively, equitably, and sustainably.
Primary Category
Tags