Global Aggies: Backyard Immersion With Knights Landing One Health Center
Amanda Crofton is a person of dual lifelong passions: veterinary medicine and language exchange. These combined interests in science and liberal arts led her to UC Davis, where she graduated with a B.S. in neurobiology, physiology and behavior and a B.A. in Spanish—followed by enrollment into the UC Davis School of Veterinary Medicine doctoral degree program.
"Completing a major in Spanish was honestly just as important to me as my science major," she says. "I've been studying Spanish since I was five years old and developed a real love for the language. I feel like having a science major and a humanities major gave me a more balanced education—and have prepared me for the parts of my future career that are not fully science-based."
Enter health care. Although science is foundational to this career path, being able to converse in an additional language enables practitioners to reach more patients from even more diverse backgrounds. And in Crofton's case, that translates into more human clients and more animal patients in her role as co-director of the Knights Landing One Health Center (KLOHC) veterinary clinic. 
"For me, it's the job of health professionals to meet their clients' needs," she says. "If that need is met by offering services in a language that works better for them, then I think that's really important. It's not just about how to get to a diagnosis or treat a patient, but about communicating this information compassionately and making a connection with clients."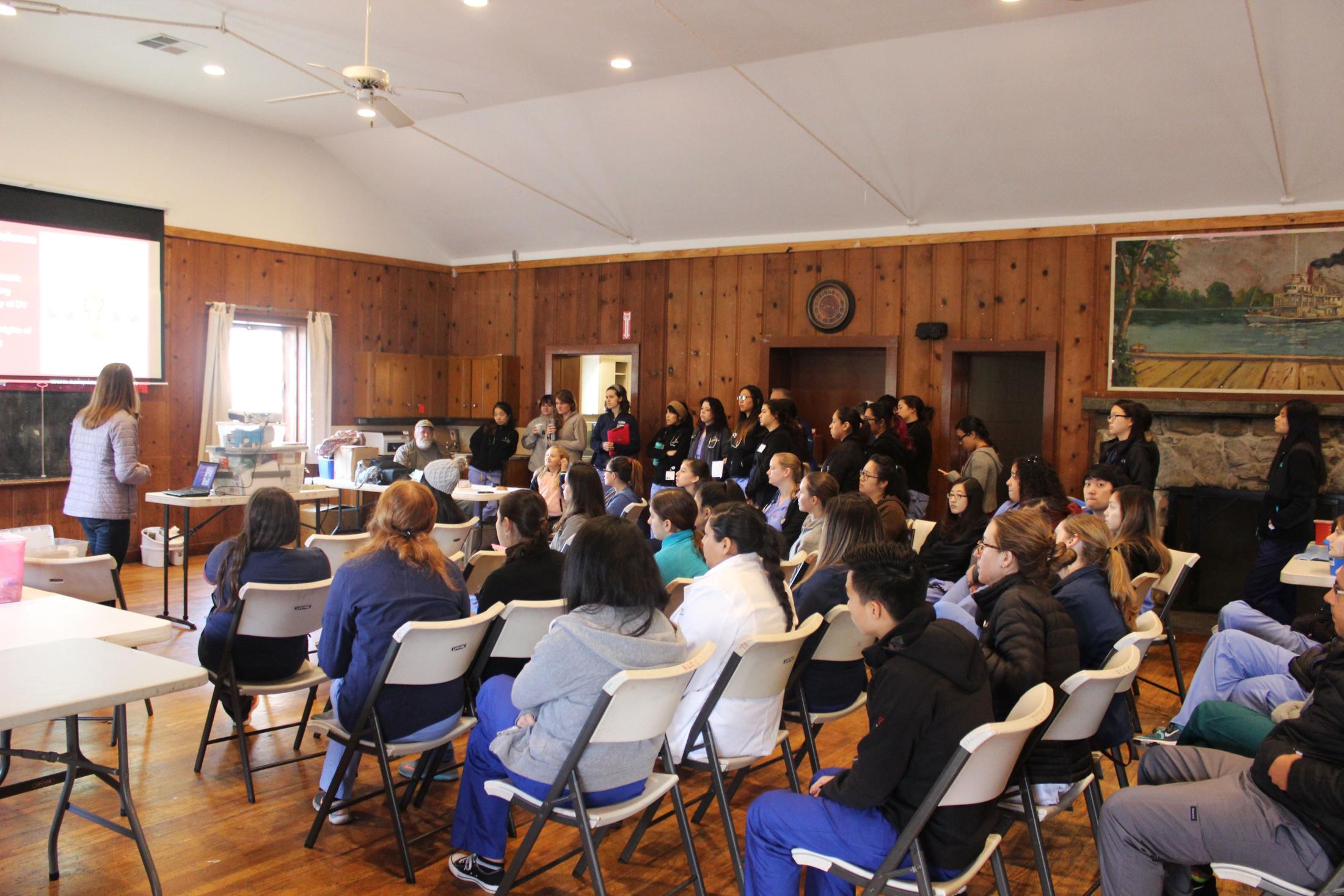 Backyard Immersion
Located about 20 miles north of the UC Davis campus, the KLOHC veterinary clinic primarily serves the people and pets of both the Knights Landing and Robbins communities, and is a collaboration between the UC Davis School of Veterinary Medicine, the UC Davis Health School of Medicine, undergraduate and graduate students, and the community itself. In addition, the clinic also collaborates with the Models of One Health Solutions in Action and Communities (MOSAIC) program, of which Crofton is a member.
"The Knights Landing One Health Center is really exciting because it's actually the first One Health clinic in the country," says Crofton. "A lot of these community members are primarily Spanish-speaking, which is the language they're most comfortable with. I'm really happy we're able to take that into account and make sure that we have volunteers at our clinic—both on the veterinary and human sides—who are able to communicate in Spanish so that clients can understand the issues, which is obviously very important when it comes to health."
As a student volunteer, Crofton has been supporting the clinic for almost four and a half years—first as an undergraduate and now as a doctoral student. As co-director, she hosts the clinic on the third Sunday morning of every month—noting that this is a time when the majority of the community is home from performing agricultural work in the facilities or fields.
"For me, it was a great opportunity to merge the things I loved and to help under-served communities," she says. "It's been a really crucial part of my entire education. I enjoy seeing how strong the human-animal bond is between all of our clients and animal patients. Even though they come from backgrounds that are very different from my own, I think we all connect and unify in a way that's beautiful."
Crofton also points out that volunteering at the clinic provides students with interdisciplinary opportunities to become well rounded culturally and professionally by learning to address needs in under-served communities—a skill they can carry with them throughout their careers.
"When we work in diverse teams, when we work with people who are different from us or who have different knowledge bases, we achieve a lot more," she says.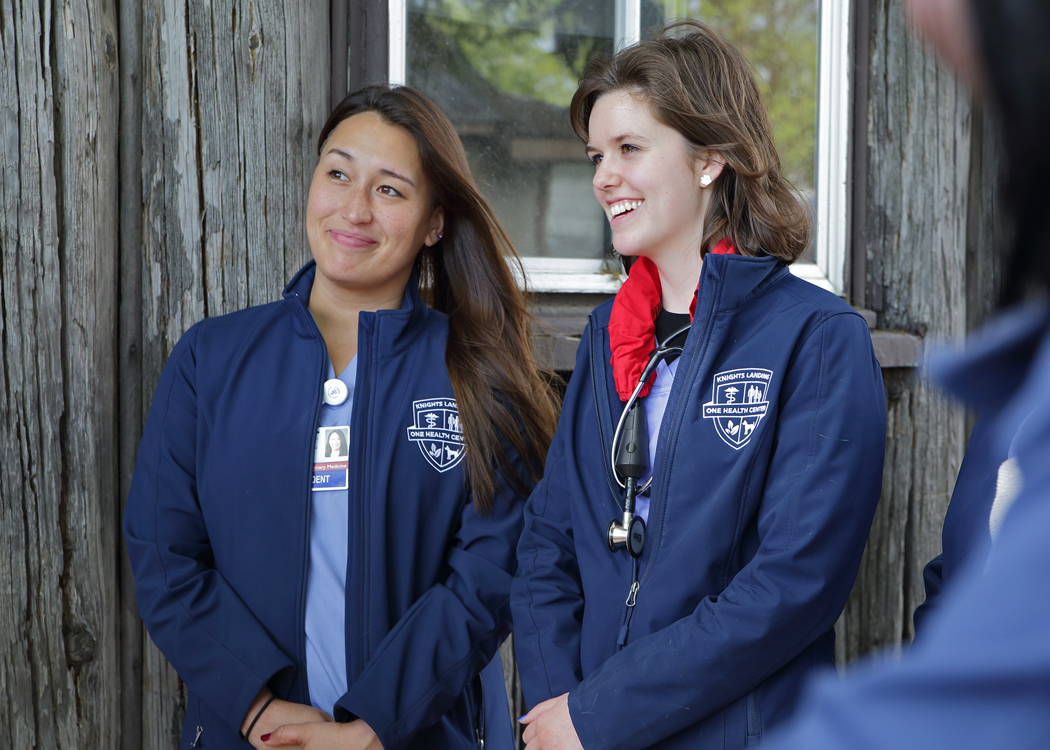 One Health, One World
For Crofton, applying the One Health model is key to running the veterinary clinic because of how inextricably linked it is to providing culturally and linguistically competent veterinary and medical care.
"The One Health approach is holistic, it's inclusive, and by its very nature is a multidisciplinary approach to solving problems—which allows you to achieve a lot more innovative solutions," she says. "The veterinary clinic really takes into account involving the community in a lot of the decision-making because the clinic is there for them. Having translators available—being located in their community—is a big component of our Knights Landing One Health Center."
In addition to directing the KLOHC veterinary clinic, Crofton has taken on additional responsibilities as a UC Davis Global Programs Fellow. As a Fellow, she helps to promote research, education, and service among her veterinary medicine peers—with the goal of helping meet global societal needs—and is also the school's Class of 2021 International Program Committee representative, working to promote international opportunities, like grants and fellowships to conduct international research and training during the summer, for other veterinary medicine students.
"These opportunities allow me to advocate to my peers about going abroad and having life-changing experiences, both in terms of veterinary research and cultural immersion," says Crofton. "But we can't provide these opportunities to everyone, so I think that is why it's so great to develop cultural competency right here in California through clinics like the one at Knights Landing."
This is part of a series featuring Global Aggies – members of the UC Davis community who are living the Global Affairs mission: to inspire global curiosity, understanding, and engagement. Learn more about Global Aggies at UC Davis. 
---
About the Global Learning Hub at UC Davis
Through the Global Learning Hub, each and every UC Davis student can find global learning opportunities available on campus, in the region, and across all seven continents. The hub's network of local and global academic, experiential, and leadership programs helps develop capacity for undergraduate, graduate, and professional students to engage with global issues and make a difference in the world as the next generation of global problem solvers. Search global learning opportunities across UC Davis.
As a part of Global Affairs, the Global Learning Hub aims to inspire global curiosity, understanding, and engagement.
Primary Category
Tags