Virtual – Engineering and Computer Science
Laurie Glover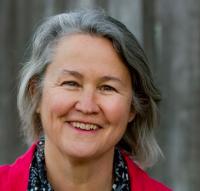 University Writing Program (UWP)
Laurie Glover combines her work teaching writing for the University Writing Program (UWP) with interdisciplinary projects in the sciences, social sciences, and engineering. For the UWP, she has taught advanced composition, legal writing, environmental writing, and writing in the health sciences, and she led the Sydney Quarter Abroad Internship & Writing Program for three years. Her work as a writer appears in a wide variety of venues and is largely focused on human relationship to place: how humans inhabit, occupy, impact where they live. She is co-author of On the Road: California, a travel guide to California with narrative interruptions (she wrote the interruptions), and editor and contributor of Naming Mt. Thoreau, arising from summiting an un-named mountain in the Eastern Sierra. 
A Message to Students and Parents
Across the span of four academic years, I watched the students in the Sydney Writing and Internship Program change their ideas about what work life can be. That change happened because they were working in a culture unlike their own. Now we are all in the 'strange country' of the pandemic, where what work life means even in our own country is radically changing. Students in these virtual, global internships are right on the cutting edge of that change. I'm excited to be involved once again in helping students make sense of new cultures and workplace practices."
Tags