UC Davis Global Learning Digital Badging Programs
Micro-credentials and Digital Badging Explained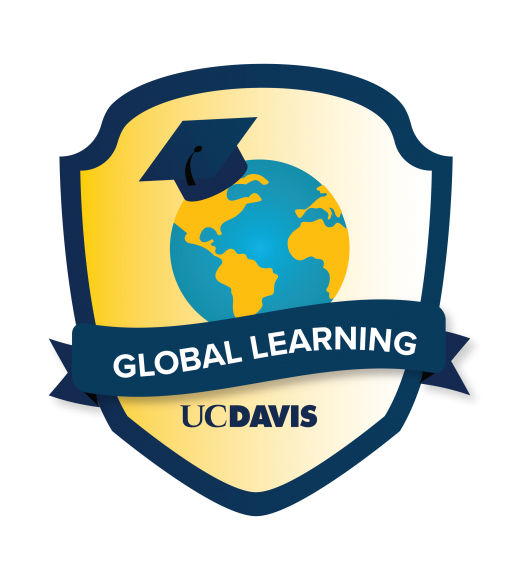 Micro-credentials articulate a specific skill or competency that a student has achieved by completing and/or submitting a particular set of evidence. Often micro-credentials are recognized by the awarding of a digital badge, which is portable and can link employers to information about the skills or competencies demonstrated by the badge. Micro-credential opportunities offer flexibility in terms of time, a competitive edge by demonstrating specific skills to potential employers, and the ability to customize learning and professional development to your own interests and goals.
Global Learning Badges
Global Affairs is committed to offering diverse and flexible global learning opportunities so that all UC Davis students can participate in global learning throughout their time on campus. By developing digital badges that focus on global and intercultural skills and knowledge, Global Affairs offers UC Davis students a verifiable and portable means of demonstrating to future employers their development in these highly desirable areas.  
Current digital badge opportunities are listed below:
Global Leadership Pathway
Offered in partnership with the GradPathways Institute for Professional Development (GPI), the Global Leadership Pathway will be available for graduate and professional students through GPI's micro-credential platform. Completing the work for this badge enables graduate students to examine global learning concepts related to culture, cultural differences, and identity, and also provides students the ability to evaluate the complex global systems in which they work and how cultural values—their own and others—shape systems and student engagement with them. Visit the link below to learn more and sign up.