Environment, Green Tech, and Sustainability
Laurie Glover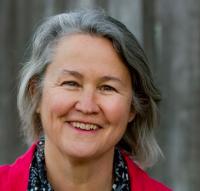 University Writing Program (UWP)
Laurie Glover combines her work teaching writing for the University Writing Program (UWP) with interdisciplinary projects in the sciences, social sciences, and engineering. For the UWP, she has taught advanced composition, legal writing, environmental writing, and writing in the health sciences, and she led the Sydney Quarter Abroad Internship & Writing Program for three years. Her work as a writer appears in a wide variety of venues and is largely focused on place: the relocated cemetery of the drowned town of Monticello, the former grounds of Napa State Mental Hospital, the LA River. She is co-author of On the Road: California, a travel guide to California with narrative interruptions (she wrote the interruptions), and editor and contributor of Naming Mt. Thoreau, arising from summiting an un-named mountain in the Eastern Sierra.
A Message for Students and Parents 
Across the span of four academic years, I watched the students in the Sydney Writing and Internship Program change their ideas about what work life can be and who they were as Americans. Those were my most enjoyable teaching years because the students and I were learning together. We were all in the same boat, navigating new experiences. In my on-campus teaching at UC Davis, I most enjoyed teaching environmental writing, because I could lead students into essay projects that applied abstract knowledge to real places. They were the experts, teaching me what they knew, about places they knew. I jumped at the chance to lead the Environment, Green Tech, and Sustainability internships because I knew it was a way for me to go on learning from students while at the same time supporting them in their crucial environmental work and the challenges of cross-cultural experience.

I am so enthusiastic about traveling, both domestically (I have traveled in nearly every state within the U.S.) and internationally (Madrid, Leon, Malaga, Toledo, Cordova, Seville, Salamanca, Granada, Bilboa, San Sabastian, Santander, Burgos, …), Portugal (Porto), Germany (Berlin, Frankfurt, Heidelberg), Canada (Vancouver, Bernaby, Montreal), and Mexico. Traveling opens us up to global awareness and to see ourselves in a world community. Having an opportunity for an internship in a different country will undoubtedly bring about a different perspective, both about your educational training and yourself personally."
Tags