Climate Resilience in Thailand
Claire Napawan
Landscape Architecture + Environmental Design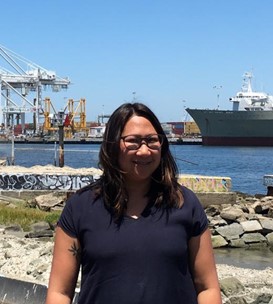 Claire Napawan is an Associate Professor and Director of the Landscape Architecture + Environmental Design Program, housed within the Department of Human Ecology. She is also an architect, landscape architect, urban designer and academic who has designed and studied urban environments for over 15 years. Her research and creative work includes co-design methodologies to achieve community resilience to climate change. Her experience of in both Thailand and the United States shaped her curiosity about the built environment and the way culture impacts decision-making and built form.
A Message to Students and Parents
Growing up, I spent every summer of my childhood with my extended family in Thailand. My father was born and raised in the capital Bangkok and my mother is from the southern island of Phuket. I first learned to swim in the Andaman Sea and love discovering words and phrases in Thai that lack English definitions – although I still try hard to translate them! I now bring my three young children bi-annually to Thailand to develop the strong roots I have to the people, place, and culture. I'm delighted that I also get to share that experience with my students. I love how travel makes the world feel simultaneously small and large, and I'm excited to share that experience with you all.

I've long been fascinated with how cultural perceptions about resources such as water or food can inform how those resources are managed within a city. The abundance of canals, food markets, and the 24/7 outdoor lifestyle of Bangkok is truly reflective of the nature of Thai culture. Learning from a society that embraces water as a critical part of their urban infrastructure can provide lessons for climate resilience planning for cities worldwide."