November 2020 Global Learning Newsletter
Global Learning Newsletter — November 2020
— — — — —
Virtual Global Learning
June 20 – July 29, 2021. This virtual internship focuses on the role of community-based and international aid organizations in responding to the refugee crisis in Jordan. Create an account to receive program updates. Info Session: November 13, 11:00 a.m.
July 2021. This free opportunity gives students from around the world an understanding of key aspects of Brazil from distinct perspectives. Meetings in English will cover the underpinnings of Brazilian politics, history, foreign relations, geography, law, economy, and culture. Apply to be nominated by UC Davis. Deadline: November 29.
Study Abroad
Apply principles of biology to the study of psychology—learning about the workings of the mind in humans and animals. Earn 8 units in 4 weeks (PSC 101 and 198). Instructor: Karen Bales. Create an account to receive program updates. Info Session: November 16, 3:00 p.m.
Update your programs of interest in your UC Davis Study Abroad account to learn more about information session, events, funding opportunities, how to enroll, and more.
​​​​​​​​​​​​​​UCEAP applications now open for programs running in Summer and Fall 2021, Spring 2022, and Academic Year 2021-22. With 400+ program options available in 40+ countries, start planning your adventure today. Find a program.
Global Leadership, Internships, and Research
Free worldwide leadership development program for undergraduate students focusing on addressing United Nations goals. Benefits include: certificate, network with global leaders, leadership training, and experience with community social change. The program will run virtually from August – November 2021, with cohorts of 8-20 students on each campus around the world. Priority Application Deadline: January 31. Questions?
June 14 – August 27, 2021. This program offers research opportunities to undergraduate and graduate students. Students apply for a specific project and submit resume, cover letter, transcript, and recommendation letter. Scholarships are available to cover the small program fee. Deadline: December 5.
Summer 2021. The RISE program offers undergrads the opportunity to complete a summer research internship at top German universities and research institutions. Award includes 750 euros/month for 3 months, health insurance, stipend for international and in-country travel, and participation in a meeting of all RISE scholars. Deadline: December 15.
2020-2021. This leadership opportunity is open to all undergraduate, graduate, and professional students who are dedicated to develop, organize, and promote Women's Health, Gender, and Empowerment (WHGE) or Planetary Health (PH) activities on UC campuses and mobilize student, faculty, and staff involvement to catalyze critical change. Info Session: November 13. Deadline: December 4.
Competitions, Challenges, and Funding
CLS is a fully funded eight-week summer overseas language and cultural immersion program administered by the U.S. Department of State. The program aims to broaden the base of Americans studying and mastering critical languages. Check out the CLS office hours for questions. Deadline: November 17.
Cal Aggie Alumni Association and its affiliate partners offer a number of scholarships and awards. Upcoming deadlines from African and African American Alumni Association (5A) Award, Cal Aggie Lambda Alumni Association Scholarship Award, Chicanx Latinx Alumni Association Scholarship Award, and Aggie Parent and Family. Deadline: November 20.
Big Ideas is a social innovation competition that provides funding (up to $20K!) and mentorship to teams of undergraduates, graduates, and professional students with solutions to real-world problems. Meet with Big Ideas staff Nov. 16-19 at the upcoming Pre-Proposal Editing Blitz to fine-tune your proposal and/or application video. You can also schedule a 1:1 advising appointment. Pre-Proposal Deadline: November 20. Apply.
Join storytellers worldwide in our competition for positive change. Integrate maps, data, and other multimedia content by submitting an original story that addresses one or more global goals. Encourage more awareness of the SDGs and drive the necessary action towards achieving them. Deadline: November 25.
This program is designed to provide a substantive work experience for students interested in international affairs. Work at Carnegie in Washington, D.C. for one year after graduation with a $42,000 annual salary and full benefits. Complete and submit the application to Scott Palmer. Deadline: December 15.
Fellowship for intensive language study of Chinese, Japanese, Korean, Thai, Vietnamese, Indonesian, Khmer, or Burmese at the advanced level in approved language programs in East or Southeast Asia. Includes stipend for living, travel, and study expenses; and full tuition for programs. Deadline: December 30.
June 14 – July 23, 2021. This program takes place at Howard University and provides undergrads with a deeper appreciation of current issues in international affairs and skills to pursue related careers. Includes tuition, travel to/from Washington D.C., housing, two meals/day, and a $3,200 stipend. Deadline: February 9.
Upcoming Info Sessions and Events
​​​​​​​Monday, November 16, 5:30 p.m. – 6:45 p.m. Join Global Affairs in a discussion on how members of the UC Davis community are addressing global challenges and how you as a student can find opportunities and get involved. This event will include an introduction to the UN Sustainable Development Goals and a student panel speaking about their experiences engaging with global challenges. Register.
​​​​​​​November 16-20. For almost 20 years, UC Davis has celebrated the benefits of international education and worldwide exchange during International Education Week, an initiative of the U.S. Departments of State and Education. The national week brings opportunities to participate in cultural and educational programming here at UC Davis. Share your global stories and experiences on social media using #GlobalAggies.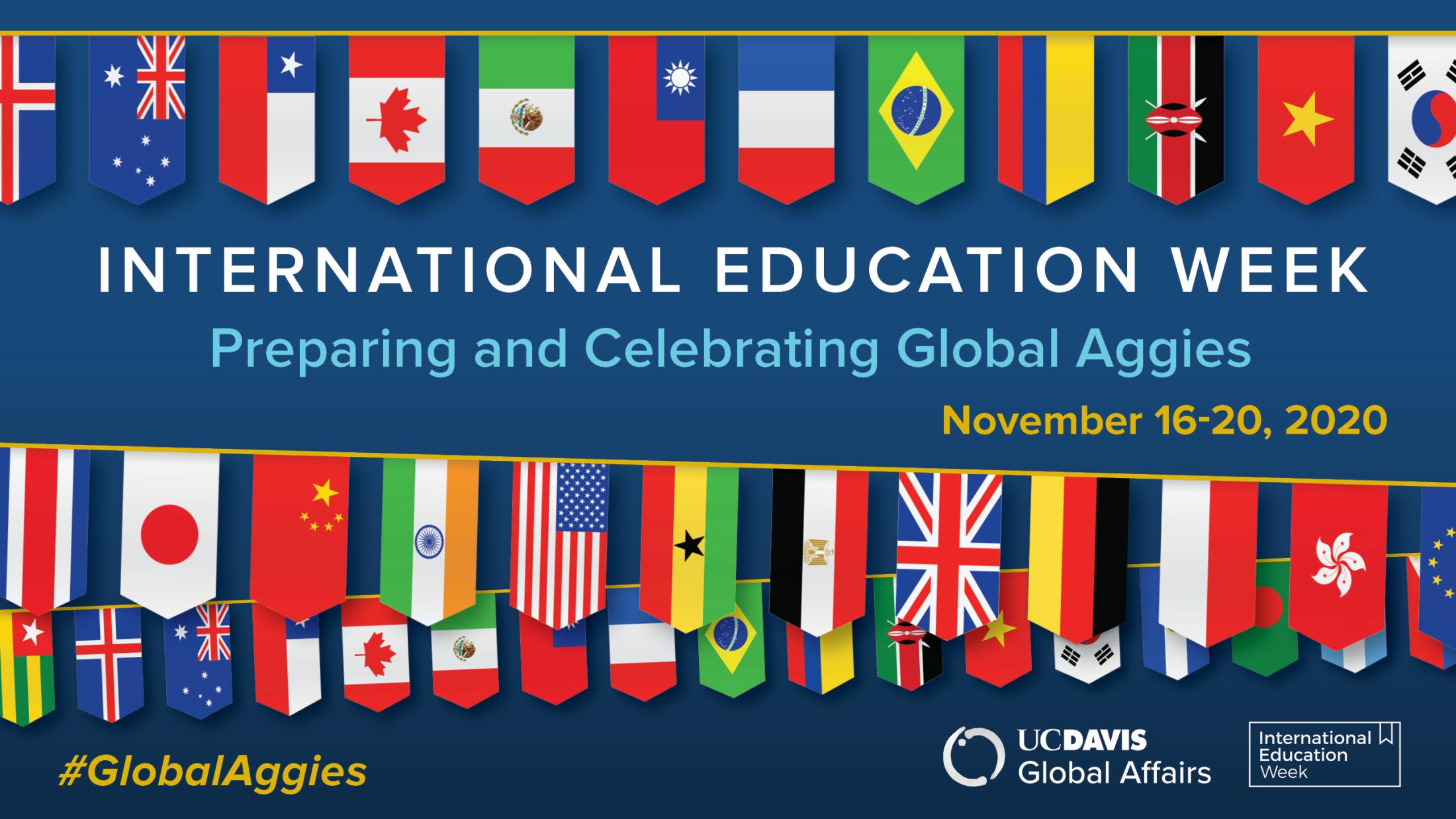 ​​​​​​​November 17-20. Cal Aggie Alumni Association has partnered with Global Affairs to present the Global Careers Panel Series. There will be six different panels offered during this week. Learn from leading professionals about what it takes to build a successful career in their region of the world.
​​​​​​​November 17, 2:00 p.m. The Cross Cultural Center is committed to exploring and developing an anti-racist praxis. Join us for a four-part series that aims to understand anti-Blackness at its core and come together to combat anti-Black racism on our campus and in our communities.
​​​​​​​November 19, 12:00 p.m. – 1:30 p.m. In celebration of International Education Week, Services for International Students and Scholars, a part of Global Affairs, invites you to attend a discussion panel: Communication with Impact. Please join us for an engaging forum on how communication, media, and technology affect behavior, health, and well-being. Register.
​​​​​​​October 2021 – April 2022. This opportunity is for U.S. citizens ages 18-29 to serve as guides and cultural representatives of the U.S. to millions of visitors at Expo 2020 Dubai. Ambassadors interact daily with international visitors and assist in organizing events at the U.S. Pavilion. Info Sessions: November 30 and December 2.
---
The UC Davis Global Learning Newsletter is published monthly throughout the academic year. Join our email list. 
About the Global Learning Hub at UC Davis
Through the Global Learning Hub, each and every UC Davis student can find global learning opportunities available on campus, in the region, virtually, and internationally. The Hub offers global learning programs, workshops, and resources that enhance all UC Davis students' academic and career pursuits through four broad areas of opportunities: Community Engagement; Global Skills and Leadership; Internships and Research; and Study Abroad. UC Davis is committed to preparing the next generation of global problem solvers and change makers. As such, we aim to prepare our undergraduate, graduate, and professional students to solve global challenges collaboratively, equitably, and sustainably.
As a part of Global Affairs, the Global Learning Hub aims to inspire global curiosity, understanding, and engagement.
Primary Category