Global Learning Newsletter – August 2021
Study Abroad
Students will take accelerated courses in Spanish language and culture, with planned activities and excursions to highlight Spain's incredible history and beautiful scenery. Course options include Spanish 1S, 2S, 141S, 100, 143, 148S, 199, and an optional internship. Create an account to receive program updates.
Global Learning on Campus
International student Nikhita Azad wrote a blog post reflecting on her three years participating in the UC Davis Global Ambassador Mentorship Program on campus. The international relations major found connections and leadership opportunities.
First-Year Aggie Connections meet regularly for one academic quarter and are led by staff or faculty facilitators who are passionate about the themed topics. Join Building Global Skills for a Connected World, Spoken World Storytelling or one of the many other connections that relate to global learning, diversity, and identity.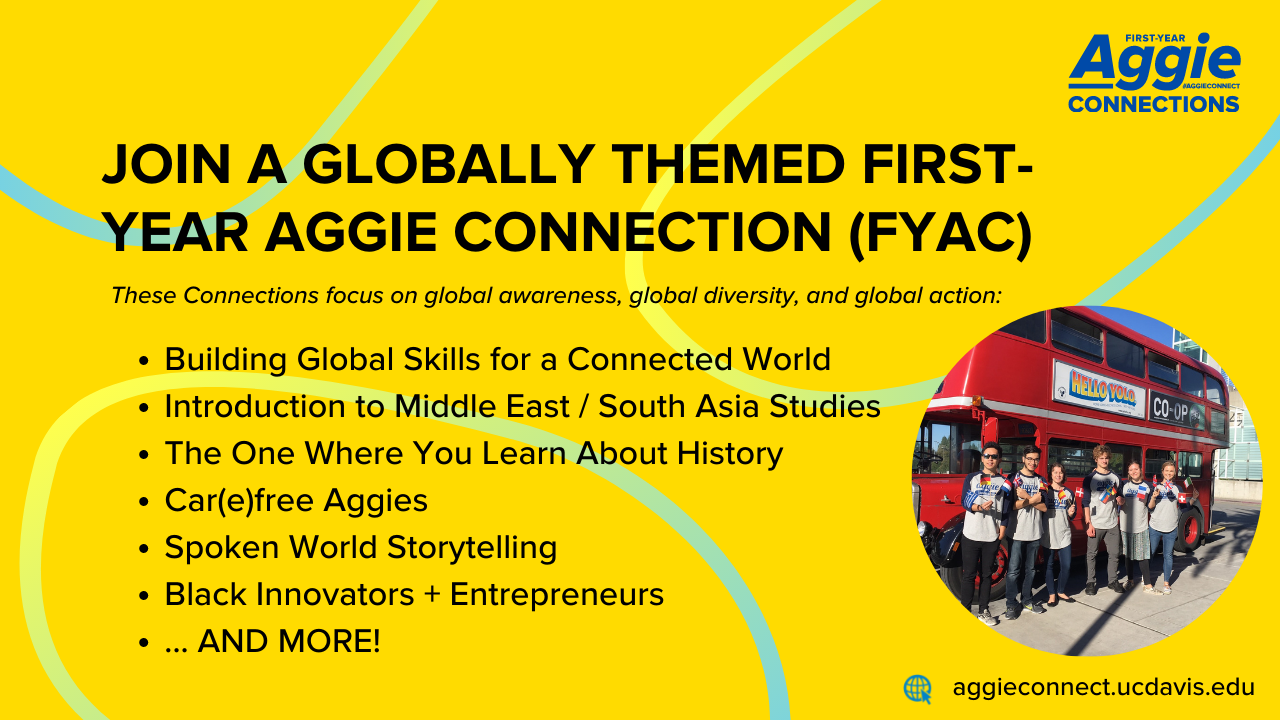 Global Leadership, Internships, and Research
This fellowship opportunity—available to all UC Davis students—is a partnership with the Sacramento-based non-governmental organization Worldwide Child Relief Foundation. The fellowship will take place virtually, with the possibility of on-site volunteering in Nicaragua, conditions permitting. Available projects: health and nutrition, English teaching, working with children with special needs, clean water, community gardening, and more.
Competitions, Challenges, and Funding
If you are passionate about innovation and entrepreneurship, apply to become an Innovation Ambassador (IA) for the UC Big Ideas Contest. The work consists of network identification and engagement, outreach, events, and student advising.
​​​​​​​Omprakash Ethical Global Engagement Grants support travel, living, and Omprakash tuition expenses for exceptional candidates. This grant applies to the Widening Circles Global Social Impact Internships program. Recipients join the online learning community and volunteer or intern for 3+ months with one (or more) Omprakash international partner organizations.
Upcoming Info Sessions and Events
​​​​​​​​​​​​​​August 24, 12 p.m. PDT. Serving in the Peace Corps is a great way to immerse yourself in a new culture, learn a new language, and have the experience of a lifetime. Attend this information session to learn about volunteer experiences, ask questions about service, and gain tips on applying. Register.
UC Davis Global Affairs is a proud sponsor of the Mondavi Center's 2021-22 season of performances running Oct. '21 – May '22. Among several global works are Arturo O' Farrill and the Afro Latin Jazz Orchestra (Oct. 14), Pamyua (Nov. 21), Ballet Folklórico de México de Amalia Hernández (Mar. 18), and Las Cafeteras (Apr. 28). One free ticket and further ticket discounts are available for UC Davis students.
Primary Category