Global Learning Newsletter – July 2021
Announcements
New this summer, and in collaboration with UC Davis Summer Sessions, the Global Learning Hub is offering seminars for students of all majors who will be introduced to global learning and hone their skills to become the global professionals and global collaborators of tomorrow. Spots are still available in our Becoming a Global Collaborator: Innovative and Inclusive Ways to Address Global Challenges Summer Session II course.
Study Abroad
Complete your final quarter of first-, second-, or third-year Japanese language at Kyoto Seika University! The program includes multiple excursions, hands-on workshops in various traditional arts, and guest lectures by local specialists. Create an account to receive program updates.
​​​​​​​​​​​​​​Managerial economics major ('20) and current graduate student in business analytics at the UC Davis Graduate School of Management, Susannah Schulze, shares her global learning experiences on the Summer Abroad U.K. Perspectives in Global Management program.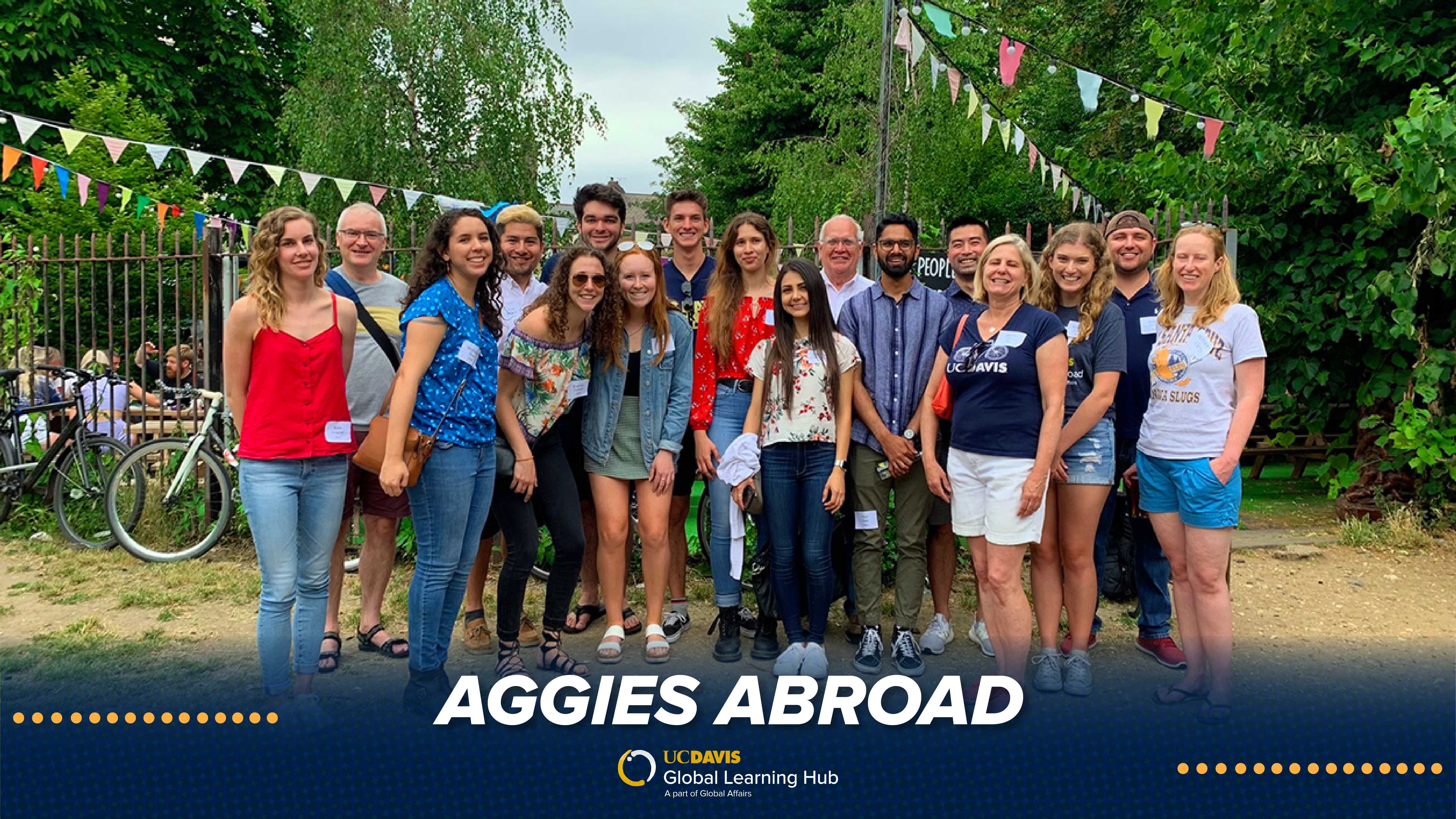 Global Leadership, Internships, and Research
This fellowship opportunity—available to all UC Davis students—is a partnership with the Sacramento-based non-governmental organization Worldwide Child Relief Foundation. The fellowship will take place virtually in Nicaragua during the summer. Available projects: health and nutrition, small businesses, English teaching, working with children with special needs, clean water, community gardening, and more.
UC Davis subscribes to the GoinGlobal database of millions of global internships and jobs around the world, including remote positions. Search career fields by country, global city, and U.S. city for place-specific employment resources. Log in with your Kerberos to explore jobs and resources.
Competitions, Challenges, and Funding
If you are passionate about innovation and entrepreneurship, apply to become an Innovation Ambassador (IA) for the UC Big Ideas Contest. The work consists of network identification and engagement, outreach, events, and student advising.
Two thousand annual awards for U.S. citizens are available to conduct research, study, or teach English in 140+ countries worldwide. Participants receive round trip airfare to their destination, a monthly stipend, and limited health insurance. 2022-23 application. Campus Deadline: Sept. 8 (study/research), Sept. 15 (teach English).
Upcoming Info Sessions and Events
July 15, 20, 22 and August 5, 11. GoinGlobal's team of worldwide career specialists have created a webinar on global perspectives on the employment market transformed by the pandemic. Register to learn about emerging employment and career trends, virtual job search tactics, remote interviewing tips, leveraging personal and professional networking resources, and working from anywhere. Register.
​​​​​​​​​​​​​​July 20, 12 p.m. PDT. Discover the benefits of Peace Corps service from returned Asian American Volunteers. Join us to learn about the challenging, rewarding, and inspirational moments from a panel of returned Peace Corps Volunteers. Ask questions about service and gain tips to guide you through the application process. Register.
Primary Category