Global Learning Newsletter – September 2022
Study Abroad
Our 2023 study abroad program line-up is now available! Explore our spring, summer and fall quarter programs; create a Study Abroad account to receive announcements for programs that interest you; attend info sessions this fall; learn about enrollment and choosing a program; or meet with an advisor in the Global Learning Hub.
UCEAP offers programs of various lengths and terms. You can study at world-renowned universities in English, immerse yourself in another academic culture or take language classes. Enrollment opens October 1, 2022 for 2023-24 programs. Many programs have limited capacity—so start your search now!
Aggies Abroad: Sophia at Sea is a new blog series chronicling UC Davis undergrad Sophia Mares de Juan's journey, by ship, around the world on the Semester At Sea study abroad program—sharing advice, photos and reflections along the way! Read Sophia's first post.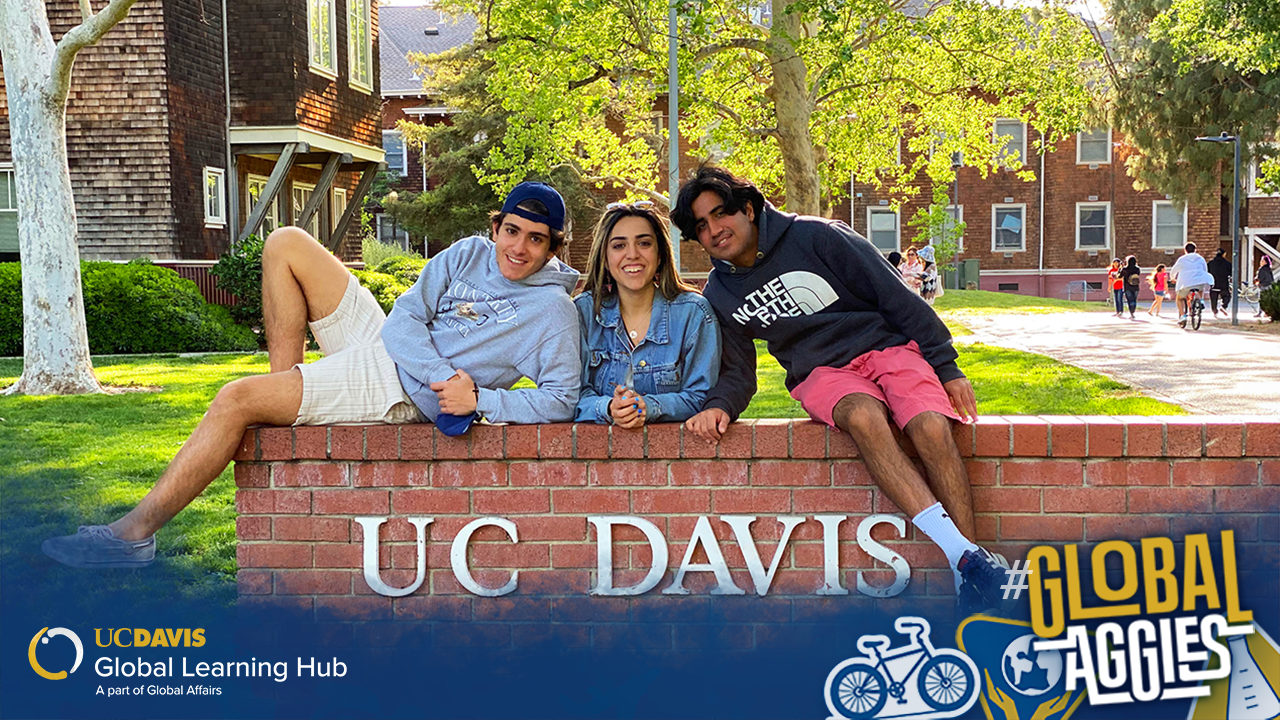 Competitions, Challenges, and Funding
​​​​​​​​​​​​​​The Gilman Scholarship provides up to $5,000 for recipients of the Federal Pell Grant to participate in study abroad and internship programs throughout the world. Learn more about the aims of the Gilman Scholarship, eligibility requirements and upcoming application deadlines.
​​​​​​​​​​​​​​Schwarzman Scholars receive a full scholarship for a one-year graduate program at Schwarzman College of Tsinghua University in Beijing, China. Scholars will study and live at Schwarzman College in Tsinghua University and will partake in a core curriculum focusing on public policy, economics and business, or international relations. Deadline: September 20.
This fellowship aims to attract and prepare outstanding young people for careers in the Foreign Service of the U.S. Department of State in which they can help formulate, represent and implement U.S. foreign policy. Apply. Deadline: September 22.
​​​​​​​​​​​​​​Churchill Scholars receive the full cost of tuition and fees for 9-12 months of STEM research graduate study at Churchill College, University of Cambridge. Scholars also receive a living allowance, travel allowance for to/from the United Kingdom, an additional travel award and visa fee reimbursement. Campus Deadline: September 26.
​​​​​​​​​​​​​​Graduate fellowships are available to qualified students committed to joining the foreign service. This fellowship helps finance two-year graduate programs, provides two summer internships, offers mentoring from a Foreign Service Officer and provides other professional development activities. Deadline: September 29.
​​​​​​​​​​​​​​The Eivind G. Lange '77 and Mary G. Puma Graduate Fellowship supports graduate students to conduct research in Chile relevant to the mission of UC Davis Chile Life Sciences Innovation Center. Grants of up to $4,000 are available for 2022-23. Apply. Deadline: October 31.​​​​​​​
Global Leadership, Internships, and Research
UC Davis Grand Challenges, the university's transdisciplinary endeavor to address our planet's most vexing issues, is moving forward rapidly. Their new website includes information about their programs and the first wave of Grand Challenges focus areas which include sustainable food systems, reimagining the land grant university, climate crisis and emerging health threats. Recent UC Davis web story: "Grand Challenges Announces Initial Focus Areas."
October 3–November 14. Bringing together students from all around the globe, this program challenges participants to develop innovative solutions for purpose-driven organizations in Brazil over the course of a six-week project-based virtual internship. One free spot is open for a UC Davis student: Apply. Deadline: September 15.
The SDG internship provides an opportunity for UC Davis undergrads to actively contribute to campus engagement on the UN Sustainable Development Goals during the fall quarter. Responsibilities include liaising with students and student groups, supporting events, and collecting and organizing data. Deadline: September 16.
October 3-21. Free for UC Davis undergrad and grad students. This online leadership program gives students the opportunity to develop skills needed to thrive in the 21st century while tackling some of the world's most pressing problems outlined in the UN's Sustainable Development Goals. Apply in the UC Davis Global Learning Portal. Deadline: September 21.
The Education Trust—West's FIERCE Student Fellowship is a leadership opportunity for undergrad community college and university students attending California public institutions. Fellows will build their leadership and advocacy skills to push for educational equity in their communities. Apply. Deadline: September 21.
This transdisciplinary and interactive online program fosters global citizenship amongst students from 60 Pacific Rim universities. Explore some of the world's biggest challenges and propose solutions using a framework for collaborative development of social innovation prototypes. Apply. Deadline: September 28.
First-Year Aggie Connections meet regularly for one academic quarter and are led by staff or faculty facilitators who are passionate about the themed topics. Join one of the many connections that relate to Aggies for Action, which all focus on social, cultural and global change. Register by September 30.​​​​​​​
Making Waves Foundation—a Bay Area non-profit focused on equity in education—is hiring for a part-time, paid marketing intern. This remote opportunity will focus in marketing, social media and branding projects—with special projects available in graphic design, content creation, writing, video production and more. Apply.
Upcoming Info Sessions and Events
​​​​​​​​​​​​​​September 14. Women & Philanthropy's Speaker Series presents Immigration and Refugees: A Closer Look. This conversation facilitated by LeShelle May with Raquel E. Aldana, Martin Luther King Jr. Professor of Law at UC Davis will explore forced migration, the complexities of immigration and immigration law as human rights. Register.
​​​​​​​​​​​​​​October 12. Join this supportive community workshop to reflect on your unique strengths and interests, and identify potential constraints and your support network, as you get ready for your study abroad or away program. Register.
​​​​​​​​​​​​​​October 14. Women & Philanthropy's Speaker Series presents: A Conversation with Glennon Doyle. Join this symposium featuring a panel discussion with dynamic women leaders and a one-on-one conversation with Glennon Doyle. Buy your ticket.
​​​​​​​​​​​​​​November 3. Save the date for the UC Davis Global Energy Managers Workshop where facility managers, students and faculty from around the world meet to share best practices in campus energy management, carbon reduction strategies and community engagement. This year's topic is Campus Decarbonization Planning and Execution: Accelerating the Clean Energy Transition.
Primary Category