Global Learning Newsletter – May 2023
Latest News and Blogs
The Global Learning Hub is looking to hire undergraduate student staff for a variety of positions within the office, including outreach, peer advising, enrollment processing, operational projects and more. Preference for work-study students, but all are welcome to apply. Apply through the posting on Handshake (search for job number 7729811). Deadline: May 22.
​​​​​​​​​​​​​​In a recent episode of Global Learning 60, Mahek, a community advisor in the Global Engagement Opportunity Living-Learning Community (or GEO LLC), answers some common questions about this on-campus housing option for incoming UC Davis freshmen. Watch more episodes.
​​​​​​​​​​​​​​UC Davis veterinary medicine student Ruth Goins recently completed an internship at the Cheetah Conservation Fund in Otjiwarongo, Namibia. With a focus on One Health, Ruth worked to protect cheetahs and promote coexistence between wildlife and local communities. Read more.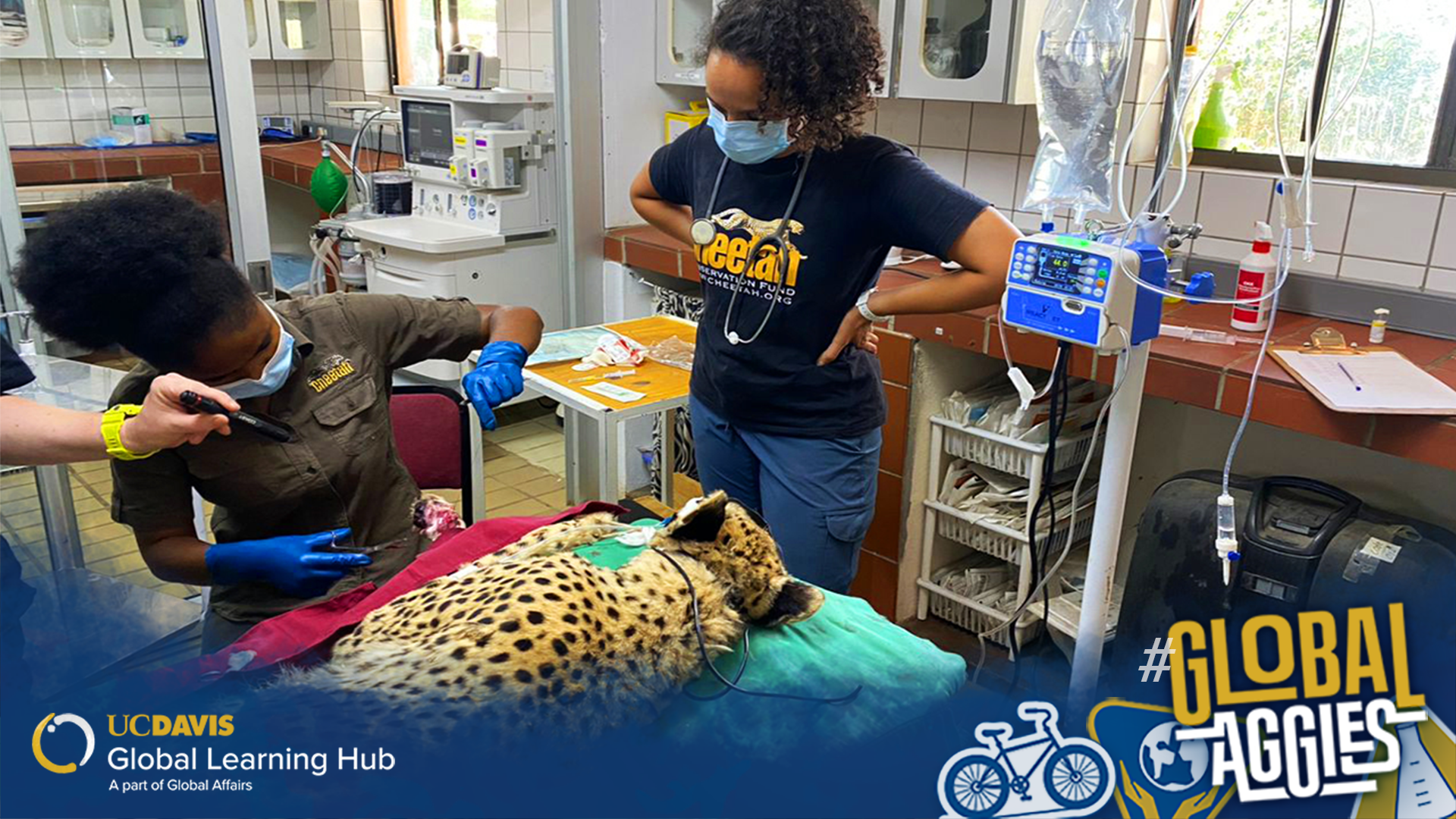 Study Abroad
​​​​​​​​​​​​​​Did you know there are 90 programs available to study or intern abroad next Winter and Spring quarters for UC credit? Programs for every field on almost every continent—explore now and be sure to submit your application by May 31.
Competitions, Challenges, and Funding
​​​​​​​​​​​​​​​​​​​​​​​​​Through this national initiative, the Hispanic Association of Colleges and Universities and Southwest Airlines will award roundtrip flights to undergraduate and graduate students across the country. Eligibility requirements include being enrolled at a college/university located at least 200 miles from a student's home and the submission of required essays. Deadline: May 19.
Real Impact on Society and Environment (RISE) is U21's international showcase of student achievement in sustainability and social innovation. Teams have the chance to win prizes valued at over $2,000 each. Email to apply to be nominated. Deadline: May 25.
​​​​​​​​​​​​​​​​​​​​​​​​$5,000 scholarships are available for undergraduate, graduate and post-secondary students related to the following themes: Global Health, Global Citizenship, Social Justice and Environmental Sustainability. The scholarship application is open to all majors and matriculating and currently enrolled students are welcome to apply. Deadline: June 2.
​​​​​​​​​​​​​​​​​​​​​​​​​​​​Funding is available for short-term research at partner institutions in Mexico. The purpose of the short-term stays will be for graduate students at the University of California to accomplish specific laboratory, library or field research. UC Alianza MX will provide funding to cover living expenses, travel and other related expenses in Mexico for a period of up to three months. Deadline: June 16.
​​​​​​​​​​​​​​​​​​​​​​​​​​​​PLURAL+ recognizes young people as powerful agents of social change and invites those under 25 years old to submit a video between one-five minutes on themes of migration, diversity, social inclusion and the prevention of xenophobia. Past winners. Deadline: June 20.
​​​​​​​​​​​​​​​​​​​​​​​​​​​​The Rhodes Scholarship is a fully funded opportunity to pursue a master's or doctoral program at the University of Oxford in England for one to three years. Applicants must have a cumulative GPA of 3.7 or greater, be ages 18-27 and have completed a bachelor's degree by summer 2023. Pre-application Deadline: June 28.
This program offers annual awards for U.S. citizens who will have bachelor's degrees by the 2024-25 academic year to conduct research, study or teach English in over 140 countries worldwide. Learn more about eligibility, timeline and requirements.
​​​​​​​​​​​​​​​​​​​​​​​​​​​​UNLEASH Hacks are localized hackathons designed to address sustainability challenges in specific contexts around the world. Young people work together to come up with ideas that can create positive impact in their local communities. The Hacks take place online over two consecutive Saturdays. Find a hackathon.
​​​​​​​​​​​​​​​​​​​​​​​​​​​​The UC Davis Cross Cultural Center (CCC) Masterclass Program aims to provide students with opportunities for self-directed learning that will encourage identity exploration and cultural humility. 500 free annual memberships are available. CCC MasterClass Program Interest Form.
Global Leadership, Internships, and Research
As a GE4A Fellow, you contribute towards the campus-wide initiative of Global Education for All, advising on different aspects of GE4A or working on team projects that help integrate global learning on campus, with multiple leadership opportunities available. The program is a one-academic-year volunteer, unpaid commitment. Apply. Deadline: May 12.
Join the Innovator Fellowship to work in an immersive, hands-on experience in a food and health investment environment gaining real-world business and entrepreneurial skills while evaluating food and health startups. The fellowship is open to Ph.D. students and postdoctoral scholars and offers funding and a flexible start date. Deadline: May 12.
​​​​​​​​​​​​​​​​​​​​​​​​​​​​The Imagining America consortium brings together scholars, artists, designers, humanists and organizers to imagine, study and enact a more just and liberatory 'America' and world. Submit a proposal to address the theme of Radical Reckoning: Invoking the Elements for Collective Change for a gathering in Rhode Island this October. Deadline: May 31.
​​​​​​​​​​​​​​​​​​​​​​​​​​​​The Global Affairs UN Sustainable Development Goals (SDGs) student interns have developed a SDG survey to gauge awareness of and interest in the SDGs among the UC Davis student population (including undergraduate, graduate and professional students.
This camp will offer 12 interdisciplinary courses. U21, a global leading research university network, will offer four master classes to all participating students over four weeks of the camp—one in each week—on the themes of sustainability and environmental science. Application. Deadline: May 31.
The University of California Graduate Student Experience Survey is an online survey administered at UC Davis and each of the other UC campuses. It asks students for their input around a broad range of academic and non-academic experiences. All UC Davis graduate and professional students are invited to participate. Survey closes: May 31.
The goals of the JGS Fellows Program are to elevate photography and digital media as pathways for undergraduate students to pursue their careers and to make a difference in their communities. Fellows receive $2,000 tuition scholarships, mentorship and financial support for a community project. Deadline: June 5.
This program invites graduate students to participate in a year-long working group in support of collaborative artmaking, teaching, writing, storytelling and co-creating knowledge with and within community. PAGE Fellows receive a $500 honorarium. Deadline: June 30.
UNESCO is hosting various internship/volunteer opportunities around the world. If you want to travel to another country and do hands-on global impact work, this is a place to begin. Disciplines include, but are not limited to, science, human arts and business.
Upcoming Info Sessions and Events
April 13–June 8, International Center Lobby. International LGBTQIA+ graduate students encounter unique challenges and experiences navigating the context of UC Davis. Join the 2022 recipients of the Global Aggies Award for LGBTQIA+ Rights for an interactive art and augmented reality installation. The award was established in 2021 through the generosity of former UC Davis Provost and Interim Chancellor Ralph J. Hexter, along with his husband Manfred Kollmeier.
May 12, 3–5 p.m., 1105 Vet Med 3B. Vector genetics lab is focused on research in the areas of population and molecular genetics, genomics and bioinformatics of insect vectors of human disease. Gain hands on experience and active participation in the research. Apply for an interest seminar (held once a year).
May 15–19. Join a week-long celebration of Punjabi history. Learn the history and stories of Punjabi farmers in California and how they contributed to the transformation of California agriculture. There will be different events throughout the week, including music, food and film.
May 17, 4 p.m., virtual. Global Affairs is proud to co-sponsor this event. Join Deepak Baruah, Founder and President of the Model United Nations School, as he discusses his research on the socio-economic conditions of tea communities in both pre-colonial and post-colonial era Assam.
​​​​​​​​​​​​​​May 20. HackDavis is the largest collegiate hackathon in California where over 800 students, creators and leaders come together for 24 hours to create for social good. HackDavis challenges its participants to create for social good and create an opportunity for us to explore the intersection between technology and society. Register.
Primary Category