September 2020 Global Learning Newsletter
Global Learning Newsletter — September 2020
— — — — —
Virtual Global Learning
Work remotely while earning UC Davis credit and connecting with professionals around the globe. Placements are available in fields such as, Counseling and Humanitarian Aid, Engineering, Computer Science/IT, Business, Communication, Nutrition, Design, Fashion, Green Technology, Sustainability, Non-profits, Charities, and more.
New offerings of SDG Academy's popular courses are starting in September and will remain open for a year, so you can enjoy learning about the UN Sustainable Development Goals (SDGs) at your own pace for free. Global Affairs offers many resources for online global learning.
Study Abroad
Explore the new UC Davis Study Abroad Account and stay updated on your favorite programs. Indicate your interest in specific programs to be notified of info sessions, funding opportunities, enrollment deadlines, and more.
Explore UC Davis faculty-led Quarter Abroad, Summer Abroad, Summer Abroad Internship and Virtual Summer Internship programs planned for 2021. To receive important program updates, create an account today (it only takes a minute!)
Global Leadership, Internships, and Research
The virtual SDG intern will map projects to identify and catalog research, teaching, and service on SDGs at UC Davis. Responsibilities include managing contact lists, assisting with strategies to involve faculty and students, organizing events, and liaising with student groups to build awareness about the SDGs. Extended deadline: September 12.
September 19–20 or October 26–28. The Mike and Renee Child Institute for Innovation and Entrepreneurship welcomes UC Davis students in all majors and disciplines—from the life sciences and engineering to the humanities and social sciences—to apply for this two-session immersion in innovation and entrepreneurship. Extended deadline: September 12.
October 5–23. Free for UC Davis undergrad and grad students. Want to connect, learn, and discuss global issues in a cohort of 2,000 students from around the world? Students will develop skills needed to thrive in the 21st century while tackling some of the world's most pressing problems outlined in the UN's Sustainable Development Goals. Deadline: September 30.
October 12 – December 11. This unique 9-week hybrid learning experience prepares participants to thrive in globally diverse spaces with inclusive leadership skills and global competencies. The course will cover topics of Global Competence; Cultural Humility; Inclusive Leadership; Diversity, Equity, Inclusion; Belonging in Action; and Career Readiness. Deadline: October 1.
October 20 – November 12. Participants of this virtual practicum (cohort 2) will receive a certificate in Design Thinking and Social Change. Participants will first become familiar with AASD's unique work and approach to development with local campesino (indigenous farmer) communities, then dive deep into the problems, needs, and context of campesino communities. Scholarships available. Deadline: October 7.
June 14 – August 27. This program offers research opportunities to undergraduate and graduate students. Students apply for a specific project and submit resume, cover letter, transcript, and recommendation letter to be nominated by UC Davis and considered by HU. Scholarships are available to cover the small program fee. Questions? Contact Paula Levitt. Deadline: December 5.
Competitions, Challenges, and Funding
The Payne Fellowship Program awards up to $48,000 for students pursuing a two-year master's degree program. Applicants must be seeking admission to enter graduate school at a U.S. university and may be in their senior year of their undergraduate studies, graduating by June 2021, or college graduates. Deadline: November 1.
This is a 12-month mentored research fellowship in one of twenty international partner sites for researchers interested in diseases and conditions in developing countries. Recipients will receive education and training, mentorship, and financial support to complete a research project. Deadline: November 2.
Join storytellers worldwide in our competition for positive change. Integrate maps, data, and other multimedia content by submitting an original story that addresses one or more global goals. Encourage more awareness of the SDGs and drive the necessary action towards achieving them. Deadline: November 25.
Upcoming Info Sessions and Events
Tuesday, September 15, 5 p.m., PST, Virtual. This webinar focuses on the Benjamin A. Gilman Scholarship which provides up to $5,000 for federal Pell Grant recipients to participate in study abroad and internship programs. There will be a Q&A at the end with the panelists. Register.
Tuesday, September 15, 12 p.m., PST, Virtual. The president and founder of GoinGlobal will demonstrate how this unique tool can enhance and support your career pursuits across town and around the world. The one-hour training will cover how to navigate the millions of global internship and job postings in the GoinGlobal database and other career development resources. Register.
September 21. The 2020 focus of this gathering is The Role of Universities in Achieving the SDGs in the New Context: Building Back; Building Bridges. Listen and connect with university leaders with an interest in utilizing the UN Sustainable Development Goals to transform their research, teaching, and operations in the context of COVID-19. Register.
​​​​​​​September 21–22. This conference provides a forum for academia, government, civil society, UN agencies, and the private sector to share practical solutions to achieve the UN Sustainable Development Goals. The theme is Cross-Cutting Solutions for the Decade of Action. Register.
​​​​​​​October 7-8. Interact with peers from all sectors of international development, including NGOs, private sector, consulting firms, and government agencies. There will be keynote addresses, plenaries, breakout sessions, and more. Interested students and recent grads contact Tom Rosen-Molina by October 1 for a free ticket (first come).
​​​​​​​October 9, 10, 16, 17, Virtual. The Lessons from Abroad (LFA) conference is a unique and extraordinary way for students to continue to learn and share abroad experiences with others. Students will have the opportunity to explore ways to go abroad again whether it be for study, travel, or work. Register.
​​​​​​​October 12, 10 a.m., PST, Virtual. Learn about options for virtual and in-person research, fully funded opportunities as well as research projects with available grants and scholarships. STEM-focused opportunities as well as other fields like entrepreneurship, psychology, and music available through DAAD: German Academic Exchange Service and Humboldt Internship Program in Berlin. Register.
​​​​​​​October 13, 2 p.m., PST, Virtual. Do you have an interest in applying your global experiences to help create a career vision for your future. Whether you're planning your first internship or looking for a new position, you can use this collective space to get clarity on your career visions and gain momentum by planning your next steps. Register.
​​​​​​​October 20, 4 p.m., PST, Virtual. Learn how and why to create a LinkedIn profile that brings your global experiences and personal career story to life. This session will offer specific tips on tailoring each section of your profile, and will particularly highlight ways to make your global transferable skills more prominent for potential employers. Register.
​​​​​​​October 26-29, Virtual. Tune into the Global Learning Showcase to explore the suite of global learning opportunities available to you, including global internships and research, community engagement, study abroad, leadership programs, virtual opportunities, and more! Learn more and pre-register.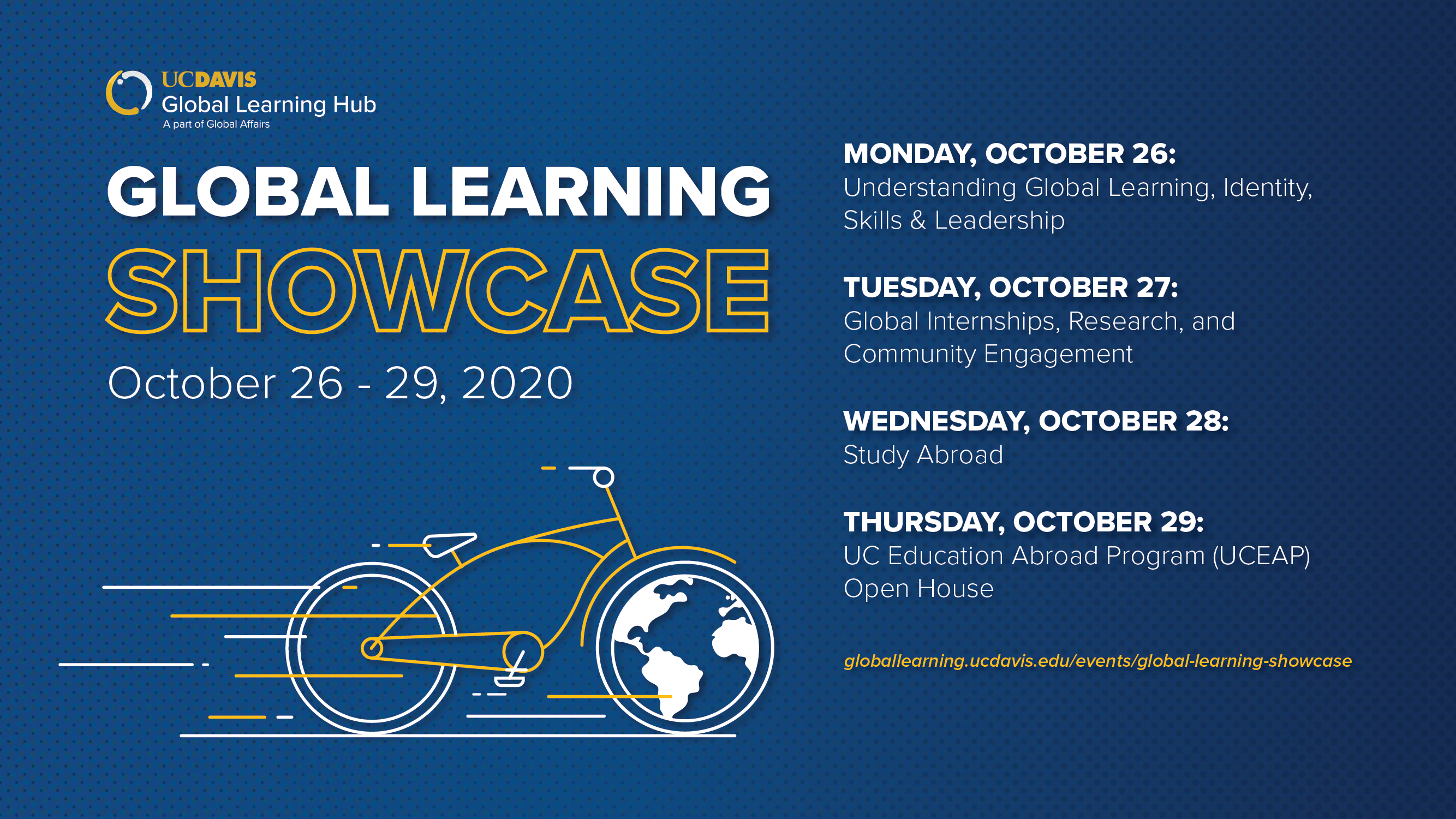 ---
About the Global Learning Hub at UC Davis
Through the Global Learning Hub, each and every UC Davis student can find global learning opportunities available on campus, in the region, and across all seven continents. The hub's network of local and global academic, experiential, and leadership programs helps develop capacity for undergraduate, graduate, and professional students to engage with global issues and make a difference in the world as the next generation of global problem solvers. Search global learning opportunities across UC Davis.
As a part of Global Affairs, the Global Learning Hub aims to inspire global curiosity, understanding, and engagement.
Primary Category