Global Learning Newsletter – April 2021
Announcements
April 23–25, Virtual and Free. Our Global Learning Conference —Preparing for Your Global Future in an Evolving World is offering 30+ sessions for all students and alumni. The conference is ideal for students with intercultural experience and those wanting to solve global challenges. Translate your experiences in your career development—hear from global professionals, network with organizations, and connect with your peers. Register*
* Register by Wednesday, April 14 and you will be entered into a raffle to win a pair of new Apple AirPods! Other prizes will be offered throughout the conference including Visa gift cards, one-on-one career coaching, LinkedIn Premium subscriptions, and more.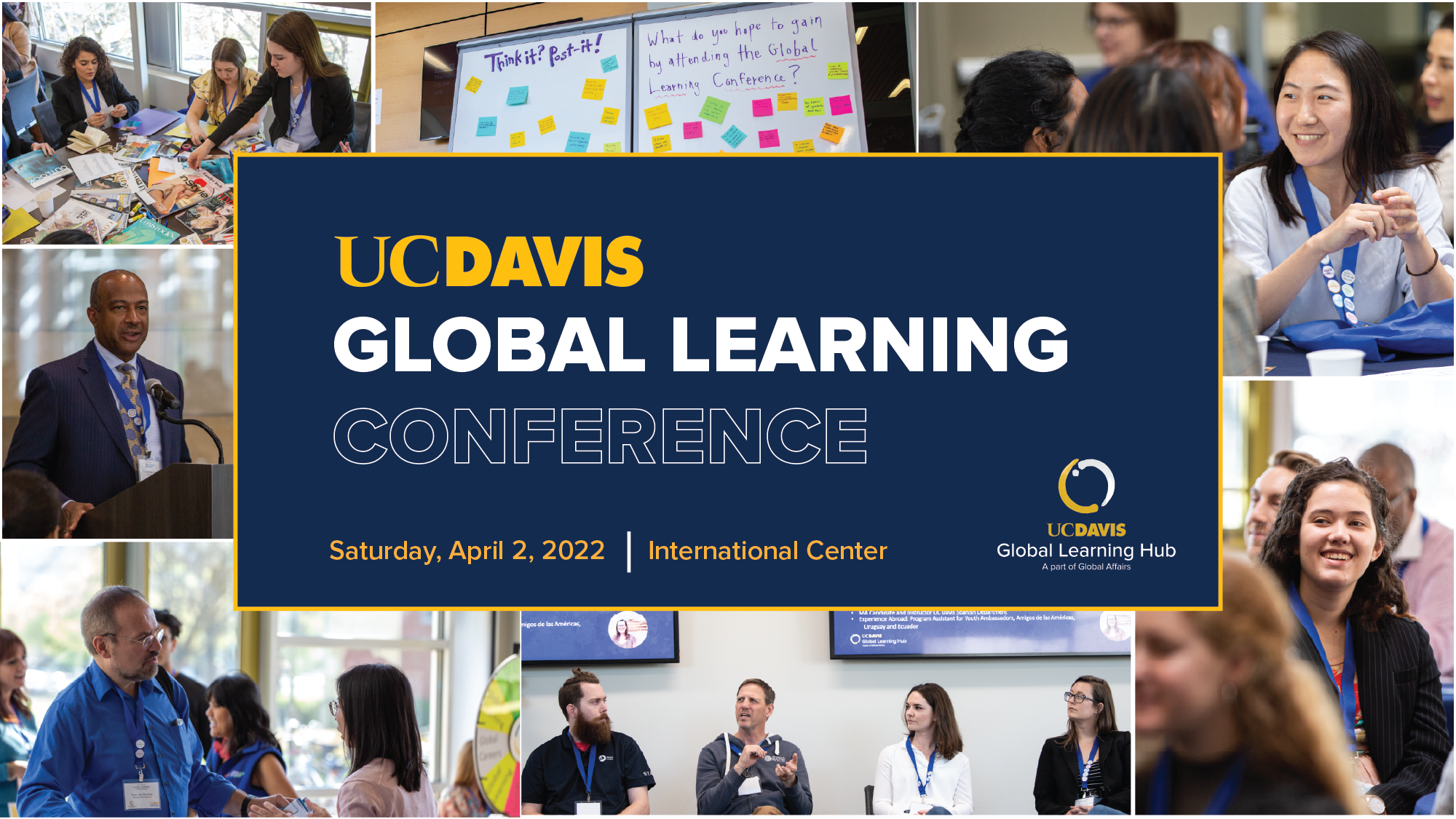 ​​​​​​​Undergraduate students are invited to apply to be Peer Advisors & Administrative Assistants and/or Data Assistants for the 2021-22 year. Inspire and assist your peers in pursuing global learning opportunities! Position descriptions and application information has been posted in Handshake (#4627882, #4627873 respectively). Deadline: May 10.
Study Abroad
​​​​​​​​​​​​​​Explore French history, culture, and language in a course that uses the city as a classroom. The program is taught in English, but requires one French City and Language course, which introduces you to Paris and the practical use of French. Deadline: May 28.
​​​​​​​​​​​​​​The application deadline for many University of California Education Abroad Program (UCEAP) opportunities in winter and spring 2022 is May 28. Program options include immersion, special focus study, language and culture, internships, research, as well as various program terms and lengths. Deadlines vary by program.
​​​​​​​​​​​​​​The UC Davis Quarter Abroad deadline has been extended to May 21, 2021. Explore programs: Latinx Health Internship in Oaxaca and Political Science at the London School of Economics. Financial aid applies! To receive updates or start your enrollment, create an account today.
​​​​​​​​​​​​​​Experience other cultures through sustained and interactive engagement with communities, virtual excursions, and virtual cultural activities. Berkeley Virtual Summer Abroad programs are open to all University of California students. Deadline: May 2. Learn more.
Global Leadership, Internships, and Research
April 23, 2 p.m. PDT. Podcasts provide an opportunity to connect globally in a way that is accessible. This workshop for grad students describes the process for approaching interviewees, developing narratives, and creating questions that are effective and ethical. Participants will practice developing questions, interviewing partners, and reflecting on their experience. Register.
April 24, 11:30 a.m. PDT. Have you ever felt like you didn't belong in a space? At this conference session, you will learn tools to tackle imposter syndrome, build your confidence, and understand what true belonging means. This workshop will provide a space of global belonging, openness, and connection. Register.
April 24, 1 p.m. PDT. Award-winning travel photographer, Bob Holmes, shares how "my camera became my passport to a vast diversity of cultures on every continent." He will share stories of intercultural learning alongside practical tips for travel photography, photojournalism, and personal expression through the creative capture of the human experience. Register.
April 25, 11 a.m. PDT. You have adapted to unprecedented global upheaval with COVID; you survived and showed resilience. This session offers tools for self-discovery of your cross-cultural skillsets as a global citizen. Interactive activities will help you articulate your team and leadership skills based on your own intercultural experiences. Register.
April 25, 1 p.m. PDT. Three engaging presenters (including LinkedIn!) will share action-oriented takeaways including beefing up your LinkedIn Profile and updating your resume with your global experiences. Observe a live interview with a global HR recruiter about what global and intercultural skills are particularly relevant in today's market. Register.
Global Internships & Research
UC Davis is pursuing a Voluntary University Review to support our university's role as a public land-grant institution in advancing the 2030 Agenda for Sustainable Development. This is a joint effort between Global Affairs, Sustainability, and the Office of Diversity, Equity and Inclusion. We invite all students, scholars, staff, researchers, and faculty to share details about their SDG efforts through this online portal. Share your story and inspire others.
April 23, 3 p.m. PDT. Hear from a few fast-talking current and former master's and doctoral students as they meet the challenge to sum up their research in just three minutes. Participants—future and past—of the annual UC Grad Slam contest highlight the research they've done that embraces global learning. Register.
April 28 – May 1. UC Davis undergraduates in all academic fields will present their research that has been conducted under the supervision of a faculty member. The conference is designed to acquaint students with the process and academic rigors of presenting research in a scholarly manner and in an affirming environment.
Join a two-week program with People & Friends to learn about Global Entrepreneurship or the United Nations Global Goals. Work with start-up projects, attend guest lectures, and participate in virtual cultural activities. Visit the People & Friends virtual booth at the Global Learning Conference.
June 15 – August 15. Virtually intern for 3+ months with Omprakash international partners. This program offers a digital ecosystem of relationships, social impact internship opportunities, curated curriculum, and multimedia storytelling. Sign-up and learn more about full funding, watch the student video, and visit the Omprakash virtual booth at the Global Learning Conference.
June – August. Undergraduate students interested in education, technology, and international development will gain real-world skills by helping to devise and deliver remote solutions to assist African NGOs. Watch the video to hear from past students, apply, and visit the Team4Tech virtual booth at the Global Learning Conference.
June 1 – August 20. Work with a team of 4-6 peers to develop innovative business solutions to global challenges while building essential skills of cross-cultural teamwork and collaboration, concept design, and execution. Pitch project ideas to industry mentors and receive real-world feedback. Visit API's virtual booth at the Global Learning Conference.
Competitions, Challenges, and Funding
The UC Davis Global Learning Hub has funding to support students on virtual global learning projects and internships this summer on the Team4Tech, Omprakash Widening Circles, API Innovation Lab, or People & Friends programs. Learn more about eligible programs. Deadline: April 25.
April 23, 2 p.m. PDT. This graduate student session highlights the Fulbright U.S. Student Program, offering approximately 2,000 annual awards for U.S. citizen recipients to conduct research, study, or teach English in over 140 countries worldwide. Explore the aims of the program, funding provided, application process and timeline, and how to be competitive. Register.
A fully-funded opportunity to pursue a master's or doctoral program in the United Kingdom. Applicants must be U.S. citizens who complete bachelor's degrees between April 2019 and summer 2022, with cumulative GPA's 3.7 or greater. Two UC Davis students were selected as Marshall Scholars this past year. Pre-application due: May 17.
​​​​​​​​​​​​​​A fully-funded opportunity to pursue a one-year master's program in Ireland or Northern Ireland. Applicants must be U.S. citizens, aged 18-29, and complete a bachelor's degree by summer 2022. Pre-application due: May 17.
​​​​​​​​​​​​​​A fully-funded opportunity to pursue a master's or doctoral program at the University of Oxford in England for 1-3 years. Applicants must be U.S. citizens, permanent residents or DACA recipients, possess cumulative GPA's of 3.7 or greater, aged 19-27, and complete a bachelor's degree by summer 2022. Pre-application due: May 17.
Community-Engaged Global Learning
April 25, 10 a.m. PDT. Are you looking for a way to use your skills after graduation? The Peace Corps is here! Hear directly from those with experience. This session will include an overview of the program and voices from Returned Peace Corps Volunteers (RPCVs) who will share their stories. Register.
April 25, 10 a.m. PDT. Explore the education and fieldwork that can prepare you to work with various organizations on the protection of vulnerable people and explore the different paths available to pursue a career in the field, and discuss work to support women, peace, and security. Register.
April 25, 11 a.m. PDT. Hear from local nonprofit leaders working on local issues that are also global challenges. We will explore what local nonprofit work looks like, the skills needed for this work, and how the work we do in our communities addresses challenges like the United Nations Sustainable Development Goals. Register.
Global Opportunities After Graduation
April 23, 4 p.m. PDT. Join us for a panel conversation with students about their global learning experiences from a career development perspective, including global skills building, professional network development, and global experiences that open doors to career opportunities. Register.
April 23, 5 p.m. PDT. Join us for an alumni plenary featuring a panel of several recent UC Davis alumni sharing their global learning experiences and how those have impacted their career paths. The panel will be facilitated by Allan Goodman, the President of the Institute of International Education. Register.
April 24, 3 p.m. PDT. Join us for an interactive session where you will get to make connections with global professionals, learn more about different career paths, and meet like-minded students! Tracks include Entrepreneurship and Business; Education and Community Development; STEM; and International Development, Public Service, and Government. Register.
April 25, 10 a.m. PDT. Are you wondering what it's like to attend graduate school abroad? Hear from a panelist who completed their graduate studies in China, a UC Davis alum studying in the Netherlands, and an international graduate student here at UC Davis about all aspects of graduate studies abroad. Register.
April 25, 11 a.m. PDT. Teaching English abroad offers work experience in another country, expansion of your professional network, and engagement with local communities in a meaningful way. Hear from students who taught English in Europe and Asia, and learn about their experiences, including program selection, the application process, finances, and more. Register.
Upcoming Info Sessions and Events
​​​​​​​​​​​​​​April 15, 6 p.m. PDT. Come join IGNITE, an organization dedicated to inspiring young women to pursue political careers, to learn more about the journey into academia, and what it's like to pursue graduate studies in the political realm. Guest speakers: Joanna Regulska, vice provost and dean of Global Affairs and professor of gender, sexuality and women's studies at UC Davis; and Clare Gupta, associate public policy specialist at the UC Cooperative Extension.
​​​​​​​​​​​​​​April 16, 6 p.m. PDT. Calling all UC Davis Global Aggies! Whether you are in California or elsewhere around the world this UC Davis Picnic Day, the Cal Aggie Alumni Association and Global Affairs invite you to join UC Davis Picnic Day Around the World 2021. Hear from Global Affairs Vice Provost and Dean Joanna Regulska, learn about the most recent campus developments, enjoy Q&A sessions with students and alumni, and more at this interactive online event. Register.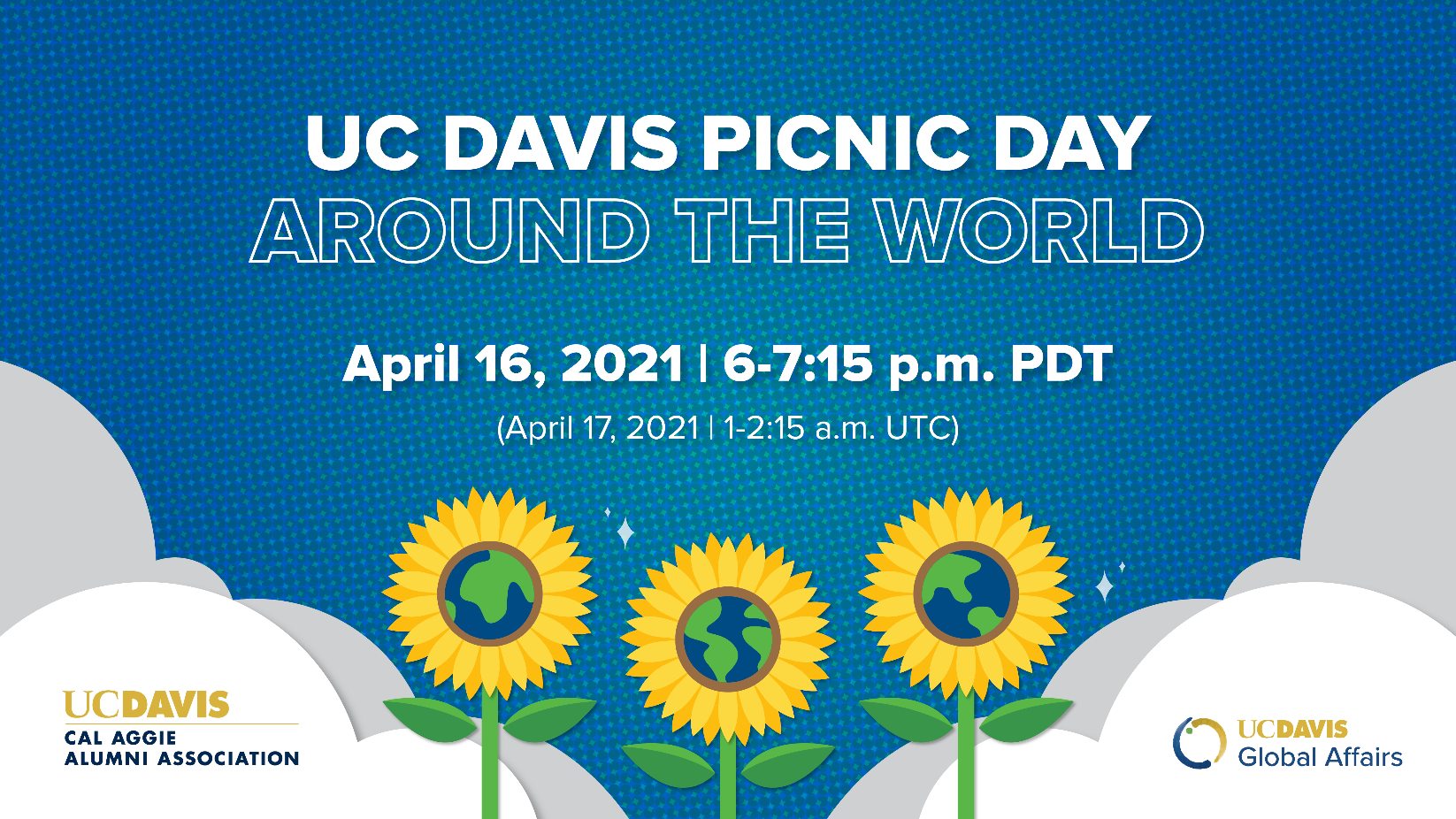 ​​​​​​​​​​​​​​April 23–25. Your global perspectives are valuable in today's interconnected and rapidly evolving world. At our UC Davis Global Learning Conference, you'll learn from global professionals, connect with like-minded peers, network with global and international organizations, and explore the important conference theme: Preparing for Your Global Future in an Evolving World. Learn more and Register.
---
The UC Davis Global Learning Newsletter is published monthly throughout the academic year. Join our email list. 
About the Global Learning Hub at UC Davis
Through the Global Learning Hub, each and every UC Davis student can find global learning opportunities available on campus, in the region, virtually, and internationally. The Hub offers global learning programs, workshops, and resources that enhance all UC Davis students' academic and career pursuits through four broad areas of opportunities: Community Engagement; Global Skills and Leadership; Internships and Research; and Study Abroad. UC Davis is committed to preparing the next generation of global problem solvers and change makers. As such, we aim to prepare our undergraduate, graduate, and professional students to solve global challenges collaboratively, equitably, and sustainably.
As a part of Global Affairs, the Global Learning Hub aims to inspire global curiosity, understanding, and engagement.
Primary Category