Global Learning Newsletter – December 2021
The Global Learning Hub, within Global Affairs, is pleased to announce the 2022 lineup of programs for UC Davis Summer Abroad and UC Davis Summer Abroad Internships. Programs include faculty-led study and internship (virtual and in-person) opportunities in various disciplines—from animal and veterinary science to global health, from environment, green tech, and sustainability to business and communication. Read our web story.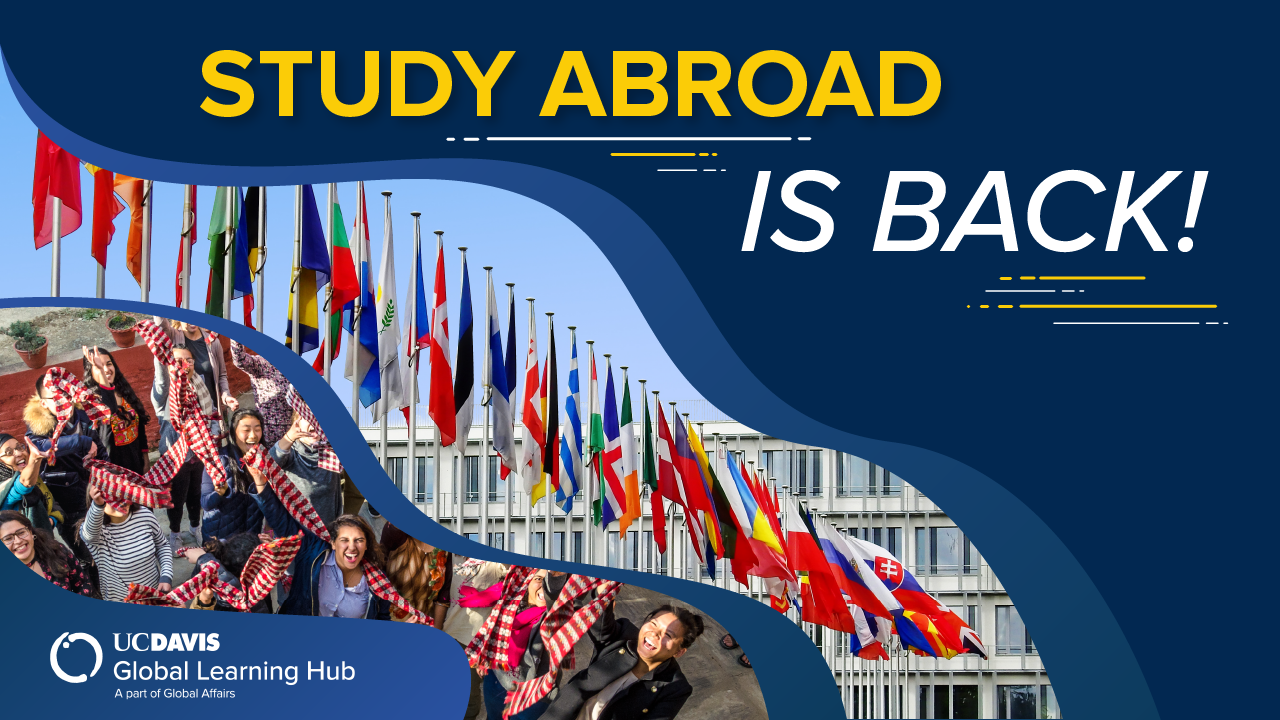 Study Abroad
​​​​​​​Intern in Barcelona for six weeks this summer. Opportunities are available in accounting, finance, advertising, communication, marketing, public relations, international trade, logistics, hospitality and tourism, and more. Info Session: December 15, 1–2 p.m. Register.
​​​​​​​​​​​​​​Fees are now posted for our UC Davis Quarter Abroad, Summer Abroad, Summer Abroad Internship, and Virtual Summer Internship programs planned for 2022. To receive program updates, create an account today.
​​​​​​​​​​​​​​Take a minute to browse our 2022 summer programs. Join faculty leaders and program coordinators at upcoming program info sessions. Enrollment opens on January 5, but you can now start the process early by creating an account and program interest list.
​​​​​​​​​​​​​​Studying abroad can be the first step to exploring a career abroad, and Sierra Alef-Defoe speaks from experience. She studied abroad with UCEAP for a semester in France, then Denmark. After graduating, she continued her journey abroad through Switzerland, Cyprus, and back to Denmark. Sierra's advice: UCEAP Blog.
Virtual Global Learning
​​​​​​​​​​​​​​These eight-week, project-based summer internships can help you enhance your skills using digital tools and accomplishing remote-based work. Choose to work 20 or 30 hours a week. Create an account to receive program updates. Info Session: January 14, 12–1 p.m. Register.
July 2022. This free opportunity gives students from around the world an understanding of key aspects of Brazil from distinct perspectives. Meetings in English will cover the underpinnings of Brazilian politics, history, foreign relations, geography, law, economy, and culture. Apply to be nominated by UC Davis. Deadline: January 23.
Global Leadership, Internships, and Research
Create your profile today to be the first to know about experiential and intercultural learning opportunities at UC Davis and beyond. Express interest in community-engaged global learning, global leadership, conferences and workshops, internships, and research; we will also be in touch about application openings, funding opportunities, and more.
Summer 2022 (dates flexible). This program offers research opportunities to undergraduate and graduate students. Students apply for a specific project in biology, social sciences, physics, entrepreneurship, music, and more. Requires resume, cover letter, and letter of recommendation. Scholarships are available to cover the small program fee. Deadline: December 15.
The 2022 DAAD RISE internship database is now open. The RISE program offers undergraduates the opportunity to complete a funded summer research internship at top German universities and research institutions. Receive 750 euros/month for three months, health insurance, stipend for international, and in-country travel. Deadline: December 15.
Present your research study at the 2022 UFWH Virtual Summit on March 17–18, 2022. Proposal topics may include hunger, nutrition, health, homelessness, poverty, economic development, social justice, health equity, natural resources, agriculture, food production/processing/distribution, food waste, climate solutions, sustainability, etc. Submit a proposal. Extended Deadline: December 15.
The Mellon Public Scholars program introduces doctoral and MFA students in the arts, humanities, and humanistic social sciences to the intellectual and practical aspects of identifying, addressing, and collaborating with members of a public through their scholarship. Deadline: January 14.
The UN Millennium Fellowship is a free worldwide leadership development program for undergraduate students, offered virtually from August–November 2022. Benefits include: certificate, network with global leaders, leadership training, and community social change. UC Davis is a UN Millennium Fellowship Campus Hub. Priority Deadline: January 31.
Competitions, Challenges, and Funding
​​​​​​​​​​​​​​The fellowship provides a $43,000 salary, with benefits, to work for one post-graduate year as a junior researcher at the Carnegie Endowment for International Peace. Applicants must be eligible to work in the U.S. and have significant research experience. Deadline: December 21.
​​​​​​​​​​​​​​This fellowship provides a stipend, tuition, and travel expenses for intensive language study of Chinese, Japanese, Korean, Thai, Vietnamese, Indonesian, Khmer, or Burmese in approved language programs in East or Southeast Asia. By the start of the grant, applicants should have received a bachelor's degree and have the equivalent of three years of language study. Deadline: December 30.
​​​​​​​​​​​​​​This graduate fellowship funds $30,000 towards a public service graduate degree along with conference attendance and a Washington D.C. internship. Applicants must be U.S. citizens enrolled full-time in their junior year, with interest in pursuing careers as public service leaders. Deadline: January 4.
​​​​​​​​​​​​​​This scholarship funds $7,000 and attendance at Udall Scholars Leadership Conference for sophomores and juniors who are U.S. citizens, nationals, or permanent residents planning careers to benefit the environment or Native American/American Indian tribes. Tribal candidates must be Native American/American Indian. Deadline: February 3.
​​​​​​​​​​​​​​Applications are now open for the 2022 Frederick Douglass Global Fellowship, a fully-funded leadership program for students of color to study abroad and explore strategies for promoting social justice, resolving conflict, and advancing peace. The program will be in Ireland this year, co-sponsored by Ireland's Department of Foreign Affairs. Deadline: February 14.
​​​​​​​​​​​​​​Full funding for a six-week summer program at Howard University in Washington D.C. This program provides a deeper appreciation of current issues and trends in international affairs, a greater understanding of career opportunities in international affairs, and the enhanced knowledge and skills to pursue such careers. Deadline: February 15.
Upcoming Info Sessions and Events
​​​​​​​​​​​​​​December 8, 11 a.m.–12 p.m. Join career expert and GoinGlobal founder Mary Anne Thompson as she explores proven strategies and tactics for helping job seekers achieve their career objectives in an employment market transformed by the COVID-19 pandemic. Mary Anne will share insights gathered by her global team of in-country career experts. Register.
​​​​​​​​​​​​​​December 9, 12:15–12:45 p.m. Learn about the program, application process, and deadlines. The Udall Scholarship funds up to $7,000 for sophomores and juniors who are either planning to enter careers to benefit the environment or are Native American/American-Indian students entering careers to benefit their tribes. Register.
​​​​​​​​​​​​​​January 26, 11 a.m.– 2:00 p.m. Are you considering studying abroad during your time at UC Davis, or completing a global or virtual internship? Come to the fair (in person!) to explore the many opportunities available for UC and UC Davis credit. Talk with UC Davis Study Abroad program instructors, advisors, and internship providers; and attend info sessions on financial aid, scholarships, and funding for study abroad. FREE PIZZA! Learn more.
​​​​​​​​​​​​​​January 29. Join the free Undergraduate Leadership Conference session, Your Story, Your Strengths: Intercultural Skills for Life and Career Success. Focusing on your lived experience, learn how to name your intercultural skills. Through storytelling and listening, using STAR and LITE techniques, discover your own strengths and help your peers discover theirs. Register.
​​​​​​​​​​​​​​April 2. Join us for this year's Global Learning Conference: Navigating Challenges and Strengths Through Collaborative Action at the International Center on campus. Network with global professionals and participate in engaging global sessions. Early bird registration (only $10!) for UC Davis students is coming soon—express interest now to be notified when registration opens.
Primary Category