February 2021 Global Learning Newsletter
Virtual Global Learning
June 21 – July 30. Go global, yet remain local, gaining work experience and building your résumé working virtually with a company based in Buenos Aires. Earn 6 units in 6 weeks. Part-time and full-time options available in English or Spanish. Guaranteed, customized placement. Live Q&A Session: February 17, 10 a.m., Winter Fair.
June – August. 8-10 hours/week. This internship is designed for undergraduate students interested in education, technology, and international development who want to gain real-world skills by helping to devise and deliver remote solutions to assist African NGOs. Sign-up to receive updates, including application info.
Study Abroad
February 17, 10 a.m. – 4 p.m. Join us to explore Summer Abroad, Quarter Abroad, Summer Abroad internships, and Virtual Summer Internships. Meet with program instructors, advisors, and providers to explore available opportunities. Register.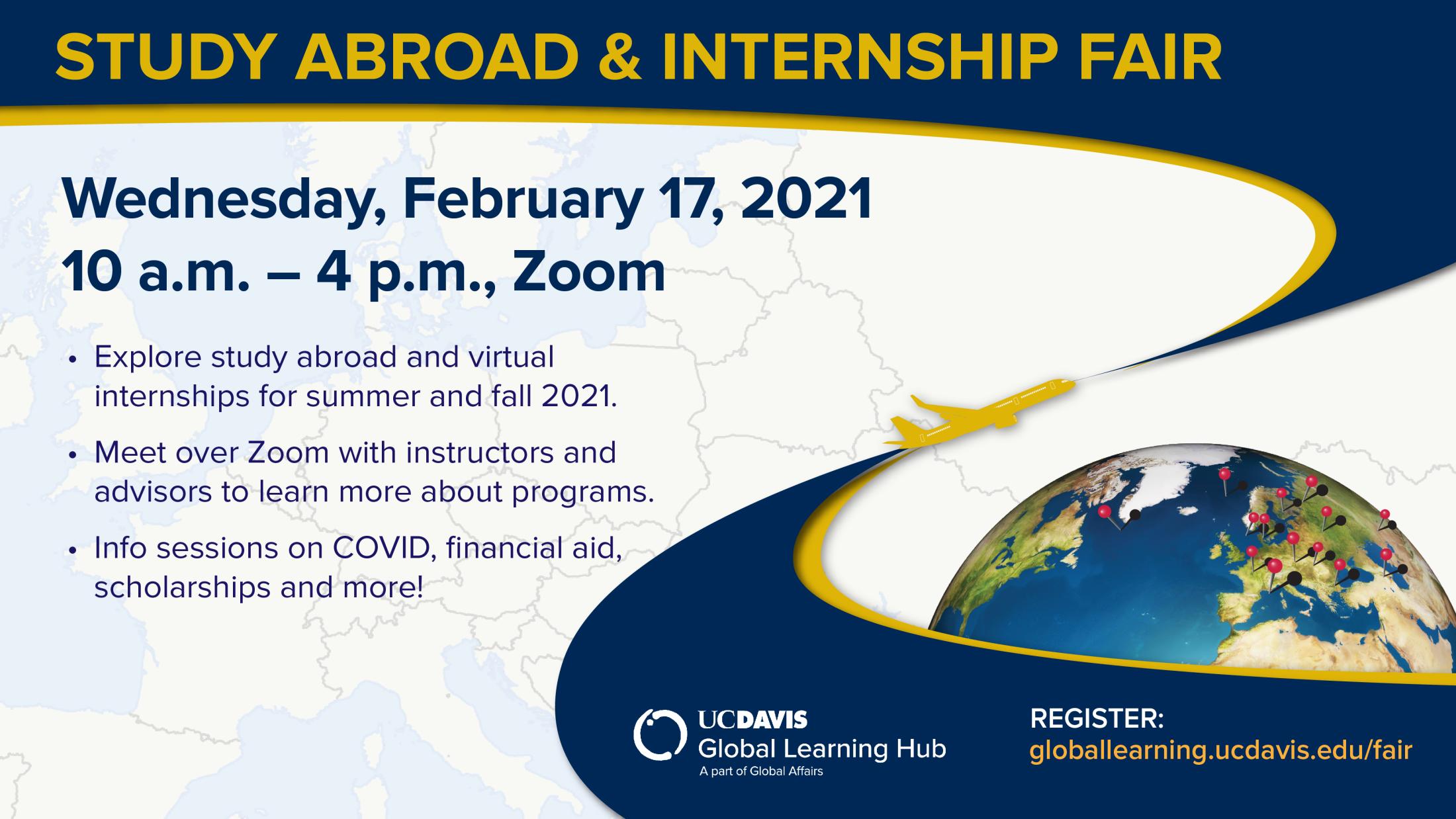 ​​​​​​​​​​​​​​June 28 – July 27. Earn 8 units in 4 weeks (Molecular & Cellular Biology 23 & 198) exploring the history of cancer in San Sebastian, a picturesque beachside town on the Bay of Biscay. Instructors: Helen Chew and Mark Henderson, Internal Medicine, UC Davis Health. Info Session: February 18, 12 p.m. Register.
​​​​​​​​​​​​​​There is still time to enroll in an internship program this summer. Program are filling on a first-completed, first-reserved basis. Financial aid applies. To receive updates or start your enrollment, create an account today. Deadline: February 26.
​​​​​​​​​​​​​​Fionna Huang, a UC Davis senior majoring in biochemistry and molecular biology, reflects on her "year of physics" in Hong Kong through the UCEAP Summer Physics program.
Global Leadership, Internships, and Research
Peer Mentors work to promote a sense of belonging while supporting new students as they transition to UC Davis.  You can join a connection with a global focus. This is a flexible job that can accommodate other student involvement. Job description in Handshake. Job ID#: 4254236.
September 2021 – April 2022. This opportunity is for U.S. citizens ages 18-29 to serve as guides and cultural representatives of the U.S. to millions of visitors at EXPO 2020 Dubai. Ambassadors interact daily with international visitors and assist in organizing events at the U.S. Pavilion. Deadline: February 26.
August – November. Free worldwide leadership development program for undergraduate students focusing on addressing United Nations goals (cohorts of 8-20 Millennium Fellows on each campus). Benefits include: certificate, network with global leaders, leadership training, and experience with community social change. Priority Application Deadline: February 28.
October 2021 – May 2022. NALCAP offers teaching grants to Americans 18-60—native English speakers with a basic knowledge of Spanish. Grant recipients partner with elementary and secondary schools to provide backing to language programs as teaching assistants for 12-16 hours per week. Spotlight Video. Rolling application. Deadline: April 6.
This fellowship opportunity—available to all UC Davis students—is a partnership with the Sacramento-based non-governmental organization Worldwide Child Relief Foundation. The fellowship is carried out in Nicaragua during the summer months, usually between 4 and 10 weeks, on site or virtually. Some available projects: health education and nutrition, small businesses, English teaching, working with children with special needs, and much more.
Competitions, Challenges, and Funding
​​​​​​​​​​​​​​Grad Slam is an annual contest in which master's and Ph.D. students across UC campuses—in disciplines ranging from hard sciences to the arts humanities—compete to sum up their research in 3 minutes, for a general audience. Prizes available. Grad Slam 2021 Virtual Info Session. Deadline: February 11. Register.
This invitation supports individual and collaborative projects that respond to issues facing California currently, including pervasive social, political and economic inequalities, and various systemic barriers to equality and freedom(s). Open to artists, writers, poets, musicians, performers, visual artists, and all creatives from the Sacramento region. Prizes available. Proposal Deadline: February 15.
Use your creativity to produce a compelling video about climate activism in your community or on a global scale. This contest serves as a call-to-action for Northern Californian students to create a short video taking action against climate change. Prizes available. Deadline: March 1.
Upcoming Info Sessions and Events
Wednesday, February 10, 5:10 p.m. – 6:00 p.m. Sze's acclaimed book, Environmental Justice in a Moment of Danger, examines mobilizations and movements—from protests at Standing Rock to activism in Puerto Rico in the wake of Hurricane Maria. It is an essential primer on environmental justice, packed with cautiously hopeful stories for the future. Register.
Thursday, February 11, 9:00 a.m. – 10:00 a.m. The virtual forum will focus on the connections between the SDG Agenda and Diversity, Equity, and Inclusion efforts, and will highlight ways that UC Davis is contributing to specific SDGs—including Zero Hunger, Climate Action, and more. This event is free and open to the public. Register.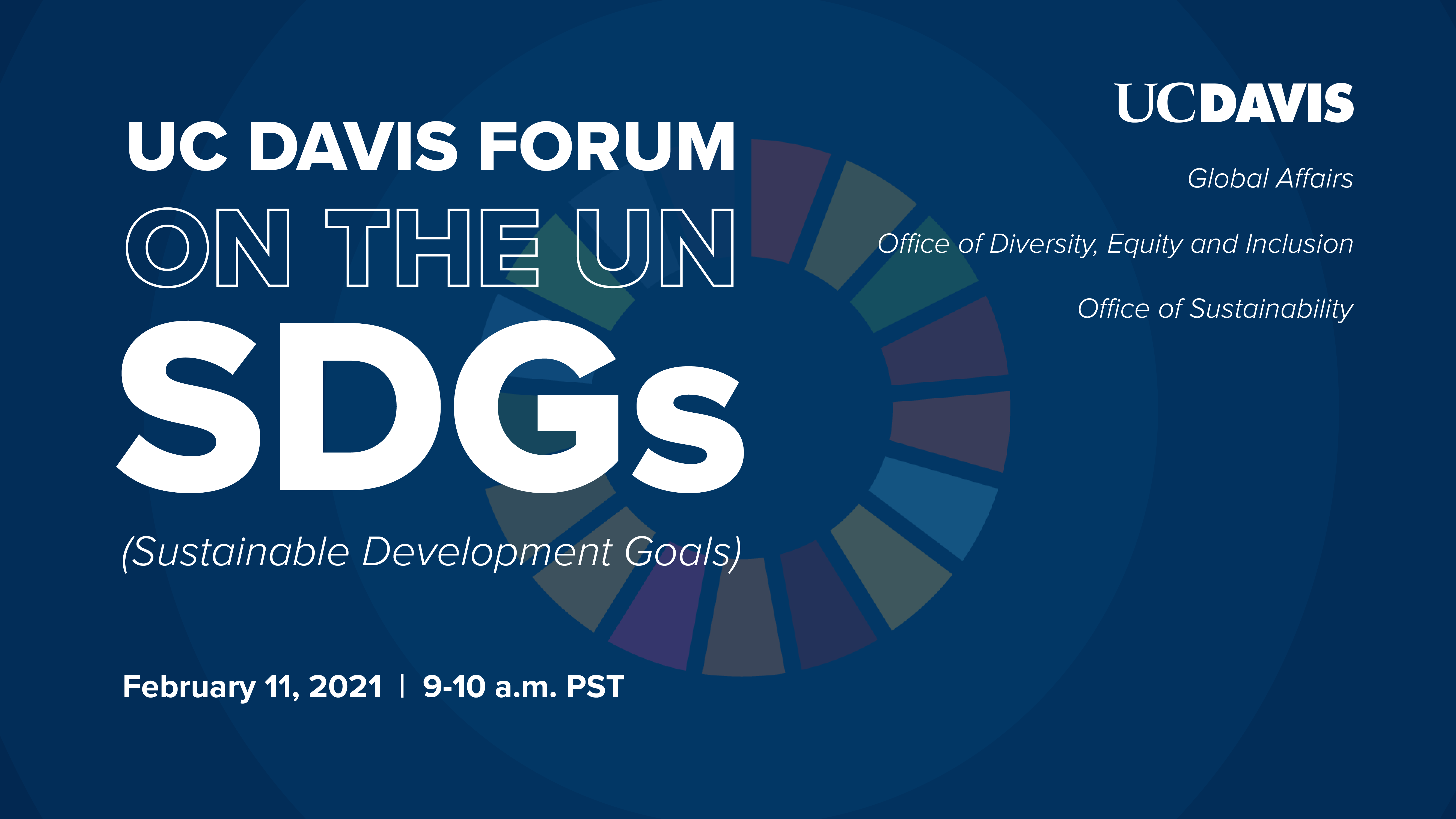 Tuesday, February 23, 12:00 p.m. Come learn about this remote summer internship and leadership development program that focuses on supporting nonprofit organizations working to improve education in underserved communities around the world. Student interns will work up to 20 hours per week on interdisciplinary projects in Rwanda and Malawi. Register.
​​​​​​​​​​​​​​Tuesday, February 23, 5:30 p.m. – 7:00 p.m. Are you interested in "traveling to" Latin America, learning more about some of its cultures, and making more connections? Come to this informal Zoom social event to meet peers from the region who can share an insider's perspective! This event is hosted by the Global Education for All Fellows. Register.
​​​​​​​​​​​​​​Wednesday, February 24, 12:00 p.m. Stefano Varese, Professor Emeritus at UC Davis, and faculty leader for Summer Abroad Ecuador, will discuss his memoir "The Art of Memory—An Ethnographer's Journey." Register.
​​​​​​​Wednesday, February 24, 4:00 p.m. – 5:30 p.m. This bilingual panel discussion (Spanish/English in simultaneous translation), put on by the Center for Peace and Global Citizenship at Haverford College, will focus on migrant rights and inclusive advocacy in Philadelphia, Mexico City, and around the world—analyzing different policies and initiatives and their effects on migrants. Register.
​​​​​​​​​​​​​​Wednesday, March 10, 4:00 p.m. – 5:00 p.m. The North American Language and Culture Assistants Program (NALCAP) offers teaching assistant grants to American college students and graduates to teach English for 12-16 hours per week in Spain. Learn about the program, application, and how this opportunity can help you prepare for your global future. Register.
​​​​​​​​​​​​​​April 23–25. The 2021 Global Learning Conference—Preparing for Your Global Future in an Evolving World event is a virtual opportunity for undergraduate, graduate, and professional students to reflect on their global experiences and identities and connect with like-minded students while preparing for their global future. Sign up for updates.
---
The UC Davis Global Learning Newsletter is published monthly throughout the academic year. Join our email list. 
About the Global Learning Hub at UC Davis
Through the Global Learning Hub, each and every UC Davis student can find global learning opportunities available on campus, in the region, virtually, and internationally. The Hub offers global learning programs, workshops, and resources that enhance all UC Davis students' academic and career pursuits through four broad areas of opportunities: Community Engagement; Global Skills and Leadership; Internships and Research; and Study Abroad. UC Davis is committed to preparing the next generation of global problem solvers and change makers. As such, we aim to prepare our undergraduate, graduate, and professional students to solve global challenges collaboratively, equitably, and sustainably.
As a part of Global Affairs, the Global Learning Hub aims to inspire global curiosity, understanding, and engagement.
Primary Category