Global Learning Newsletter – May 2021
Announcements
New this summer, and in collaboration with UC Davis Summer Sessions, the Global Learning Hub is offering seminars for students of all majors who will be introduced to global learning and hone their skills to become the global professionals and global collaborators of tomorrow. These one-unit seminars can be taken independently or in sequence and will prepare students to engage in an interconnected world that defies geographic borders.
Undergraduate students are invited to apply to be Peer Advisors & Administrative Assistants and/or Data Assistants for the 2021-22 year. Inspire and assist your peers in pursuing global learning opportunities. Applications are being reviewed on a rolling basis. Learn more. Application Deadline: June 13.
There is still funding available to be used for the full cost of participation on virtual global learning projects this summer. Funding is available to undergraduate, graduate, and professional students from all colleges. Funding applications will be reviewed as they are received and selected applications will be awarded on a first-come, first-served basis until all funds are awarded. Learn more about eligible programs. The funding application will close after all funding is awarded.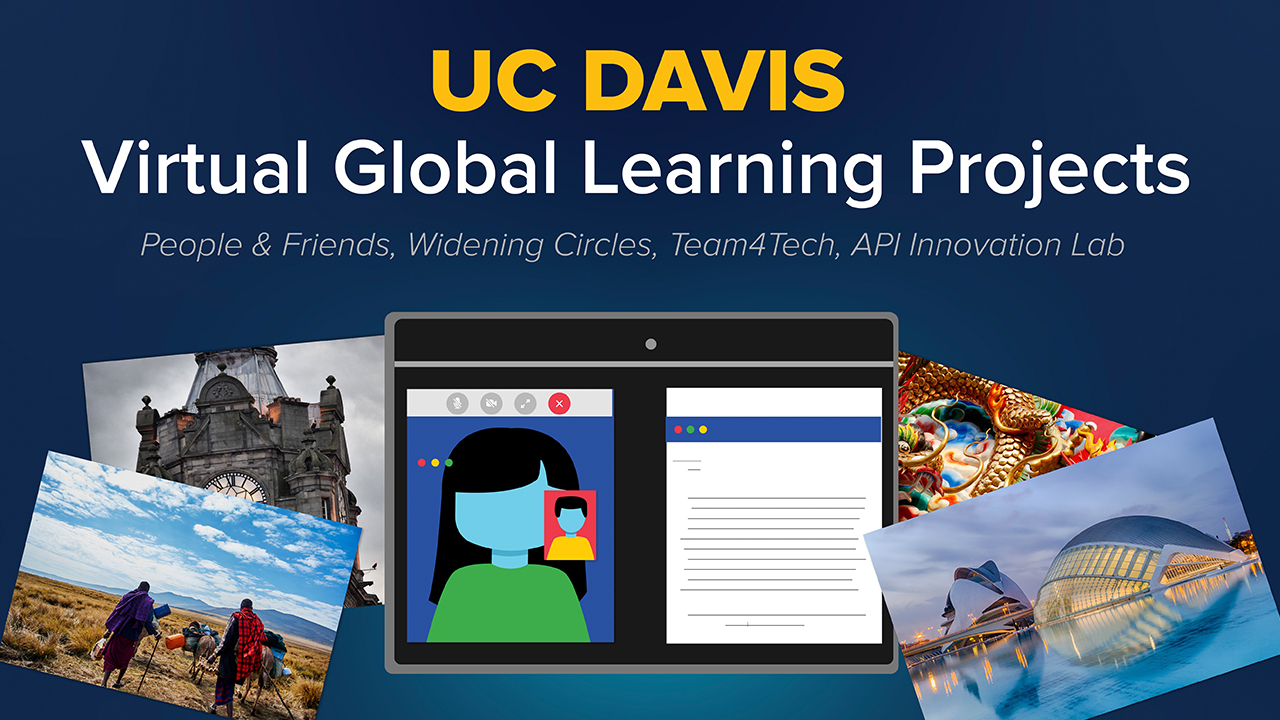 Virtual Global Learning
May 14, 8 a.m. PDT. The inaugural Student Farm Global Symposium aims to bring students from different parts of the world together into one virtual space to discuss current issues on sustainable agriculture and food security, to collaborate, and design creative solutions.
​​​​​​​This social impact volunteer program—available to all UC Davis students—is a partnership with the Sacramento-based non-governmental organization WCRF. The program will take place virtually in Nicaragua during the summer. Available projects: health and nutrition, small businesses, English teaching, special needs, digital literacy, clean water, community garden, and more. Deadline: May 31. Questions?
Study Abroad
​​​​​​​​​​​​​​Explore British culture and business from the perspective of an entrepreneur. The curriculum focuses on the state of work in the United Kingdom and the broader changes resulting from digital technology, the role of influencers, and big data. Option to include an internship.
​​​​​​​​​​​​​​There is still plenty of time to enroll to study abroad this fall! Fast-Track Enrollment is available; see detailed instructions for UC Davis Fall 2021 Quarter Abroad programs, Latinx Health Internship in Oaxaca and Political Science at the London School of Economics. Deadline: May 21.
​​​​​​​​​​​​​​Global health has never been a more important or timely topic. UC students pursuing a future in public and global health want to know how to be a stand-out candidate for jobs. Recently, several UC students contributed to a blog post in The Californian Abroad, describing how study abroad boosted their health career.
Global Leadership, Internships, and Research
Fellows have options to advise on different aspects of Global Education for All or work on team projects that help further integrate global learning on campus. Participate in mentorship and work with campus leadership. The Fellows Program is a one-academic-year commitment, with monthly meetings. Deadline: May 14.
June 14 – August 6. Undergraduate students interested in education, technology, and international development will gain real-world skills by helping to devise and deliver remote solutions to assist African NGOs. Watch the video to hear from past students and apply. Funding available! Deadline: May 12.
June 1 – August 20. Undergraduate, graduate, and professional students work with peers to develop innovative business solutions to global challenges while building skills of cross-cultural teamwork and collaboration, concept design, and execution. Pitch project ideas to industry mentors and receive real-world feedback. Funding available! Deadline: May 13.
June 15 – August 15. This program offers a digital ecosystem of relationships, social impact internship opportunities, curated curriculum, and multimedia storytelling. Sign-up to learn more about the program and watch the introduction video. Funding available! Deadline: May 28.
July 11–24. Embark on a virtual journey to Germany, Italy, Hong Kong, Singapore, and the United States. Meet managers from well-known global brands, such as Porsche, Boeing, Dolce & Gabbana, and Facebook. In addition, become short-term entrepreneurs working on Start-up Challenge Projects. Funding available! Deadline: May 28.
UC Davis is pursuing a Voluntary University Review to support our university's role as a public land-grant institution in advancing the 2030 Agenda for Sustainable Development. This is a joint effort between Global Affairs, Sustainability, and the Office of Diversity, Equity and Inclusion. We invite all students, scholars, staff, researchers, and faculty to share details about their SDG efforts through this online portal. Share your story and inspire others.
Competitions, Challenges, and Funding
The new Global Aggie Award for LGBTQIA+ Rights will support UC Davis students in gaining global learning experiences that advance local and global LGBTQIA+ issues and address the needs and strengths of the LGBTQIA+ community.
A fully funded opportunity to pursue a master's or doctoral program in England, Scotland, Wales, and Ireland. Applicants must be U.S. citizens who complete bachelor's degrees between April 2019 and summer 2022, with cumulative GPAs 3.7 or greater. Two UC Davis students were selected as Marshall Scholars this past year. Pre-application due: May 17.
​​​​​​​​​​​​​​A fully funded opportunity to pursue a one-year master's program in Ireland or Northern Ireland. Applicants must be U.S. citizens, aged 18-29, and complete a bachelor's degree by summer 2022. Pre-application due: May 17.
​​​​​​​​​​​​​​A fully funded opportunity to pursue a master's or doctoral program at the University of Oxford in England for 1-3 years. Applicants must be U.S. citizens, permanent residents, or DACA recipients, possess cumulative GPAs of 3.7 or greater, aged 19-27, and complete a bachelor's degree by summer 2022. Pre-application due: May 17.
​​​​​​​​​​​​​​A fully-funded, 11-month master's program in Global Affairs at Beijing's Tsinghua University. Schwarzman Scholars prepares young leaders for a globally interconnected future. For students and young professionals 18-28— regardless of nationality—proficient in English and who have an undergraduate degree. China Application Deadline: May 20; U.S. Application Deadline: September 21. Info Sessions.
​​​​​​​​​​​​​​Two thousand annual awards for U.S. citizens are available to conduct research, study, or teach English in over 140 countries worldwide. Participants receive round trip airfare to their destination, a monthly stipend, and limited health insurance. 2022-23 application. Schedule an advising appointment with the Prestigious Scholarship Advisor.
Upcoming Info Sessions and Events
​​​​​​​​​​​​​​May 15, 11:30 a.m. – 4 p.m. PDT. Celebrating 50 Years of Black Joy Fest at UC Davis. Legacy: 50 Years Forward, 50 Years Back. Join the Cross Cultural Center in celebrating Black joy, accomplishment, and legacy with the community.
​​​​​​​​​​​​​​May 19, 4–5 p.m. PDT. UC Davis Global Affairs, Sustainability, and the Office of Diversity, Equity and Inclusion, are pleased to present the Spring 2021 UC Davis Forum on the UN SDGs, the final event of this academic year's three-part series centered around UC Davis engagement with sustainable development across economic, social, and environmental dimensions. Learn about UC Davis contributions to the SDGs and share your own efforts to be included in the first UC Davis Voluntary University Review on the SDGs. Register.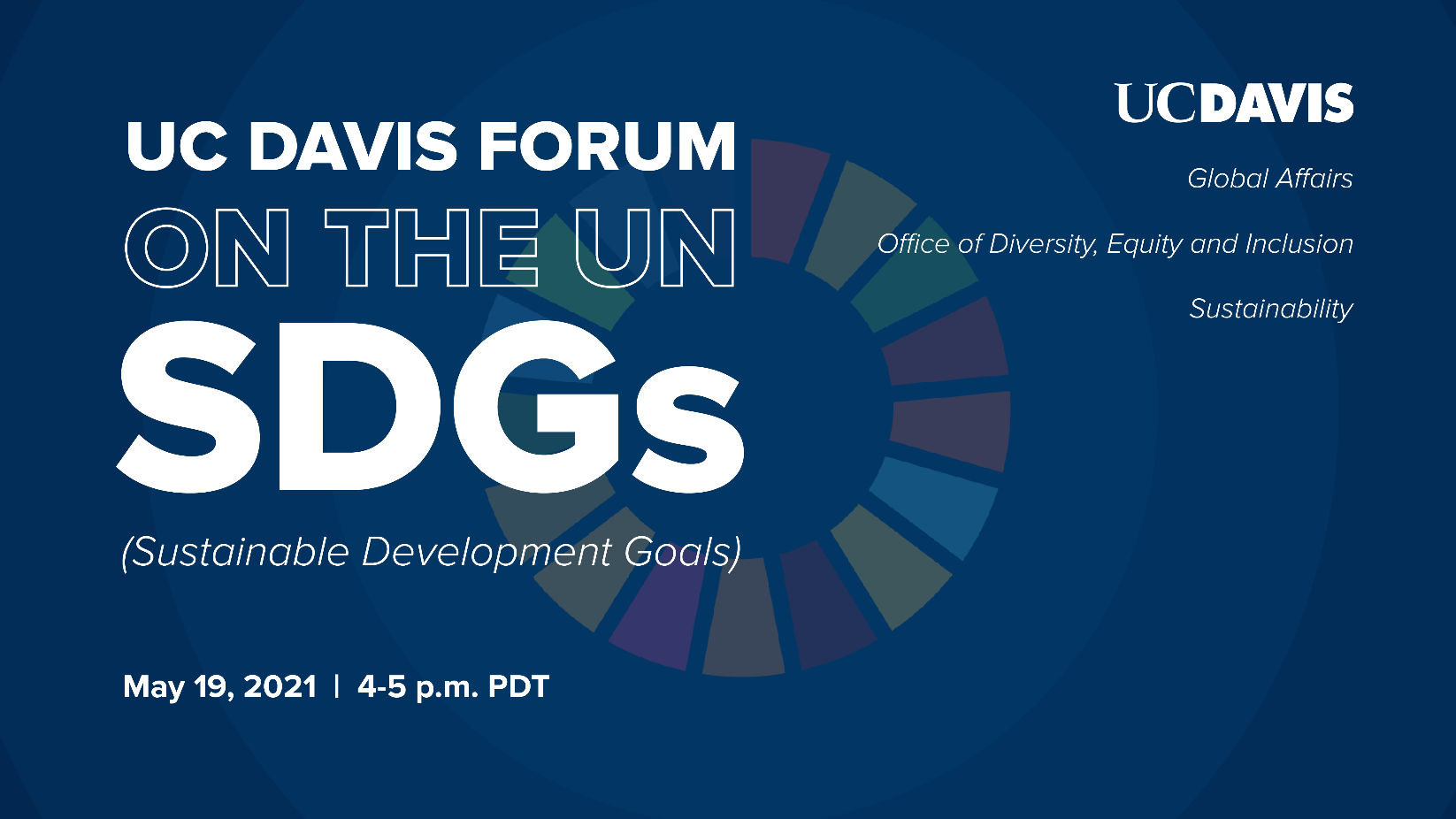 Primary Category