Global Learning Newsletter – November 2021
November 15–19. International Education Week (IEW) is a national week of the U.S. Department of State and U.S. Department of Education that celebrates the benefits of international education and exchange worldwide. At UC Davis, International Education Week brings opportunities for students, staff, and faculty to explore international programming. Our full schedule of IEW events.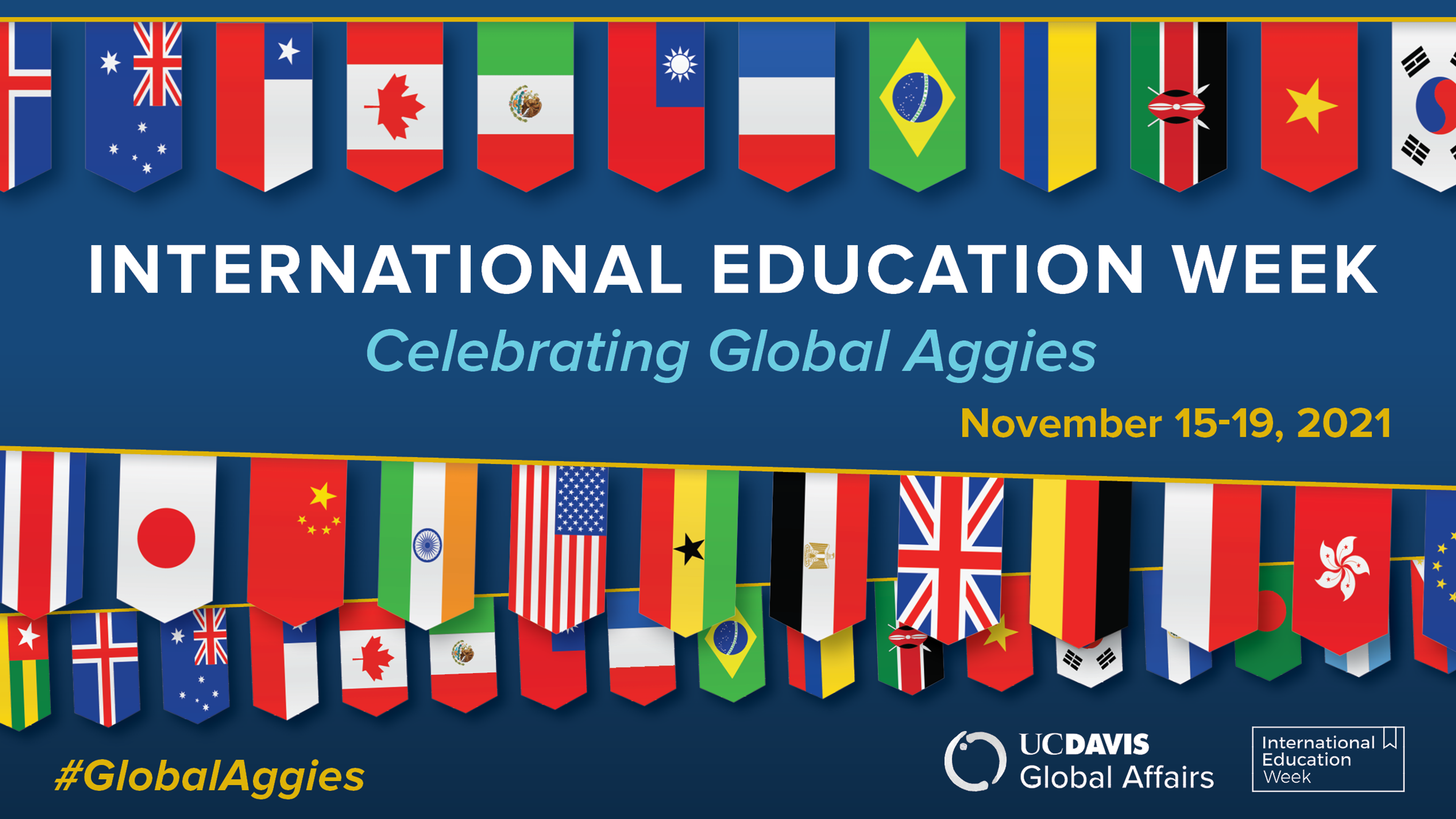 Study Abroad
Gain international work experience in the fields of sustainable business, environmental science, green technology, sustainable engineering, urban planning, research, or policy. Join our upcoming info session on Zoom: November 15, 12–1 p.m. Create an account to receive program updates.
​​​​​​​​​​​​​​There is still time to enroll. Check out options in Mexico (Latinx Health Internships in Oaxaca), Spain (Language and Culture in Madrid), Taiwan (Pharmaceutical Chemistry in Taipei), and the U.K. (Harry Potter in Context in London). Financial aid applies. To receive updates or start your enrollment, create an account today.
​​​​​​​​​​​​​​Explore over 20 UC Davis Summer Abroad Internships planned for summer 2022. New additions include Wildlife, Conservation, and Veterinary Medicine in Costa Rica; Business and Communication in Spain; Design and Fashion in Italy; and Environment, Green Tech, and Sustainability in New Zealand, Spain, or Thailand.
​​​​​​​​​​​​​​"Taking any significant journey has the potential to transform you, but you don't need to leave it to accident or luck. As a person of color and a person who is queer-identified, I can tell you that the choices you make when choosing to study abroad form the foundation of your experience." UCEAP Blog.
​​​​​​​​​​​​​​CLS is a fully funded intensive eight-week summer overseas language and cultural immersion program administered by the U.S. Department of State. Eligible languages: Arabic, Azerbaijani, Bangla, Chinese, Hindi, Indonesian, Japanese, Korean, Persian, Portuguese, Punjabi, Russian, Swahili, Turkish, and Urdu. Deadline: November 16. Apply.
​​​​​​​​​​​​​​The award recognizes the commitment of instructors who design and teach Study Abroad programs and make international experiences accessible to all UC Davis students. Now accepting nominations from: students and alumni who have participated in UC Davis Study Abroad programs; UC Davis faculty; onsite coordinators; and staff and administrators involved in undergraduate advising. Deadline: January 5.
Global Leadership, Internships, and Research
LeadNext builds a network of future leaders aged 18-25 from across Asia and the U.S. and supports their growth, impact, and capacity to address today's greatest challenges. Fellows will strengthen leadership skills and gain in-depth knowledge of critical challenges facing Asia and the globe through trainings, expert-led masterclasses, and a week-long in-person Global Leaders Summit in the Bay Area. Application. Deadline: November 15.
2021-22. This leadership opportunity is open to all undergrad, grad, and professional students who are dedicated to develop, organize, and promote Women's Health, Gender, and Empowerment or Planetary Health activities on UC campuses and mobilize student, faculty, and staff involvement to catalyze critical change. Deadline: November 15. Apply.
Apply now to participate in this free five-session virtual learning series in January-February 2022, where you will learn about culture, identity, and intercultural awareness alongside peers from across the Asia Pacific region. Make connections, engage meaningfully, and develop global leadership skills. Deadline: November 22. Apply.
​​​​​​​​​​​​​​December–January. U21 is offering UC Davis students free online internships. Over the two-week program, students will be presented with an ongoing sustainability challenge and work in groups from around the world to innovate a solution and learn how to communicate this with stakeholders and the host organization. Deadline: November 25. Apply.
​​​​​​​​​​​​​​UN Sustainable Development Solutions Network (SDSN) is recruiting for the 2022 LPF fellows. LPF includes an online course, a mentorship program, visibility opportunities, connections with experts from the industry, and a strong peer-to-peer network of young urban leaders from around the world. Deadline: November 21. Apply.
The UN Millennium Fellowship is a free worldwide leadership development program for undergrad students, offered virtually from August–November 2022. Benefits include: certificate, network with global leaders, leadership training, and community social change. UC Davis is a UN Millennium Fellowship Campus Hub. Deadline: November 30. Apply.
June 13–August 26. This program offers research opportunities to undergrad and grad students. Students apply for a specific project in biology, social sciences, physics, entrepreneurship, music, and more. Requires resume, cover letter, and letter of recommendation. Scholarships are available to cover the small program fee. Deadline: December 15. Apply.
The 2022 DAAD RISE internship database is now open! The RISE program offers undergrads the opportunity to complete a funded summer research internship at top German universities and research institutions. 750 euros/month for three months, health insurance, stipend for international, and in-country travel. Deadline: December 15.
This online UC Davis course, Global Population, Health and Environment, takes students on a virtual trip around the world as they engage with global health problem-solving using a One Health approach. It is open to students across the UC system and offers UC Davis GE credits for Scientific Literacy & Oral Literacy. No prerequisites required. The UC Davis CRN is 61438 (VME057V).
Competitions, Challenges, and Funding
Receive between $5,000 and $20,000! You can form teams to submit three pages describing your innovative idea. There are ten social innovative tracks this year including workforce development, pandemic recovery and response, global health, food and agriculture, energy and resources, education and literacy, data and AI, and more. Deadline: November 18.
​​​​​​​​​​​​​​Winter 2022–Summer 2022 (flexible). UC Davis post-doctoral fellows or PhD students in their last 1-2 years of study are invited to apply for this experiential learning opportunity with a venture capital group. The fellowship includes one-year salary, tuition, travel, research, and conference expenses—up to $50K. Deadline: November 19.
Global Affairs announces a call for mini-grant proposals for the second Campus Global Theme: Transformative Energies: Repowering and Empowering the Planet. Students can request up to $250 for a proposed program or event. Proposed programs/events can include speakers, workshops, films or performances, virtual tours, and more. Deadline: November 20. Apply.
​​​​​​​​​​​​​​This scholarship aims to identify and amplify the voices of young leaders who undertake exemplary work to end youth violence and create a peaceful future for their peers and subsequent generations. Peaceful Futures Scholars will participate in the One Young World Summit 2022 in Tokyo, Japan with all expenses covered. Deadline: November 25. Apply.
​​​​​​​​​​​​​​Applications are now open for the 2022 Frederick Douglass Global Fellowship, a fully funded leadership program for students of color to study abroad and explore strategies for promoting social justice, resolving conflict, and advancing peace. This year, the program will be in Ireland, cosponsored by Ireland's Department of Foreign Affairs. Info Session Nov. 19, 10 a.m. PST (register). Deadline: February 14. Apply.
​​​​​​​​​​​​​​The fellowship provides a $43,000 salary, with benefits, to work for one post-graduate year as a junior researcher at the Carnegie Endowment for International Peace. Applicants must be eligible to work in the U.S. and have significant research experience. Deadline: December 21.
​​​​​​​​​​​​​​This fellowship provides a stipend, tuition, and travel expenses for intensive language study of Chinese, Japanese, Korean, Thai, Vietnamese, Indonesian, Khmer or Burmese in approved language programs in East or Southeast Asia. By the start of the grant, applicants should have received a bachelor's degree and have the equivalent of three years of language study. Deadline: December 31.
​​​​​​​​​​​​​​This graduate fellowship funds $30,000 towards a public service graduate degree along with conference attendance, and a Washington D.C. internship. Applicants must be U.S. citizens enrolled full-time in their junior year, with an interest in pursuing careers as public service leaders. Deadline: January 4.
​​​​​​​​​​​​​​Full funding for a six-week summer program at Howard University in Washington D.C., this program provides a deeper appreciation of current issues and trends in international affairs, a greater understanding of career opportunities in international affairs, and the enhanced knowledge and skills to pursue such careers. Deadline: February 15.
Upcoming Info Sessions and Events
​​​​​​​​​​​​​​November 10-23. This online festival, organized by UC Davis Humanities Institute and the Human Rights Studies Program, includes movies about two groundbreaking Black activists in Chicago; young people fighting against school shootings; a Palestinian family separated by a wall; restorative justice programs; and Mexican migrants who disappear. Buy a festival pass.
​​​​​​​​​​​​​​November 15, 5:30 p.m. PST. Learn how you can get involved in both the Big Bang! and the entry-level Little Bang! Pitch + Poster Competitions, attend our Ideas into Action Workshop Series, connect with fellow innovators, build your team, grow your network—and compete for cash prizes! Register.
November 17, 10–11:15 a.m. PST. UC Davis Cal Aggie Alumni Association, Global Affairs, and Health Professions Advising present Exploring Global Careers: Global Health. Join this panel to network with and learn from leading professionals about what it takes to build a successful global health career in their region of the world. Register.
November 19, 6 p.m. PST, International Center. The Global Ambassador Mentorship Program, within Global Affairs, invites undergraduate students to learn about and reflect on Thanksgiving. Come craft a turkey with friends! We hope to see you at this fun fall event. Learn about the program and register.
Global Aggies and Student Life
Global learning at UC Davis is a combination of local, regional, national, and international experiences which develop key skills, knowledge, and networks that help you build global awareness, engage global diversity, and pursue collaborative and equitable global action. Watch.
Primary Category