Global Learning Newsletter – April 2022
The Global Learning Hub is looking to hire undergraduate student staff for a variety of positions within the office, including outreach, peer advising, enrollment processing, operational projects, and more. Preference for work-study students, but all are welcome to apply. The job will be posted in Handshake by April 14. Application Deadline: May 23.
Study Abroad
Did you know there are 90 programs available to study or intern abroad next Winter and Spring quarters for UC credit? Programs for every field on almost every continent—explore now and be sure to submit your application by May 25.
To leave a positive impact takes more than reducing the carbon footprint produced by your trip and sustainability alone isn't enough. See how a regenerative mindset on study abroad can help save the planet.
Competitions, Challenges, and Funding
​​​​​​​​​​​​​​Five UC Davis students have been recognized by the U.S. Department of State as 2022 Critical Language Scholars (CLS) and will spend 8-10 weeks this summer mastering critical languages and improving their cultural competency as part of the program. CLS aims to increase the number of Americans studying critical foreign languages.
This program offers 2,200 annual awards for U.S. citizens who will have bachelor's degrees by the 2023-24 academic year to conduct research, study or teach English in over 140 countries worldwide. Learn more about timelines, upcoming webinars and advising. Campus Deadlines: Sept. 8 (study/research), Sept. 15 (teaching English).​​​​​​​
​​​​​​​​​​​​​​Teams of four-to-six students will practice critical thinking and problem-solving skills to help solve global health challenges. Your team will receive a challenge related to a pressing global health problem and prepare a 10-minute video, in English, proposing a realistic, well-designed and innovative solution. Winning prize: $1,000. Deadline: April 25. Register.
​​​​​​​​​​​​​​These programs offer full funding to pursue graduate level work in the U.K. or Ireland: Rhodes funds two-three years at the University of Oxford; Marshall funds one-three years at any U.K. university; and Mitchell funds one year at one of 11 specified universities in Ireland and Northern Ireland. Pre-application Deadline: May 18.
​​​​​​​​​​​​​​CLS Spark is a new virtual program for U.S. undergraduate citizens to learn Arabic, Chinese (Mandarin) or Russian through online classes and activities facilitated by native speakers at a host institution abroad. Scholars will also receive an official language proficiency designation via ACTFL OPI testing. Deadline: May 26.
Global Leadership, Internships, and Research
First-Year Aggie Connections is seeking Peer Mentor candidates for Fall 2022 to work to improve some of today's most pressing social, cultural and global challenges. Check out the job description on Handshake (Job ID#: 454097) to learn more about this paid opportunity! Deadline: April 24.
Eleni Piliotis, political science major in the College of Letters and Science, reflects on her United Nations Sustainable Development Goals Internship with Global Affairs.
June 20–August 26. Intern this summer with a social impact organization (online or in-person) while engaging in a shared online learning space for ongoing critical dialogue and reflection. Explore new pathways for learning, sharing, connecting, and acting with purpose and humility in the face of global inequality and injustice. Funding Deadline: April 30. Register.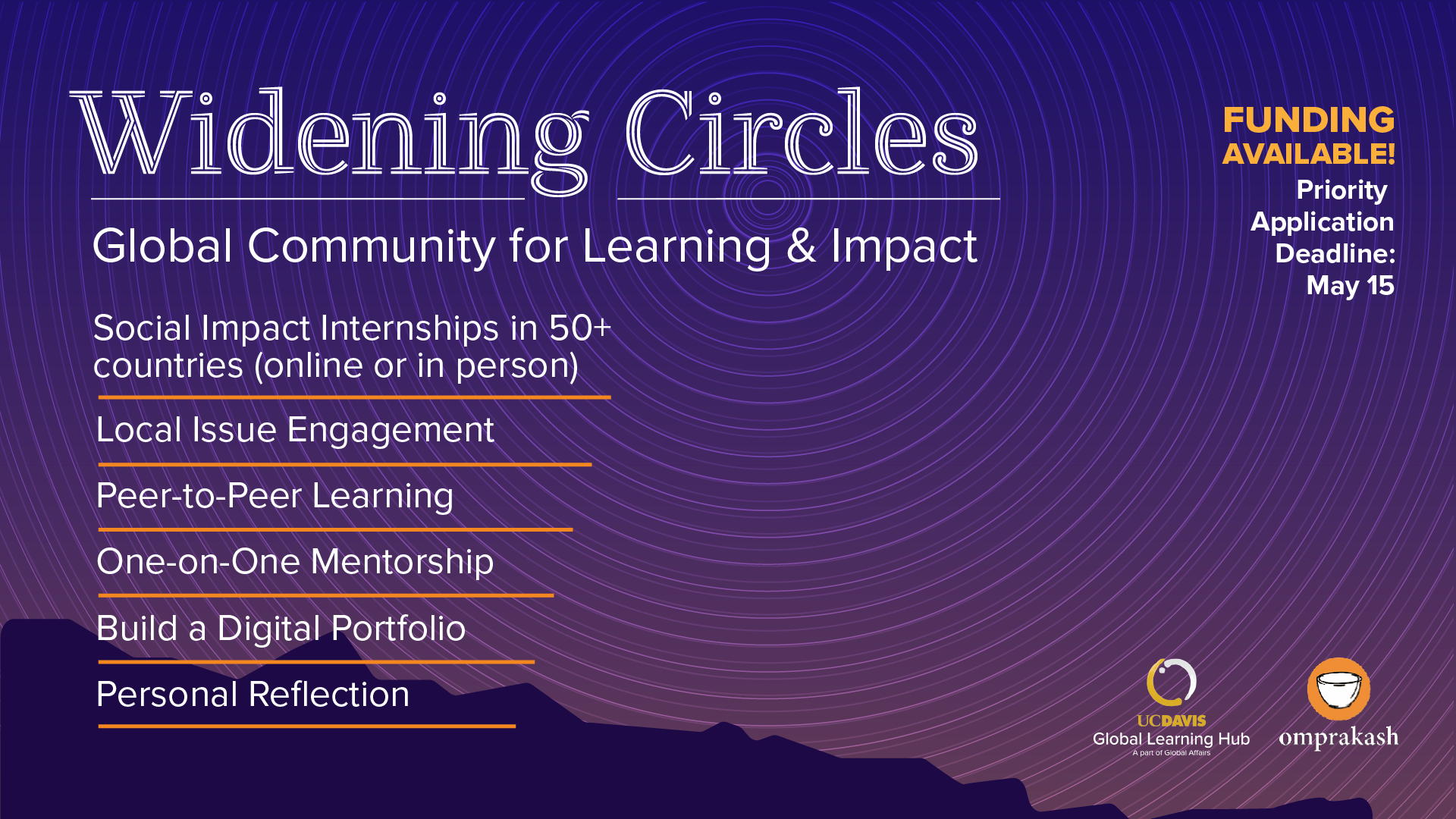 May–August. IRC Internships are available to current and recently graduated undergraduate or graduate students looking to apply their skills, gain real-world experience, and impact lives. Fully remote and hybrid placements range from working with immigration services, anti-trafficking, economic empowerment and refugee resettlement.
September 2022–June 2023. This leadership opportunity is open to all students interested in developing, organizing, and promoting Women's Health, Gender, and Empowerment or Planetary Health activities across campus and mobilizing campus engagement. Students receive a $250 stipend for participating. Application Deadline: May 8.
​​​​​​​​​​​​​​Help contribute towards the campus-wide initiative of Global Education for All (GE4A). Fellows can advise on different aspects of GE4A or work on team projects that help further integrate global learning on campus. The program is a one-academic-year volunteer, unpaid commitment, with a monthly Zoom meeting. Deadline: May 13.
​​​​​​​​​​​​​​The goals of the JGS Fellows Program are to elevate photography and digital media as pathways for undergraduate students to pursue their careers and to make a difference in their communities. Fellows receive $2,000 tuition scholarships, mentorship and financial support for a community project—in addition to registration and travel awards to attend the 2022 Imagining America National Gathering. Deadline: June 3.
​​​​​​​​​​​​​​This program invites graduate students to participate in a year-long working group in support of collaborative artmaking, teaching, writing, storytelling and co-creating knowledge with and within community. PAGE Fellows receive a $500 honorarium, as well as lodging and a waived registration fee to attend the 2022 PAGE Summit in New Orleans, LA. Deadline: July 1.
​​​​​​​​​​​​​​UNLEASH Hacks are localized hackathons designed to address sustainability challenges in specific contexts around the world. Young people work together to come up with ideas that can create positive impact in their local communities. The Hacks take place online over two consecutive Saturdays. Find a hackathon.
​​​​​​​​​​​​​​Chevron is currently hiring interns to work within their Corporate Affairs division (to start right away). Current internship openings include government affairs, corporate affairs, public affairs, and social investment and risk management. Internships are typically located in field locations—Houston, Texas; Washington, D.C.; and San Ramon, California (headquarters). Apply.
Upcoming Info Sessions and Events
​​​​​​​​​​​​​​April 8–June 3.  The Fulbright U.S. Student Program offers annual awards for recipients to conduct research, study, or teach English worldwide. Those interested in applying in the current, or a future, application period are welcome to attend these Friday seminars dedicated to the Fulbright program and application process. Find an info session and RSVP.
​​​​​​​​​​​​​​April 14, 3:30 p.m. Widening Circles offers UC Davis students immersive social impact internships around the world that explore new pathways for learning, sharing, connecting, and acting with purpose and humility in the face of global inequality and injustice. Join this info session to learn more about the internship details, online curriculum, timeline, and funding opportunities. Register.
​​​​​​​​​​​​​​April 21, 12–1 p.m. Learn more about the University of California Global Health Institute Ambassador Program. During the session we will discuss the program, answer your questions and discuss the application process. Questions?
​​​​​​​​​​​​​​April 21, 3 p.m. Knight-Hennessy Scholars participate in the King Global Leadership Program and receive up to three years of financial support to pursue a graduate degree program in any of Stanford's seven graduate schools.  Come learn more from Associate Program Director Rachel Rosten. RSVP.
​​​​​​​​​​​​​​April 22, 10–11:30 a.m. Hosted by the Internship and Career Center, the Career Champions program is a train-the-trainer model to put tools and resources in the hands of student leaders best positioned to influence the career development of their peers. Register for the upcoming virtual training.
​​​​​​​​​​​​​​May 7 . Co-hosted by the UC Global Health Institute and the UC Santa Cruz Institute for Social Transformation, this day-long collaborative global health conference at UC Santa Cruz (offered in-person and virtually) will showcase the innovative research and initiatives occurring across the University of California. RSVP.
​​​​​​​​​​​​​​May 10, 4 p.m. Join the UC Davis Cal Aggie Alumni Association and Global Affairs for the Exploring Global Careers Series. Join us for this interactive panel to ask questions and learn from leading professionals about what it takes to build a successful career in business or entrepreneurship in their region of the world. Register.​​​​​​​
Primary Category