Global Learning Newsletter – May 2022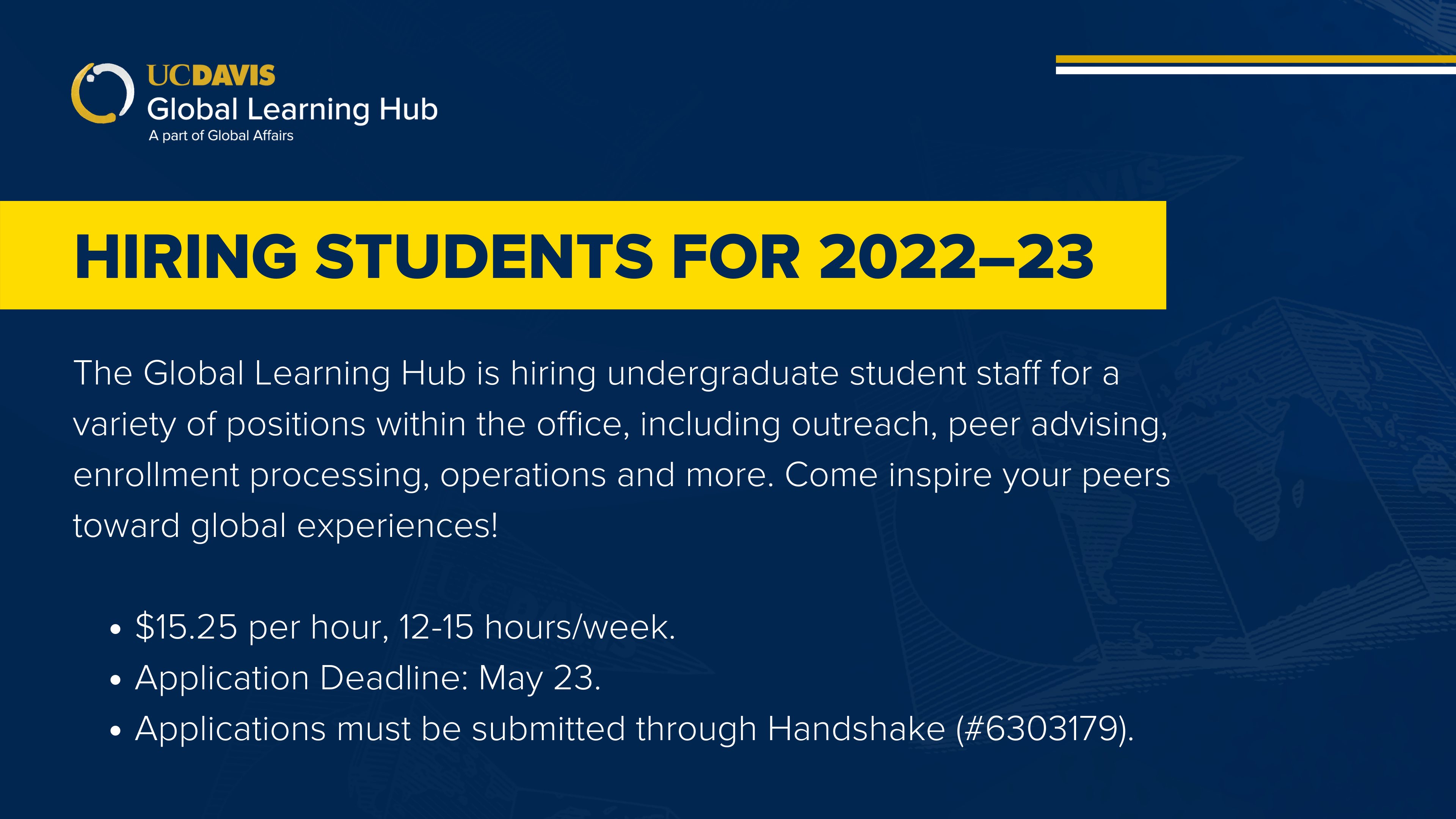 Study Abroad
Did you know there are 90 programs available to study or intern abroad next Winter and Spring quarters for UC credit? Programs for every field on almost every continent—explore now and be sure to submit your application by May 25.
Competitions, Challenges, and Funding
Through panel discussions, small-group breakout activities, and peer exchange, this highly engaging five-day online program fosters rich interaction on issues relevant to the work of the UN and its partners in the context of the 2030 Agenda for Sustainable Development and the Paris Agreement. Scholarship Deadline: May 13.
Virtual and in-person social impact internship opportunities are available in nutrition, conservation/restoration, community health, permaculture, sustainability research and more. A limited number of automatic scholarships are available to CBS students who submit a funding application (first-come, first-awarded) and who register in the Omprakash application portal.
Virtual and in-person social impact internship opportunities are available in coding, construction, digital game and mobile app development, computer literacy teaching, Python for Kids facilitation, and more. A limited number of automatic scholarships are available to COE students who submit a funding application (first-come, first-awarded) and who register in the Omprakash application portal.
​​​​​​​This award program is sponsored by the Hispanic Association of Colleges and Universities in conjunction with Southwest Airlines. Currently enrolled undergraduate and graduate students who attend college more than 200 miles from their home can apply to receive domestic award flight e-passes. Deadline: May 15.
​​​​​​​​​​​​​​These programs offer full funding to pursue graduate level work in the U.K. or Ireland: Rhodes funds two-three years at the University of Oxford; Marshall funds one-three years at any U.K. university; and Mitchell funds one year at one of 11 specified universities in Ireland and Northern Ireland. Pre-application Deadline: May 18.
​​​​​​​​​​​​​​CLS Spark is a new virtual program for U.S. undergraduate citizens to learn Arabic, Chinese (Mandarin) or Russian through online classes and activities facilitated by native speakers at a host institution abroad. Scholars will also receive an official language proficiency designation via ACTFL OPI testing. Deadline: May 26.
​​​​​​​​​​​​​​PLURAL+ recognizes young people as powerful agents of social change and invites those under 25 years old to submit a video between one-five minutes on themes of migration, diversity, social inclusion and the prevention of xenophobia. Past winners. Deadline: June 10.
Global Leadership, Internships, and Research
June 20–August 26. Intern this summer with a social impact organization (online or in-person) while engaging in a shared online learning space for ongoing critical dialogue and reflection. Explore new pathways for learning, sharing, connecting, and acting with purpose and humility in the face of global inequality and injustice. Funding available! Register.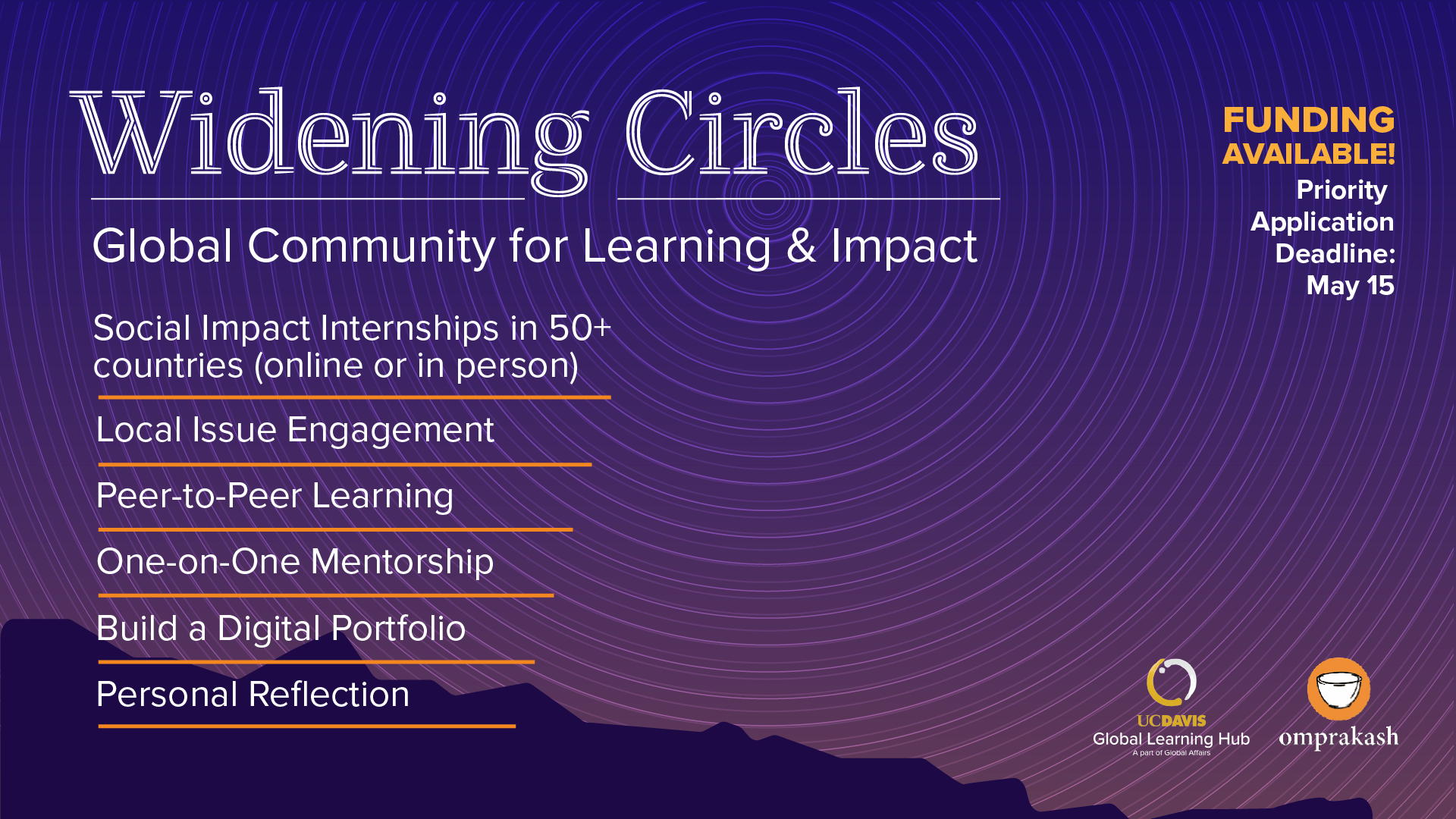 The International Rescue Committee is offering recent undergraduate alumni and graduate students internships for 15–30 hours per week at their Sacramento location this summer. Start and end dates are flexible and remote and hybrid positions are available. Applications are accepted on a rolling basis. Learn more.
​​​​​​​​​​​​​​Help contribute towards the campus-wide initiative of Global Education for All (GE4A). Fellows can advise on different aspects of GE4A or work on team projects that help further integrate global learning on campus. The program is a one-academic-year volunteer, unpaid commitment, with a monthly Zoom meeting. Deadline: May 13.
​​​​​​​​​​​​​​The goals of the JGS Fellows Program are to elevate photography and digital media as pathways for undergraduate students to pursue their careers and make a difference in their communities. Fellows receive $2,000 tuition scholarships, mentorship and financial support for a community project—in addition to registration and travel awards to attend the 2022 Imagining America National Gathering. Deadline: June 3.
​​​​​​​​​​​​​​The Imagining America consortium brings together scholars, artists, designers, humanists and organizers to imagine, study and enact a more just and liberatory 'America' and world. Submit a proposal to address the theme of Rituals of Renewal and Repair for a gathering in New Orleans this October. Submission Deadline: June 10.
​​​​​​​​​​​​​​This program invites graduate students to participate in a year-long working group in support of collaborative artmaking, teaching, writing, storytelling and co-creating knowledge with and within the community. PAGE Fellows receive a $500 honorarium, as well as lodging and a waived registration fee to attend the 2022 PAGE Summit in New Orleans, LA. Deadline: July 1.
​​​​​​​​​​​​​​The Global Affairs UN Sustainable Development Goals (SDGs) student interns have developed an SDG survey to gauge awareness of and interest in the SDGs among the UC Davis student population (including undergraduate, graduate and professional students).
Upcoming Info Sessions and Events
​​​​​​​​​​​​​​May 9–13. Join us for a week of events where groundbreaking and innovative research will be unveiled and innovators, researchers, investors, producers and manufacturers will come together to develop long-term global solutions. Schedule of events.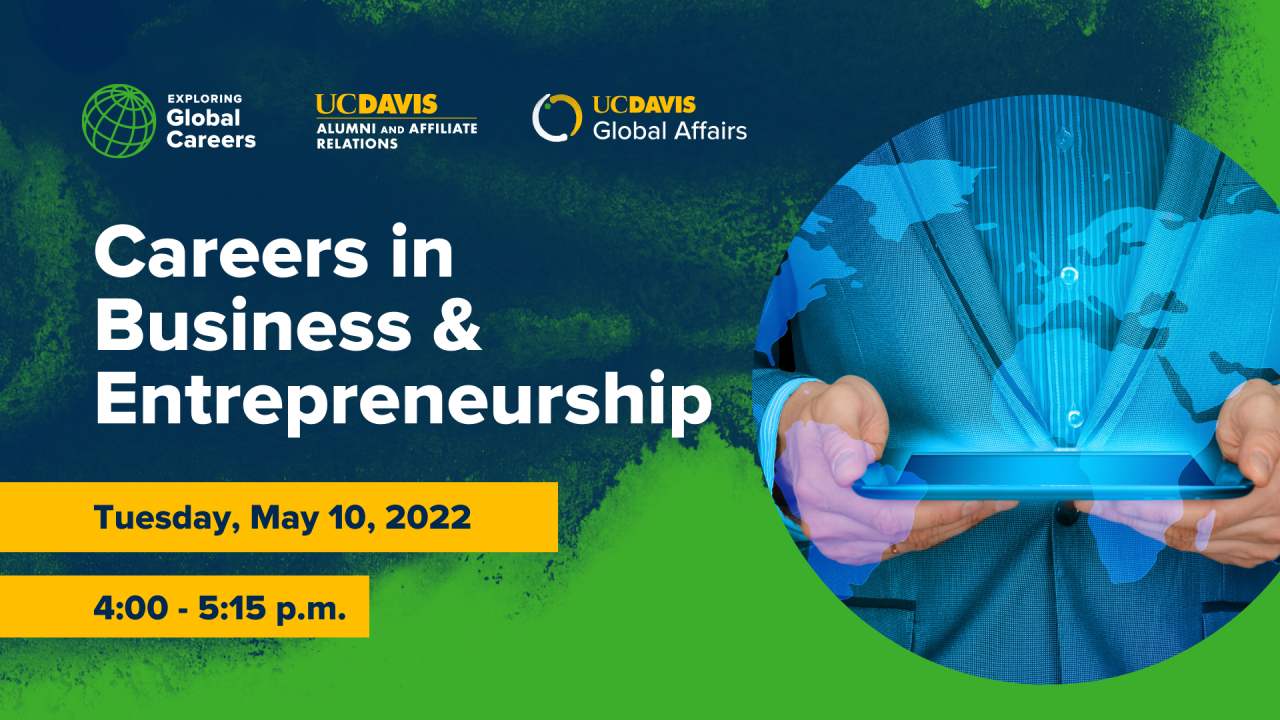 ​​​​​​​​​​​​​​May 10, 4 p.m. Join the UC Davis Cal Aggie Alumni Association and Global Affairs for the Exploring Global Careers Series. Join us for this interactive panel to ask questions and learn from leading professionals about what it takes to build a successful career in business or entrepreneurship in their region of the world. Register.
​​​​​​​​​​​​​​May 11, 2:30 p.m., Mondavi Center. Learn about research on how immigration mobility has changed with COVID, including accelerated processes in the labor market, the economy, and farm labor, and how the situation at the U.S.-Mexico border evolved during the pandemic, from the perspective of migrants. Register.
​​​​​​​​​​​​​​May 12–13. This two-day event is open to graduate students and postdoctoral scholars to highlight best practices in anti-racist approaches to graduate education. The first day is an all-virtual morning session of roundtable talks and presentations, and the second day is an in-person lunchtime workshop. Registration Deadline: May 10.
​​​​​​​​​​​​​​May 13, 4–6 p.m. Join us for a screening of Coming Clean, a film that explores the issues with the UC's Carbon Neutrality Plan. This event is part of the Campus Global Theme: Transformative Energies: Repowering and Empowering the Planet. Register.
​​​​​​​​​​​​​​May 13, 20, 27 and June 3.  The Fulbright U.S. Student Program offers annual awards for recipients to conduct research, study or teach English worldwide. Those interested in applying in the current, or future, application period are welcome to attend these Friday seminars dedicated to the Fulbright program and application process. Find an info session and RSVP.
​​​​​​​​​​​​​​May 14, 7:30 a.m. Students from Brazil, Costa Rica, Japan, Morocco, Senegal, the United Kingdom, and the USA, will be giving presentations and workshops around the theme: "Connecting to the Land Through Science, Music, Food Culture and Indigenous Knowledge." Register.
Primary Category