Global Learning Newsletter – April 2023
Latest News and Blogs
In this week's episode of Global Learning 60, Juliet, a peer advisor in the Global Learning Hub, answers some common questions we've been getting regarding the UC Davis Global Studies Minor. Follow us on Instagram. Check out some recent episodes: Quarter Abroad Nepal and Widening Circles Social Impact Program.
​​​​​​​The Global Learning Hub is looking to hire undergraduate student staff for a variety of positions within the office, including outreach, peer advising, enrollment processing, operational projects and more. Preference for work-study students, but all are welcome to apply. Apply through the posting on Handshake (search for job number 7729811). Deadline: May 22.
UC Davis student, Sudikshya Bhandari, reflects on her global learning experience in the Quarter Abroad Nepal—Community, Technology, and Sustainability program. The Global Aggies Blog is your place to share your experiences with fellow Aggies considering a study abroad or other global learning program during their time at UC Davis. Read more.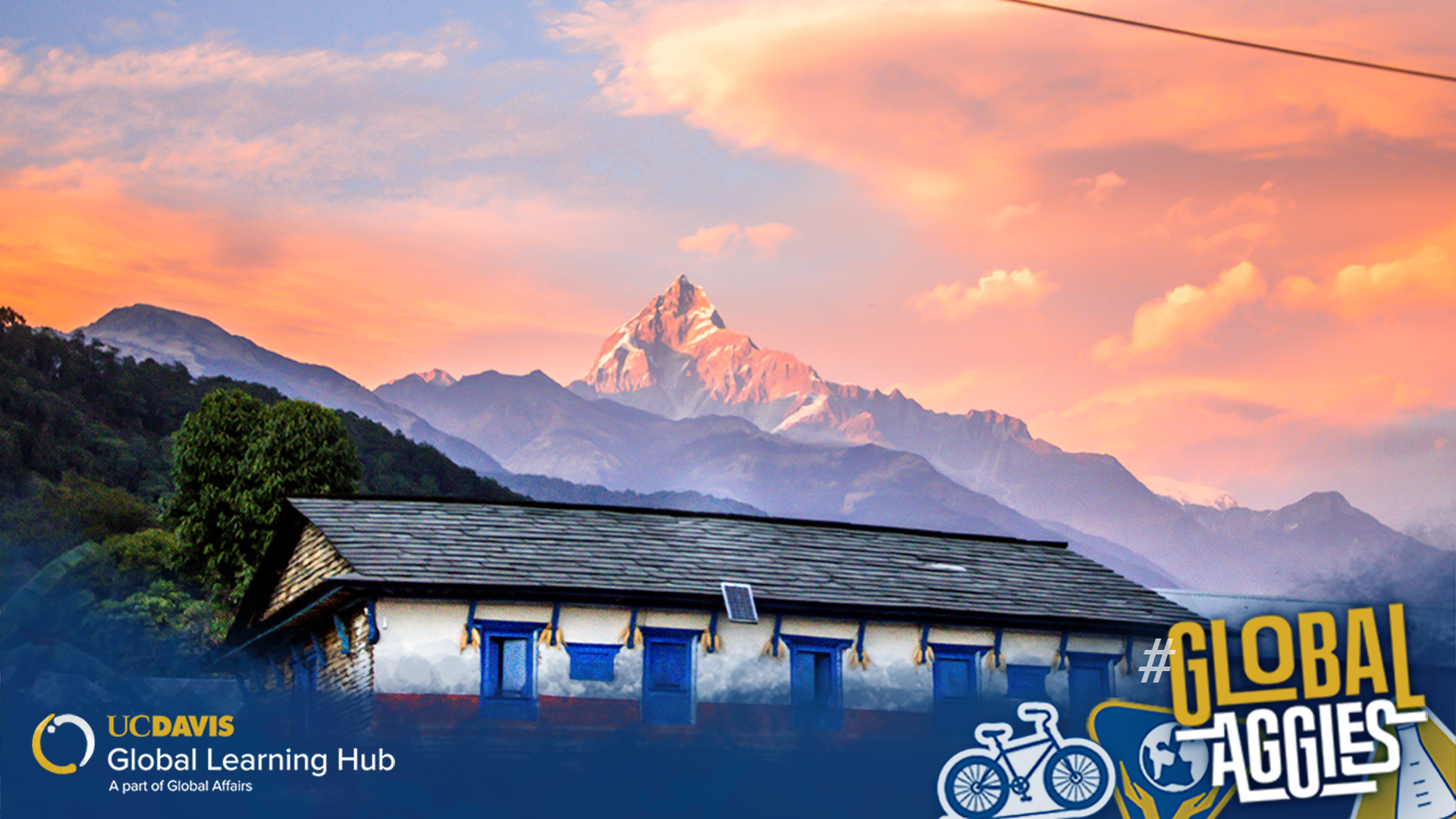 Study Abroad
​​​​​​​​​​​​​​The deadline to enroll in a UC Davis Summer Abroad or Fall Quarter Abroad program for 2023 is this Friday, April 14 at 5 p.m. Programs fill on a first-completed, first-reserved basis. Financial aid applies. To start your enrollment, create an account today.
​​​​​​​​​​​​​​Did you know there are 90 programs available to study or intern abroad next Winter and Spring quarters for UC credit? Programs for every field on almost every continent—explore now and be sure to submit your application by May 31.
Competitions, Challenges, and Funding
​​​​​​​​​​​​​​UC Davis Sustainability Champions are environmental leaders on campus—students, staff and faculty/academic staff—who exemplify why UC Davis continues to lead the way in sustainability efforts. Sustainability Champions are selected by a diverse review panel and announced annually during the Sustainability Summit near the end of each academic year. Deadline: April 21.
​​​​​​​​​​​​​​​​​​​​​​​​​Through this national initiative, the Hispanic Association of Colleges and Universities and Southwest Airlines will award roundtrip flights to undergraduate and graduate students across the country. Eligibility requirements include being enrolled at a college/university located at least 200 miles from a student's home and the submission of required essays. Deadline: April 28.
Real Impact on Society and Environment (RISE) is U21's international showcase of student achievement in sustainability and social innovation. Teams have the chance to win prizes valued at over $2,000 each. Email to apply to be nominated. Deadline: May 25.
This program offers annual awards for U.S. citizens who will have bachelor's degrees by the 2024-25 academic year to conduct research, study or teach English in over 140 countries worldwide. Learn more about eligibility, timeline and requirements.
​​​​​​​​​​​​​​​​​​​​​​​​Teams of three to six students will practice critical thinking and problem-solving skills to help solve global health challenges. Your team will receive a challenge related to a pressing global health problem and prepare a 10-minute video proposing a realistic, well-designed and innovative solution. Winning prize: $1,000. Register. Deadline: April 21.
​​​​​​​​​​​​​​​​​​​​​​​​​​​​The program provides money for unpaid summer internships and undergraduate research to those in financial need. Students will participate in a weekly course and are expected to do an internship for 20 hours per week over two summer sessions. Grants are open to students doing internships abroad or virtually. Apply. Deadline: May 5.
​​​​​​​​​​​​​​HackDavis is the largest collegiate hackathon in California where over 800 students, creators and leaders come together for 24 hours to create for social good. HackDavis challenges its participants to create for social good and create an opportunity for us to explore the intersection between technology and society. Register.
​​​​​​​​​​​​​​​​​​​​​​​​​​​​The Rhodes Scholarship is a fully funded opportunity to pursue a master's or doctoral program at the University of Oxford in England for one to three years. Applicants must have a cumulative GPA of 3.7 or greater, be ages 18-27 and have completed a bachelor's degree by summer 2023. Pre-application Deadline: June 28.
​​​​​​​​​​​​​​​​​​​​​​​​​​​​UNLEASH Hacks are localized hackathons designed to address sustainability challenges in specific contexts around the world. Young people work together to come up with ideas that can create positive impact in their local communities. The Hacks take place online over two consecutive Saturdays. Find a hackathon.
​​​​​​​​​​​​​​​​​​​​​​​​​​​​The UC Davis Cross Cultural Center (CCC) Masterclass Program aims to provide students with opportunities for self-directed learning that will encourage identity exploration and cultural humility. 500 free annual memberships are available. CCC MasterClass Program Interest Form.
Global Leadership, Internships, and Research
​​​​​​​​​​​​​​​​​​​​​​​​​​​​First-Year Aggie Connections is seeking Peer Mentor candidates for fall 2023 to work to improve some of today's most pressing social, cultural and global challenges. Check out the job description on Handshake (Job ID#: 7297362) to learn more about this paid opportunity. More information. Deadline: April 24.
Indigenous Youth Fellows are individuals willing to take action in response to the threat of harmful mining activities in their communities. Fellows work to represent the voices of their communities and bring awareness of local issues to global conversations through their proposed projects. Fellows receive a one-time grant between $2,500-$6,000. Deadline: April 28.
​​​​​​​​​​​​​​​​​​​​​​​​​​​​June 26 – July 29. Dive into the Korean language and arts while immersing yourself in Korea's contemporary and traditional culture. This is a five-week residential program at Seoul National University. Deadline: May 9.
As a GE4A Fellow, you contribute towards the campus-wide initiative of Global Education for All, advising on different aspects of GE4A, or working on team projects that help integrate global learning on campus, with multiple leadership opportunities available. The program is a one-academic-year volunteer, unpaid commitment. Appy. Deadline: May 12.
This camp will offer 12 interdisciplinary courses. U21, a global leading research university network, will offer four master classes to all participating students over four weeks of the camp—one in each week—on the themes of sustainability and environmental science. Application. Deadline: May 31.
The goals of the JGS Fellows Program are to elevate photography and digital media as pathways for undergraduate students to pursue their careers and to make a difference in their communities. Fellows receive $2,000 tuition scholarships, mentorship and financial support for a community project. Deadline: June 5.
This program invites graduate students to participate in a year-long working group in support of collaborative artmaking, teaching, writing, storytelling and co-creating knowledge with and within community. PAGE Fellows receive a $500 honorarium. Deadline: June 30.
UNESCO is hosting various internship/volunteer opportunities around the world. If you want to travel to another country and do hands-on global impact work, this is a place to begin. Disciplines include, but are not limited to, science, human arts and business.
The University of California Graduate Student Experience Survey is an online survey administered at UC Davis and each of the other UC campuses. It asks students for their input around a broad range of academic and non-academic experiences. All UC Davis graduate and professional students are invited to participate. Survey closes: May 31.
Upcoming Info Sessions and Events
​​​​​​​​​​​​​​April 11, 5–6:30 p.m. UC Davis Conference Center. Join the UC Davis Institute for Innovation and Entrepreneurship in a conversation on "Transforming K-12 Education Globally" with Hardeep Gulati, CEO of PowerSchool and member of Chancellor May's board of advisors. RSVP.
April 12, 12–1 p.m., virtual. The George J. Mitchell Scholarship provides full funding to pursue a one-year master's program in Ireland or Northern Ireland. This 25-minute webinar—followed by Q&A—focuses on the program's aims, funding provided, application process, timeline and how to become a competitive candidate. Register.
​​​​​​​​​​​​​​April 15, UC Davis campus and community. Picnic Day is one of UC Davis' most revered traditions and serves as the university's annual open house. Join Global Affairs and International House Davis as they walk in the parade while carrying international flags and represent global cultures. After the parade, check out the World Stage at California Hall, sponsored by Global Affairs.
April 13–June 8, International Center Lobby. International LGBTQIA+ graduate students encounter unique challenges and experiences navigating the context of UC Davis. Join the 2022 recipients of the Global Aggies Award for LGBTQIA+ Rights for an interactive art and augmented reality installation. The award was established in 2021 through the generosity of former UC Davis Provost and Interim Chancellor Ralph J. Hexter, along with his husband Manfred Kollmeier.
April 13, 12 p.m., in person and virtual. Global Affairs is proud to co-sponsor this event. Join Professor Sylvie Sarolea as she talks about climate migrants as a human reality that concerns us all and how climate change can affect the foundation of international law. Register.
April 19, 12–1 p.m., virtual. The Rhodes Scholarship is a fully funded opportunity to pursue a master's or doctoral program at the University of Oxford in England for one to three years. This 25-minute webinar—followed by Q&A—focuses on the program's aims, funding provided, application process, timeline and how to become a competitive candidate. Register.
April 29, 5–10 a.m., virtual. EARTH University is thrilled to invite you to the 3rd Global Student Farm Symposium. This symposium aims to bring together students to discuss and learn about the relationship between technology and nature in agriculture, and how people can find harmony and sustainability in this important field. Register.
May 9, 12–7:30 p.m., International Center, Multipurpose Room. This research symposium will bring together neuroengineering scientists, students and other trainees from engineering, medicine, neuroscience and other disciplines, to share research results and network with like-minded researchers. Register.
Primary Category