October 2020 Global Learning Newsletter
Global Learning Newsletter — October 2020
— — — — —
October 26–29, Virtual. Tune into the Global Learning Showcase to explore the suite of global learning opportunities available to you—including global internships and research, community engagement, study abroad, leadership programs, virtual opportunities, and more! Learn about scholarships and funding, connect with current students, and meet with program advisors. Learn more and pre-register.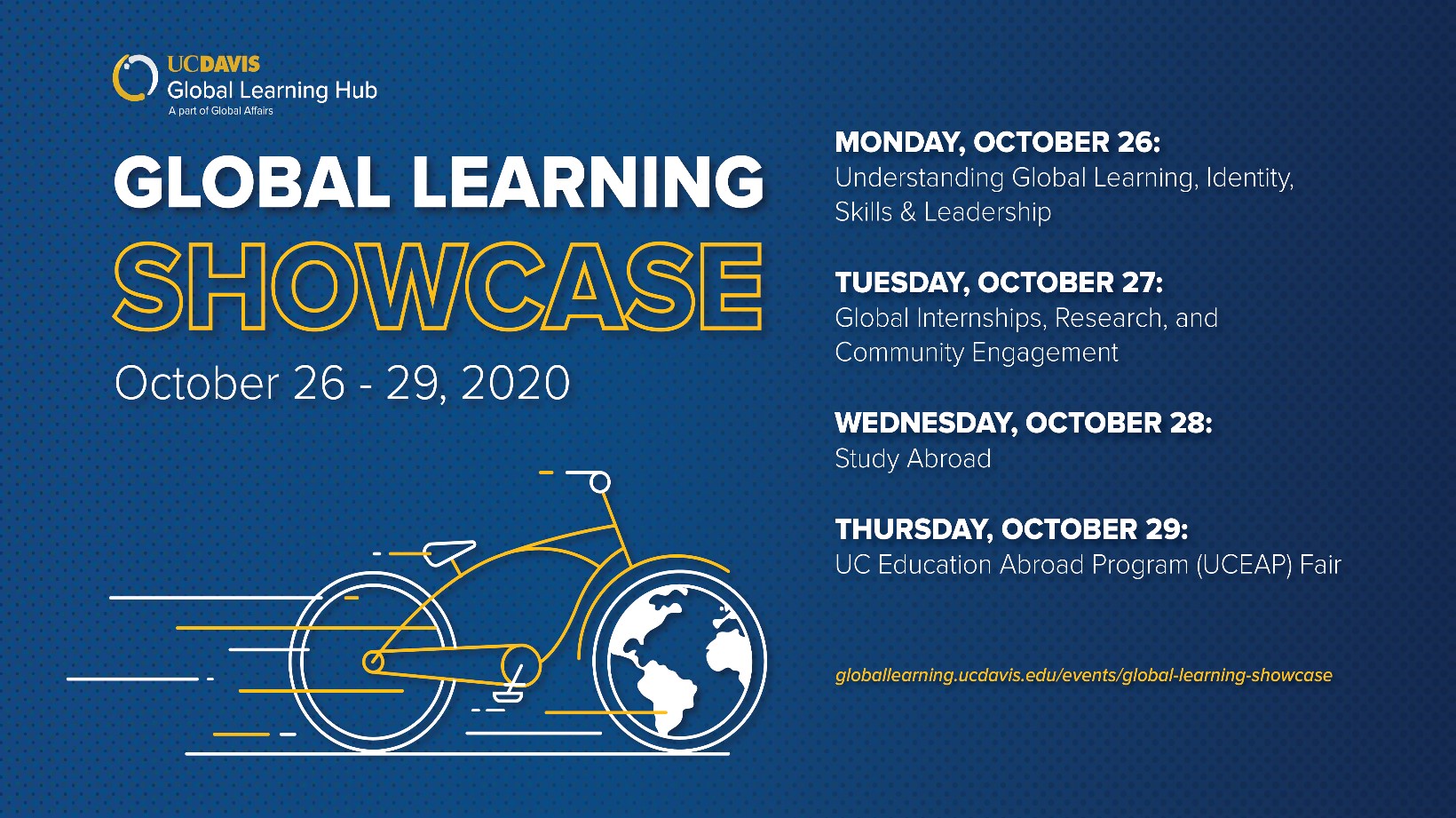 Virtual Global Learning
Work remotely while earning UC Davis credit and connecting with professionals around the globe. Tracks include: Business and Communication, Design and Fashion, Engineering and Computer Science, Global Health, Global Policy and Social Impact, Sustainability and Environment, and Multiple Career Fields.
 Through project-based work, explore the business side of design or let your creative skills shine. Custom placements are based on your experience, career goals, interests, and skills and are guaranteed in the career field of "design and fashion." Create an account to receive program updates. 
Study Abroad
Build a foundation in microbiology as you explore historic labs in the enchanting capital of Belgium. Earn 8 units in 4 weeks (MIC 102 and 198). Program dates: August 1-28, 2021. Instructor: Mitch Singer. Create an account to receive program updates.
Meet with a peer advisor during Zoom drop-in hours on Mondays, Wednesdays, and Fridays from 10 a.m. – 4 p.m. to get personalized advising about your Study Abroad options. Personalized financial aid and enrollment advising are also available.
Update your programs of interest in your UC Davis Study Abroad account to learn more about information session events, funding opportunities, how to enroll, and more.
UCEAP applications open November 1, 2020 for programs running in Summer and Fall 2021, Spring 2022, and Academic Year 2021-22. With 400+ program options available in 40+ countries, start planning your adventure today! Find a program.
Global Leadership, Internships, and Research
This worldwide program is free for accepted applicants. Applications for the Class of 2021 will open this quarter and will be reviewed on a rolling basis for a limited number of fellowships. The program will run on campuses worldwide August – November with cohorts of 8-20 Millennium Fellows. Full details. Questions?
UC Davis students, working with the Global Learning Hub and the One Health Institute are creating a Community Garden & Recreational Space in Knights Landing, an immigrant community where the poverty rate is 16.5%, well above the national average of 11.8%. Full details.
June 14 – August 27. This program offers research opportunities to undergraduate and graduate students. Students apply for a specific project and submit resume, cover letter, transcript, and recommendation letter. Scholarships are available to cover the small program fee. Deadline: December 5.
November 13, 14, 21. Learn from industry experts how to develop the skills and knowledge to make positive impacts in your community and beyond. Form small teams with students from different backgrounds to create sustainable solutions to real and pressing issues facing social impact organizations. Deadline: October 20.
Competitions, Challenges, and Funding
Spring 2021 – Winter 2022 (flexible). UC Davis post-doctoral fellows or PhD students in their last 1-2 years of study are invited to apply for this experiential learning opportunity with a venture capital group. Fellowship includes 1 year salary, tuition, travel, research, and conference expenses—up to $70K. Deadline: October 30.
The Payne Fellowship Program awards up to $48,000 for students pursuing a two-year master's degree program. Applicants must be seeking admission to enter graduate school at a U.S. university and may be in their senior year of their undergraduate studies, graduating by June 2021, or college graduates. Deadline: November 1.
This is a 12-month mentored research fellowship in one of twenty international partner sites for researchers interested in diseases and conditions in developing countries. Recipients will receive education and training, mentorship, and financial support to complete a research project. Deadline: November 2.
Big Ideas is a social innovation competition that provides funding (up to $20K!) and mentorship to teams of graduates and undergraduates with solutions to real-world problems. This year's contest has new tracks, including Pandemic Response & Recovery and Data & AI. Pre-Proposal Deadline: November 20, 1 p.m. Apply. Questions?
Join storytellers worldwide in our competition for positive change. Integrate maps, data, and other multimedia content by submitting an original story that addresses one or more global goals. Encourage more awareness of the SDGs and drive the necessary action towards achieving them. Deadline: November 25.
Upcoming Info Sessions and Events
October 12–16. Undergraduate Research Week is a campus-wide celebration of undergrad research opportunities across all disciplines, featuring a collection of asynchronous and live virtual/online events. The Global Learning Hub will be hosting multiple research-focused events. See schedule for registration links.
Tuesday, October 13, 1 p.m. – 1:30 p.m., Virtual. Looking for a program that will allow you to conduct research abroad? We'll discuss where our study abroad research programs are located and the type of research opportunities available to you. Learn more about adding hands-on research or fieldwork to your résumé. Register.
Tuesday, October 13, 2 p.m., Virtual. Do you have an interest in applying your global experiences to help create a career vision for your future? Whether you're planning your first internship or looking for a new position, you can use this collective space to get clarity on your career visions. Register.
Wednesday, October 14, 3 p.m., Virtual. Do you want to make a difference in the world? Learn about our grants programs and simple application process. Hear from a student fellow and learn how you can benefit academically, professionally, and personally. Join on Zoom.
​​​​​​​Thursday, October 15, 5 p.m. – 6 p.m., Virtual. Get inspired through the story of RePurpose Energy—2018 Big Ideas Grand Prize Winner as told by its COO and UC Davis alumni Ryan Barr. Then, stay for an overview of the rules, requirements, and eligibility for the 2020-2021 Big Ideas Contest. RSVP.
​​​​​​​​​​​​​​October 16–17, Virtual. This conference is for students who have studied abroad in recent quarters, and in particular for those who had their programs interrupted by COVID-19. The sessions cover unpacking and reframing, social justice and career resources and going abroad again. Free Registration.
​​​​​​​Tuesdays, 10/20, 10/27, 11/10, 11/17, 2 p.m., Virtual. The Cross Cultural Center is committed to exploring and developing an anti-racist praxis. Join us for a four-part series that aims to understand anti-Blackness at its core and come together to combat anti-Black racism on our campus and in our communities. Register.
​​​​​​​October 20 – 22. Humanity faces a series of intensifying and interrelated social and ecological crises. Solving these crises requires a holistic transformation: a shift from an extractive economy to a regenerative economy. The Office of Sustainability is sponsoring this virtual conference. Register for free.
​​​​​​​Tuesday, October 20, 4 p.m., Virtual. Create a LinkedIn profile that brings your global experiences and personal career story to life. We'll offer specific tips on tailoring each section of your profile, and will particularly highlight ways to make your global transferable skills more prominent for potential employers. Register.
​​​​​​​Wednesday, October 21, 3:00 p.m. – 4:00 p.m. UC Davis Global Affairs, Office of Diversity, Equity and Inclusion, and Office of Sustainability are partnering to host a three-part forum series centered around UC Davis engagement with sustainable development across economic, social, and environmental dimensions. Register for free.
​​​​​​​Thursday, October 22, 5 p.m. – 7 p.m., Virtual. Big Ideas and IMAGINEi5 team up to, (1) walk you through a proposal writing workshop; and (2) lead you through an interactive exercise to perform segmentation, targeting, and positioning analysis with an emphasis in the social impact space! Full details. RSVP.
​​​​​​​Tuesday, October 27, 1:00 p.m. – 2:00 p.m. How can students pursue critically-informed global engagement? We'll explore problems and possibilities for using digital technology to support grassroots community partnerships and student-led action research and storytelling projects that raise awareness and drive social change. Register.
​​​​​​​Tuesday, October 27, 2:00 p.m. – 3:00 p.m. Peace Corps service develops leadership skills and opens doors professionally and academically. Volunteers work at a grassroots level in over 60 countries. Hear from Peace Corps returnees and learn how the Peace Corps can help you explore your global future. Register.
​​​​​​​Saturday, November 7, 9:00 p.m. – 5:00 p.m. The 7th Annual One Health Symposium explores current issues and themes impacting the health of animals, people, plants and the environment. Veterinarians, physicians, public health officials, scientists, students, and staff have the opportunity to join virtual roundtable discussions, network, and learn about student research projects in One Health. Join on Zoom.
Global Aggies

Making a Difference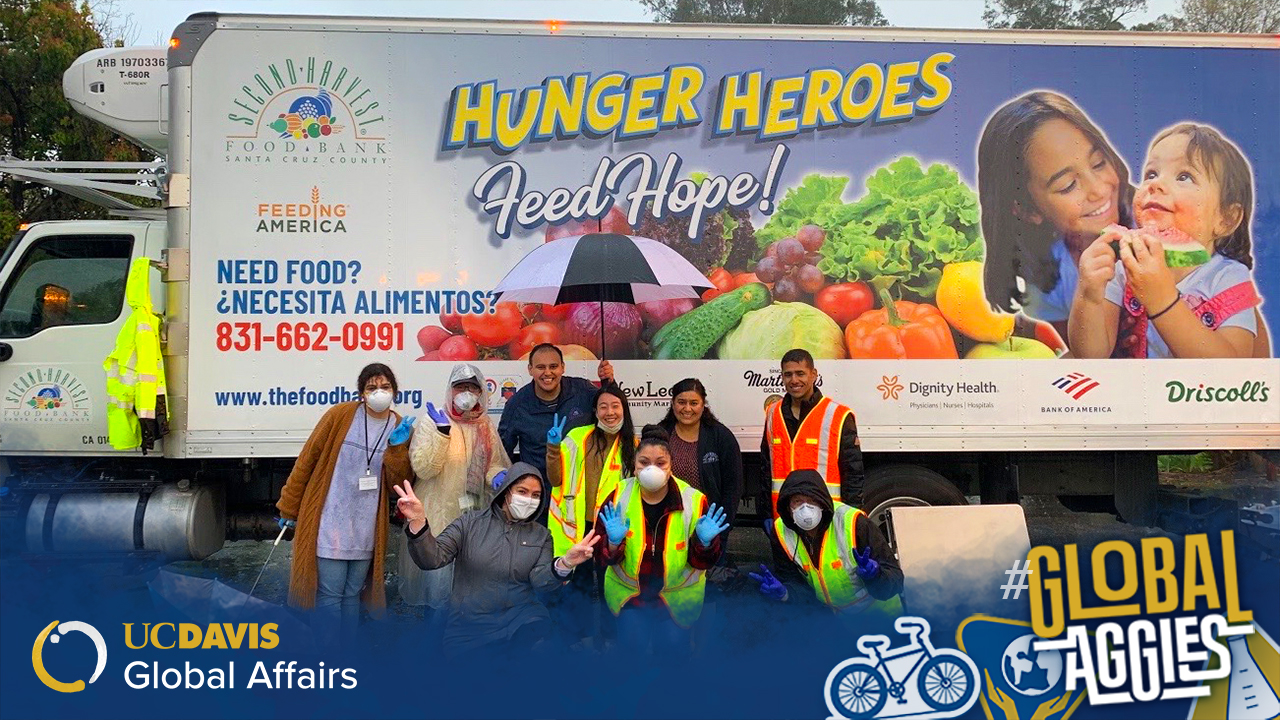 ​​​​​​​​​​​​​​From mitigating food insecurity to coordinating COVID-19 treatment trials, UC Davis alumae Michelle Lee and Emily Fehrman are putting their degrees—and global learning experiences working alongside communities—to work during the pandemic.
​​​​​​​​​​​​​​After two decades of volunteer work with cancer charities, Will Ellis '04 wasn't about to let the cascading crises of 2020 derail him. Despite pandemic restrictions on in-person events, Ellis raised more than $103,000 in 10 weeks for the Leukemia and Lymphoma Society (LLS) Greater Bay Area Chapter to win its "Man of the Year" title.
---
About the Global Learning Hub at UC Davis
Through the Global Learning Hub, each and every UC Davis student can find global learning opportunities available on campus, in the region, and across all seven continents. The hub's network of local and global academic, experiential, and leadership programs helps develop capacity for undergraduate, graduate, and professional students to engage with global issues and make a difference in the world as the next generation of global problem solvers. Search global learning opportunities across UC Davis.
As a part of Global Affairs, the Global Learning Hub aims to inspire global curiosity, understanding, and engagement.
Primary Category