Global Learning Newsletter – March 2022
Check out the confirmed schedule for this year's undergraduate UC Davis Global Learning Conference on Saturday, April 2. The conference is a great way to connect with other students and professionals with global backgrounds and interests, and explore your identity in light of future careers and opportunities. Register now for $15; space is limited.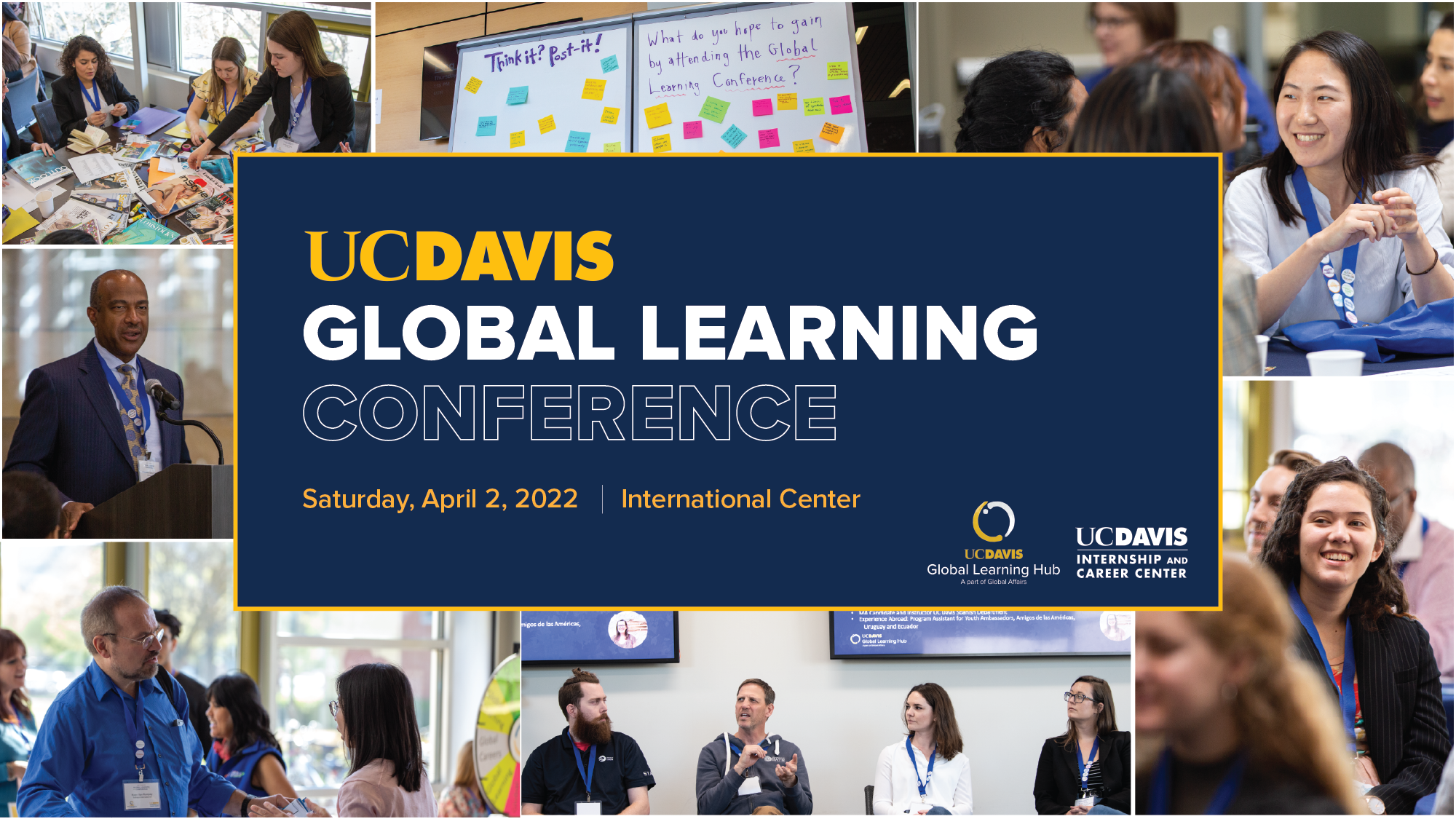 Study Abroad
​​​​​​​​​​​​​​There is still time to enroll! UC Davis Summer Abroad and Quarter Abroad is now offering Fast-Track Enrollment—allowing students to secure their spot in a program in under an hour! Full details. Programs fill on a first-completed, first-reserved basis. Financial aid applies. To receive updates or start your enrollment, create an account today.
​​​​​​​​​​​​​​Explore the cities of Salamanca, Toledo, Madrid, Cordoba, Sevilla and Granada to learn about the religious and cultural differences of Medieval Spain. Watch our recent info session recording.
​​​​​​​​​​​​​​EAP 090X/190X is a one-unit seminar open to UC Davis students who are planning to enroll in an educational experience abroad such as study abroad, internship abroad, or service learning this summer or fall 2022. The seminar will be offered in the spring quarter, Tuesdays, 9–9:50 a.m. EAP 090X-003 (CRN 62520); EAP 190X-003 (CRN 62521).
Competitions, Challenges, and Funding
​​​​​​​​​​​​​​Funding is currently available for our UC Davis Global Learning Projects this summer. Complete a Team4Tech virtual internship with NGOs in East Africa or apply for a social impact internship (in person or online) with the UC Davis Widening Circles program. Apply for funding through the Experiential Learning portal. Funding Application Deadline: March 20.
​​​​​​​​​​​​​​Teams of four-to-six students will practice critical thinking and problem-solving skills to help solve global health challenges. Your team will receive a challenge related to a pressing global health problem and prepare a 10-minute video, in English, proposing a realistic, well-designed and innovative solution. Winning prize: $1,000. Deadline: April 25. Register.
​​​​​​​​​​​​​​The Mitchell Scholarship is a fully-funded opportunity to pursue a one-year master's program in Ireland or Northern Ireland. Applicants must be U.S. citizens, ages 18-29, with a completed bachelor's degree by summer 2023. Webinar: March 10. RSVP.
​​​​​​​​​​​​​​The Rhodes Scholarship is a fully-funded opportunity to pursue a master's or doctoral program at the University of Oxford in England for one-to-three years. Applicants must have a cumulative GPA of 3.7 or greater, be ages 18-27 and have completed a bachelor's degree by summer 2023. Webinar for U.S. citizens, permanent residents and DACA recipients: March 15, RSVP. Webinar for non-U.S. citizens: March 17, RSVP.
​​​​​​​​​​​​​​The Schwarzman Scholarship is a fully-funded, year-long master's program in Global Affairs at Beijing's Tsinghua University designed to build a global community of future leaders who will deepen understanding between China and the rest of the world. Applicants must have a completed bachelor's degree by summer 2023, be ages 18-28 and be of any U.S. citizenship status. Webinar: March 10. RSVP
​​​​​​​​​​​​​​The Marshall Scholarship provides full funding for master's or Ph.D. programs at any university in the United Kingdom (England, Scotland, Wales, N. Ireland) for one-to-three years. Applicants must be U.S. citizens who complete bachelor's degrees between April 2020 and summer 2023, whose cumulative GPAs are 3.7 or greater. Overview (Zoom recording).
Leaders committed to effecting positive change in society can receive $50,000 annually for two years. Applicants must plan to be a first-year graduate student in 2022-23 in one of the following program types: MD, MBA, JD, MPP, MPH, EdD or MS/MA in social science or STEM. Application period: February 14–March 31.
Virtual Global Learning
​​​​​​​​​​​​​​UC Davis students can sign-up for free two-week internships (in April and May) related to a Sustainable Development Goal challenge of Climate Change, Health and Well-Being, or Gender Equality. Selected students will work in online groups from around the world to innovate a solution and communicate their idea with stakeholders. Deadline: March 9. Login and apply.
​​​​​​​​​​​​​​March 22–May 12. The goal of this free interdisciplinary, interactive series is to enhance understanding of the climate crisis through a foreign policy lens, including its social, political and economic impacts, with an eye towards environmental sustainability. Register.
Global Leadership, Internships, and Research
June 13–August 5. This internship, 8-10 hours per week, is designed for undergraduate students interested in education, technology and international development who want to gain real-world skills by helping to devise and deliver remote solutions to assist East African NGOs. Info Session Recording. Program and Funding Deadline: March 20. Login and apply.
June 20–August 26. Intern this summer with a social impact organization (online or in-person) while engaging in a shared online learning space for ongoing critical dialogue and reflection. Explore new pathways for learning, sharing, connecting, and acting with purpose and humility in the face of global inequality and injustice. Info Session Recording. Funding Deadline: March 20. Register.
The UN Millennium Fellowship is a free worldwide leadership development program for undergraduate students, offered virtually from August–November 2022. Benefits include a certificate, networking with global leaders, leadership training and access to a Global Platform of 7,000+ student leaders worldwide. Learn about the 2021 Fellows and their projects. Final Application Deadline: March 31. Apply.
The Planetary Health Center of Expertise (PHCOE) Summer Work Experience Program offers students a unique hands-on opportunity to work on projects related to natural resources, agriculture, climate change, and environmental and health policy. Application Deadline: March 31.
​​​​​​​​​​​​​​The UCEAP Peace Corps Prep is a free, self-paced certificate program that lets you master the skills you will need to succeed as a volunteer at the grassroots level. Spring application cycle opens March 16 and closes April 16. Register for an upcoming info session.
Upcoming Info Sessions and Events
​​​​​​​​​​​​​​March 28–April 1. The Consortium of Universities for Global Health (CUGH) conference will be virtual this year. Over 2,000 scientists, students and implementers from academia, NGOs, government and the private sector will present, learn and collaborate to address some of the pressing challenges our world faces. Email Dr. Wilkes to register for free.
​​​​​​​​​​​​​​March 31, 5 p.m. With over 40 countries and 160 programs to choose from, we will discuss the benefits of participating in the UC Education Abroad Program (UCEAP), important topics to consider as you narrow down your study abroad options and resources to help you select the best program to fit your needs. Register.
​​​​​​​​​​​​​​April 2. This in-person conference is for undergraduates of all majors and will allow students to explore their global identities and careers. Network with global professionals and connect with peers interested in all things global. Register now for $15; space is limited.
​​​​​​​​​​​​​​May 10, 4 p.m. Join the UC Davis Cal Aggie Alumni Association and Global Affairs for the Exploring Global Careers Series. Join us for this interactive panel to ask questions and learn from leading professionals about what it takes to build a successful career in business or entrepreneurship in their region of the world. Register.
Primary Category