Global Learning Newsletter – October 2021
October 19–21. Come to the Global Learning Showcase to learn about your global opportunities at UC Davis! Hosted by the Global Learning Hub, the Showcase is intended to inform students about opportunities to study, intern, and research in areas all over the world—including virtually and on campus. 30+ virtual info sessions and a virtual fair will allow you to engage with global opportunities across the UC system. Register and explore sessions.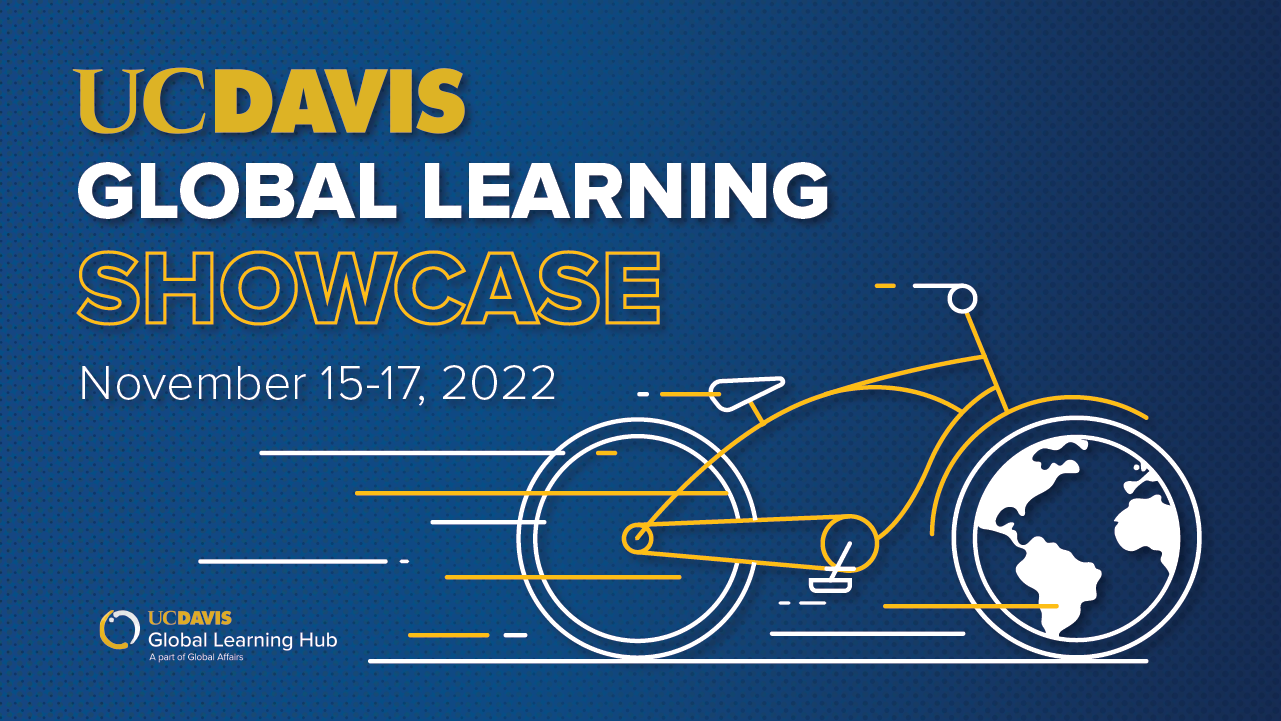 Study Abroad
Spend spring quarter in Madrid, taking accelerated courses in Spanish language and culture, with excursions to highlight Spain's incredible history and beautiful scenery. Open to all students and levels. Create an account to receive program updates. Info Session: November 2, 12–1 p.m.
Enrollment is now open through December 3 for UC Davis Quarter Abroad spring 2022 programs: Latinx Health Internships in Mexico; Language and Culture in Spain; Pharmaceutical Chemistry in Taiwan; and Internships and Culture in UK-London. Join us at an upcoming info session to learn more. Financial aid applies. To receive updates or start your enrollment, create an account today.
Here are resources available to you as you explore study abroad opportunities for 2022: Explore our programs—options available for spring, summer, and fall quarters; create a Study Abroad account to receive program updates for programs that interest you; attend upcoming info sessions; and/or meet with an advisor in the Global Learning Hub (drop-in advising: 9 a.m.—4 p.m. M-F).
​​​​​​​UCEAP applications are now open for Summer 2022, Fall 2022, Winter 2023, Spring 2023, and Academic Year 2022-23 programs. UCEAP programs offer UC credit, grades, and financial aid. Program options include immersion, special focus, language and culture, and internships. Find a program.
Global Leadership, Internships, and Research
This program connects students with faculty and diverse leaders from government, business, nonprofit, and philanthropic sectors to address real-world problems using research and data. You will have the opportunity to work one-on-one with research faculty and campus/community partners on social justice and environmental issues. Deadline: October 13.
The Global Learning Hub invites you to participate in a new Global Learning Plan Advisory Committee. This is a great opportunity to bolster your resume, get involved on campus, connect with your peers, and provide input on a new campus resource. All undergrad students are greatly encouraged to apply. Register. Deadline: October 29.
November 6–7. Do you want to use your ideas and education to help solve our complex world's many challenges—but don't know how to begin? We invite UC Davis students in all majors and disciplines to apply for this two-session, in-person immersion in innovation and entrepreneurship. Register.
LeadNext builds a network of future leaders aged 18-25 from across Asia and the U.S. and supports their growth, impact, and capacity to address today's greatest challenges. Fellows will strengthen leadership skills and gain in-depth knowledge of critical challenges facing Asia and the globe through trainings, expert-led masterclasses, and a week-long in-person Global Leaders Summit in the Bay Area. Application. Deadline: November 15.
January 2022–June 2022. UCGHI Student Ambassadors will develop, organize, and promote Women's Health, Gender, and Empowerment, or Planetary Health activities on UC campuses and mobilize student, faculty, and staff involvement to catalyze critical change. Students will receive a $250 stipend. Application. Deadline: November 15.
January 17–28, 2022. Hosted by Girl Up, the U.S. Department of State, Caterpillar and Intel, this camp will be offered virtually and in Spanish, with some English. 15 young women will be selected as counselors to support 150 girls from the U.S. and territories, Panama and Costa Rica. Application. Deadline: October 22.
Competitions, Challenges, and Funding
​​​​​​​​​​​​​​This scholarship fully funds outstanding applicants from countries outside the U.K. to pursue a full-time postgraduate degree (Master or Ph.D.) in any subject available at the University of Cambridge. Deadlines: October 13, 2021 (U.S. Citizens), December 2, 2021 (International Citizens).
Fellowships for New Americans honors the contributions of immigrants and children of immigrants to the United States. Each Fellow receives up to $90,000 in financial support toward graduate education and they join a lifelong community of New American Fellows. Deadline: October 28.
​​​​​​​​​​​​​​$96,000 towards a 2-year Master's degree in preparation for entry to the U.S. Foreign Service Agency for International Development (USAID). The program includes mentorship, two paid summer internships, and employment with USAID. Applicants must be college seniors or graduates who are U.S. citizens with a cumulative GPA of 3.2 or greater. Deadline: November 1.
Upcoming Info Sessions and Events
​​​​​​​​​​​​​​October 13, 10–11 a.m. PDT. Join this info session with two of our partners in Germany that offer research internship programs and placements to undergrads. Hear about options for virtual and in-person research, fully-funded opportunities, as well as research projects where you can apply for a scholarship. Register.
October 14, 4–5:15 p.m. PDT. Join UC Davis Cal Aggie Alumni Association and Global Affairs for the Exploring Global Careers series to network with and learn from leading professionals about what it takes to build a successful green career in their region of the world. Register.
October 15, 6 p.m., International Center Lobby. Undergrads are invited to learn about the Global Ambassador Mentorship Program and meet fellow students through a speed friending activity followed by optional boba or ice cream downtown. Join us at this casual event to make connections and meet new friends! Register.
October 17. Join this Virtual International Conference titled "Breaking the Cycle of Poverty." The conference will bring together representatives from multiple UN Sustainable Development Goals (SDG) Hubs and the UN Secretariat to discuss how we can reduce poverty. Register.​​​​​​​
October 19–21. Join this virtual summit with others who share your passion and motivation, and gain the essential perspectives and actionable inspiration of more than 60 researchers, advocates, food program administrators, farmers, and more as they explore topics like equitable and sustainable local food systems and how they can be achieved. Register.
October 19–21. Come to the Global Learning Showcase to explore your options for all things global at UC Davis! Study abroad, global internships, scholarships, and more. 30+ virtual info sessions and a virtual fair will allow you to engage with global opportunities across the UC system. Register and explore our sessions.
October 21, 3–4:00 p.m. PDT. This session provides an overview of a few global opportunities students can consider after graduation. Learn about job search tips and tools, international graduate school fellowships, federal job opportunities, and more resources available to you after graduation. Register.
October 21–22. You're invited to join a virtual journey where we'll consider water as both a focus of and inspiration for publicly engaged scholarship, creative practices, and cultural organizing. Through artist and scholar talks, performances, and workshops, there will be opportunities to learn about IA projects and research. Register (free).
October 28. Higher education has a critical role to play in helping solve the multi-dimensional and urgent challenges facing humanity to both mitigate and adapt to climate change. This virtual forum is hosted in collaboration with the United Nations Environment Programme. Register (free).
November 6. This virtual event explores "Innovation" that impacts human, animal, or environmental health. Topics include innovations in policy and health, and using traditional practices in environmental health and comparative medicine. Veterinarians, physicians, engineers, nurses, students, and researchers can learn more about the research in these areas. Register.
November 17, 10–11:15 a.m. PDT. UC Davis Cal Aggie Alumni Association, Global Affairs, and Health Professions Advising present Exploring Global Careers: Global Health. Join this panel to network with and learn from leading professionals about what it takes to build a successful global health career in their region of the world. Register.
November 15–19. For over 20 years, UC Davis has celebrated the benefits of international education and worldwide exchange during International Education Week, an initiative of the U.S. Departments of State and Education. The national week brings opportunities to participate in cultural and educational programming here at UC Davis. Share your global stories and experiences on social media using #GlobalAggies.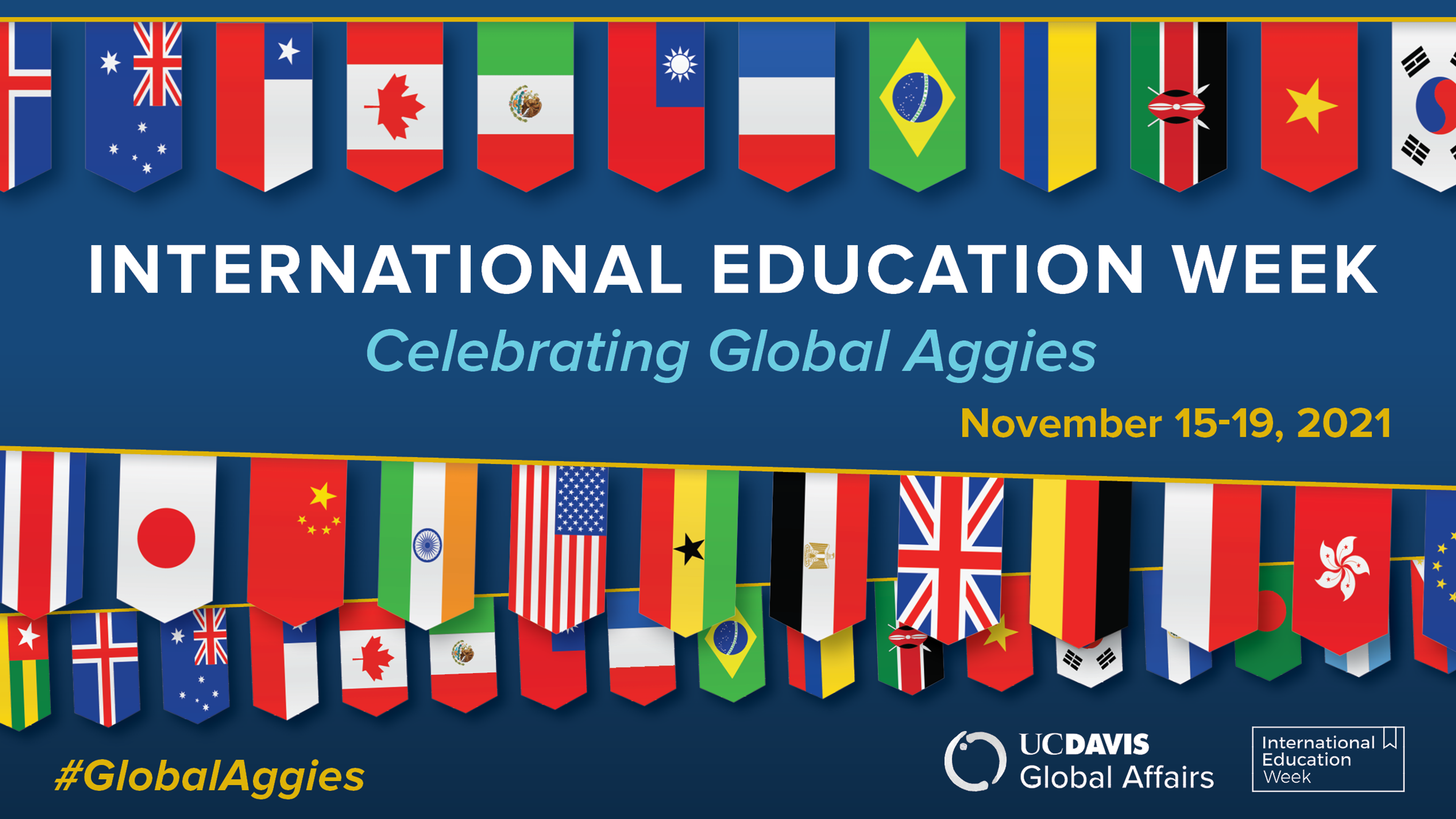 Primary Category