Global Learning Newsletter – September 2021
October 19-21. Come to the Global Learning Showcase to learn about your global opportunities at UC Davis! Hosted by the Global Learning Hub, the Showcase is intended to inform students about opportunities to study, intern, and research in areas all over the world—including virtually and on campus. 30+ virtual info sessions and a virtual fair will allow you to engage with global opportunities across the UC system. Register and explore sessions.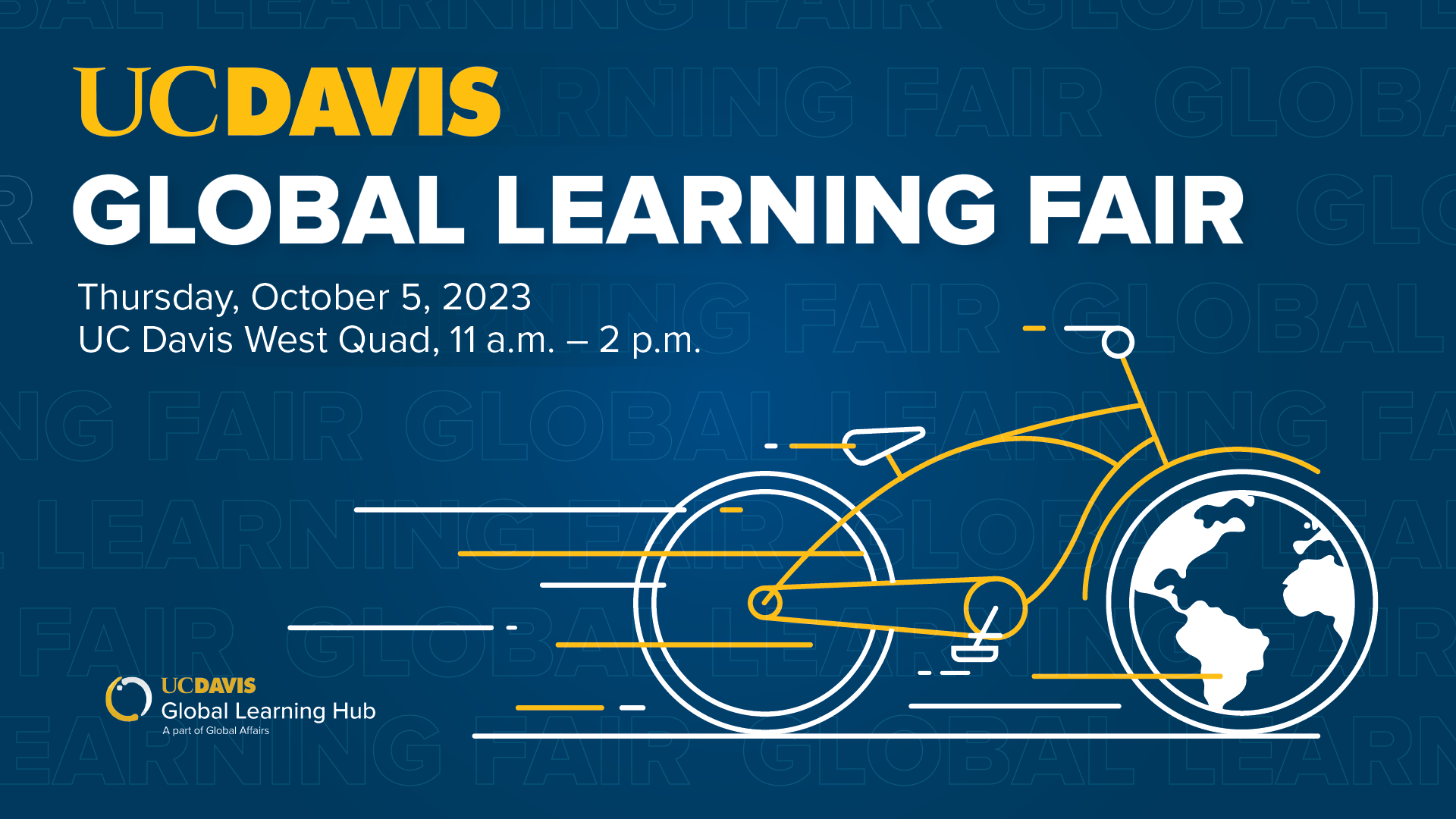 Study Abroad
Enrollment is now open for UC Davis Quarter Abroad spring 2022 programs: Latinx Health Internships in Mexico; Language and Culture in Spain; Pharmaceutical Chemistry in Taiwan; and Internships and Culture in UK-London. Programs are filled on a first-completed, first-reserved basis. Financial aid applies. To receive updates or start your enrollment, create an account today.
​​​​​​​Students will better understand their health profession career goals while taking classes on transnational (U.S.-Mexico) health issues. Students will participate in approximately 180 hours of clinical rotations through internships in hospitals and clinics in Oaxaca, Mexico. Create an account to receive program updates.
Global Learning on Campus
First-Year Aggie Connections meet regularly for one academic quarter and are led by staff or faculty facilitators who are passionate about the themed topics. Join Building Global Skills for a Connected World, Spoken World Storytelling, or one of the many other connections that relate to global learning, diversity, and identity.
Is home where we are born or where we live? Is home a right or is it earned? We invite you to contribute to the "Home is _____" Project through words and/or images. Submissions will be added to the digital quilt through September 30.
Global Leadership, Internships, and Research
Undergrad, grad, and postdoctoral scholars are welcome to submit abstracts about the theme "Innovation." This is an opportunity to showcase research to colleagues and professionals in the field. Abstracts should be limited to one page and include a title, introduction, objectives, methods, results, and conclusion. Deadline: September 17.
The SDG internship provides an opportunity for UC Davis undergrads to actively contribute to campus engagement on the UN Sustainable Development Goals. Responsibilities include liaising with students and student groups, supporting events, and collecting and organizing data. Application Deadline: September 20.
The Global Center for Latin America and Caribbean internship provides an opportunity for undergrads to support partnerships and regional engagement, including highlighting current UC Davis collaborations with the region and sharing new opportunities to get involved. Application Deadline: September 20.
October 4-22. Free for UC Davis undergrad and grad students. Want to connect, learn, and discuss global issues in a cohort of 2,000 students from around the world? Students will develop skills needed to thrive in the 21st century while tackling some of the world's most pressing problems outlined in the UN's Sustainable Development Goals. Deadline: September 24.
This fellowship opportunity—available to all UC Davis students—is a partnership with the Sacramento-based non-governmental organization Worldwide Child Relief Foundation. The fellowship will take place virtually, with the possibility of on-site volunteering in Nicaragua, conditions permitting. Available projects: health and nutrition, English teaching, working with children with special needs, clean water, community gardening, and more.
Competitions, Challenges, and Funding
​​​​​​​​​​​​​​Graduate fellowships are available to qualified students committed to joining the foreign service. The fellowship helps finance two-year graduate programs, provides two summer internships, offers mentoring from a Foreign Service Officer, and provides other professional development activities. Deadline: September 22.
This fellowship aims to attract and prepare outstanding young people for careers in the Foreign Service of the U.S. Department of State in which they can help formulate, represent, and implement U.S. foreign policy. Up to $42k for tuition/expenses, plus a stipend, to applicants seeking to enter a two-year grad program in the United States. Deadline: September 29.
​​​​​​​​​​​​​​Churchill Scholars receive the full cost of tuition and fees for 9-12 months of STEM research graduate study at Churchill College, University of Cambridge. Scholars also receive a living allowance, travel allowance for to/from the United Kingdom, an additional travel award, and visa fee reimbursement. Campus Deadline: October 4.
​​​​​​​​​​​​​​Browse national and international scholarships to find fellowships that enhance your global leadership development. Applying for a program with a campus deadline? Submit your completed application to Scott Palmer.
If you are passionate about innovation and entrepreneurship, apply to become an Innovation Ambassador for the UC Big Ideas Contest. The work consists of network identification and engagement, outreach, events, and advising.
Upcoming Info Sessions and Events
​​​​​​​​​​​​​​October 13, 10 a.m. – 11 a.m. PDT. Join this info session with two of our partners in Germany that offer research internship programs and placements to undergrads. Hear about options for virtual and in-person research, fully-funded opportunities, as well as research projects where you can apply for a scholarship. Register.
October 14, 4 p.m. – 5:15 p.m. PDT. Join UC Davis Cal Aggie Alumni Association and Global Affairs for the Exploring Global Careers series to network with and learn from leading professionals about what it takes to build a successful green career in their region of the world. Register.
October 19–21. Come to the Global Learning Showcase to explore your options for all things global at UC Davis! Study abroad, global internships, scholarships, and more. 30+ virtual info sessions and a virtual fair will allow you to engage with global opportunities across the UC system. Register and explore our sessions.
Primary Category