Global Learning Newsletter – February 2022
Study Abroad
Do you want to study abroad, but need help with funding? This year, the UC Davis Global Learning Hub has more than $195,000 available in Study Abroad Awards—meaning your chances of receiving an award (anywhere from $500 to $2,000) has more than tripled! Study Abroad Award applications are now open for UC Davis students participating in summer and fall 2022 programs. More information.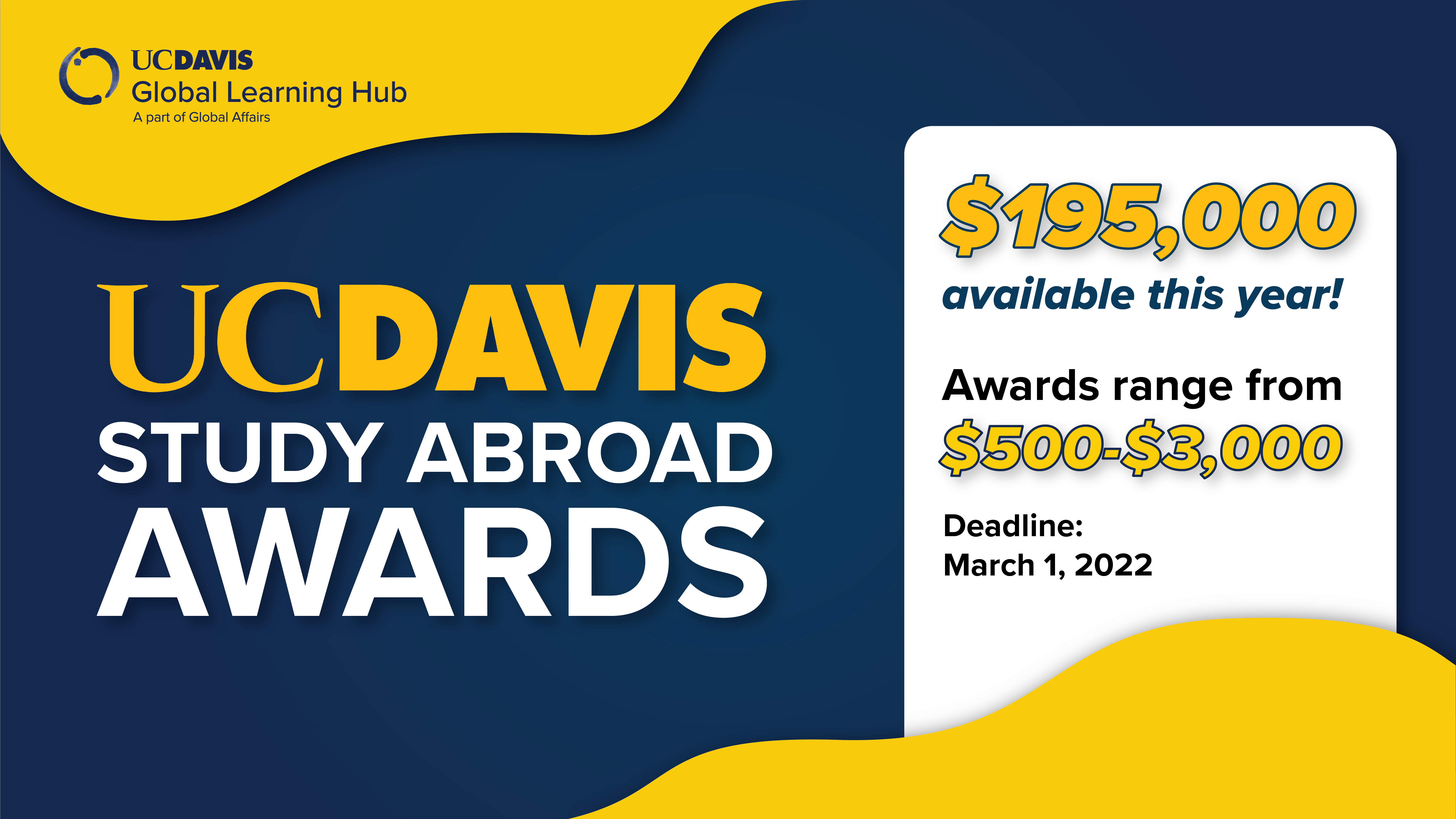 ​​​​​​​Intern in Thailand this summer! Placement opportunities may include working with industry, local NGOs, social enterprises and sustainable businesses, and traditional business and industry working on sustainability. Info Session: February 10, 12–1 p.m. Register.
​​​​​​​​​​​​​​There is still time to enroll in an internship program this summer. Programs are filling on a first-completed, first-reserved basis. Financial aid applies. To receive updates or start your enrollment, create an account today.
​​​​​​​​​​​​​​Elisabet Raquel García recently shared her experiences studying abroad as a multicultural queer Latina in Brazil, Chile and Mexico in The Californian Abroad. Through study abroad, she embraced the complexities of all her identities, and claimed her role as family historian!
Competitions, Challenges, and Funding
​​​​​​​​​​​​​​Open to undergraduate, graduate and professional students across all majors, this award provides students with funding to learn about and advance LGBTQIA+ wellbeing and rights globally, including through international, USA-based, or virtual activity. Multiple awards available up to $2,500. Apply. Extended deadline: March 7, 11:59 p.m.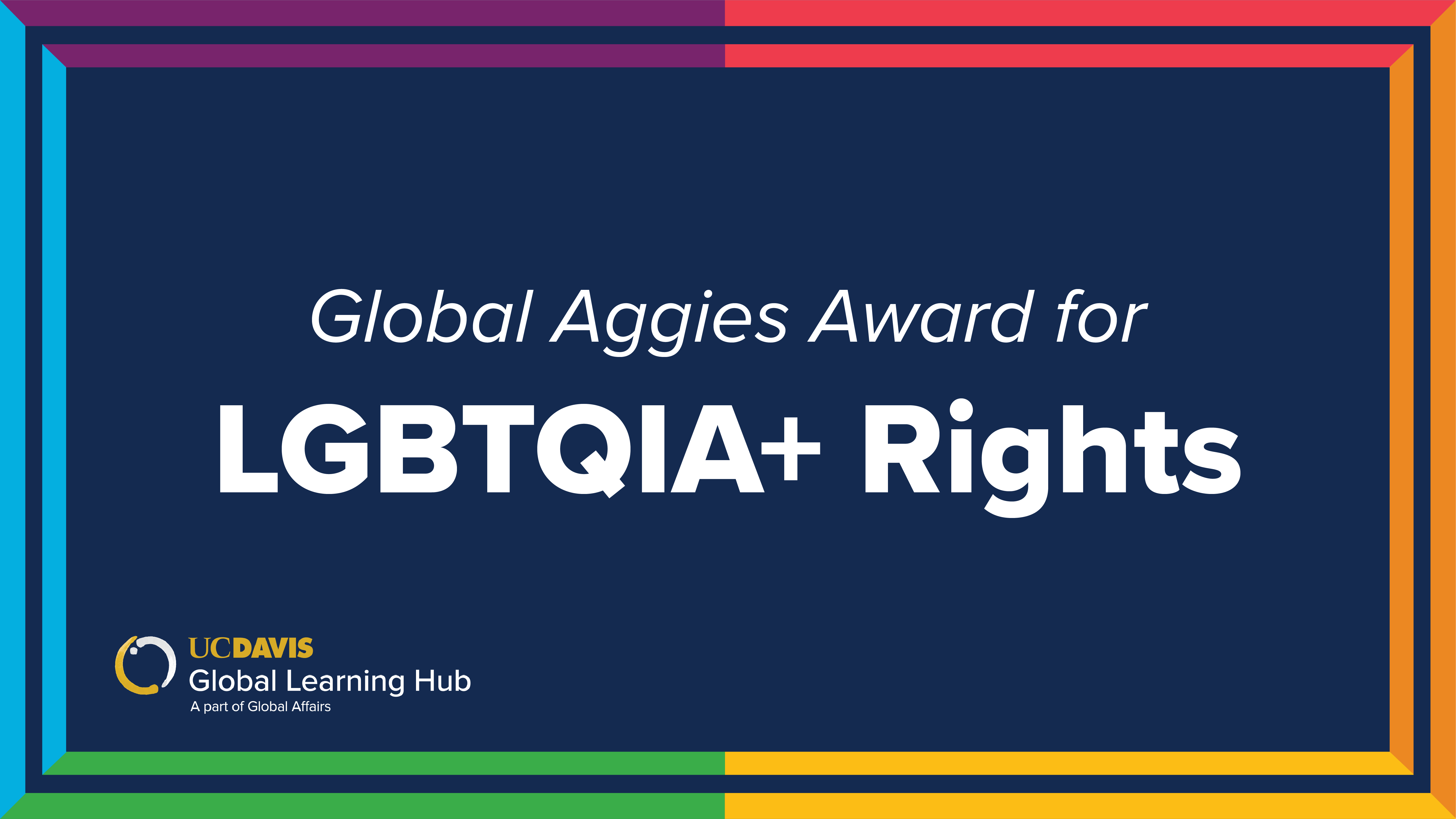 ​​​​​​​​​​​​​​Applications are now open for the 2022 Frederick Douglass Global Fellowship, a fully-funded leadership program for students of color to study abroad and explore strategies for promoting social justice, resolving conflict and advancing peace. The program will be in Ireland this year, co-sponsored by Ireland's Department of Foreign Affairs. Deadline: February 14.
​​​​​​​​​​​​​​Full funding for a six-week summer program at Howard University in Washington, D.C. This program provides a deeper appreciation of current issues and trends in international affairs, a greater understanding of career opportunities in international affairs, and the enhanced knowledge and skills to pursue such careers. Deadline: February 15.
​​​​​​​​​​​​​​The Fulbright Program funds 2,200 annual awards for a year of post-graduate research, study or English teaching in over 140 countries worldwide. Applicants must be U.S. citizens who will have completed a bachelor's degree by the start of the grant in fall 2023. Overview (Zoom recording).
​​​​​​​​​​​​​​Fully-funded three-to-four week summer programs centered around specific themes in the U.K. Applicants must be: U.S. citizens, have a GPA of 3.7 or greater, have two or more undergraduate years remaining at the conclusion of the program, and have little or no travel experience outside North America. Deadline: February 21.
​​​​​​​​​​​​​​The Marshall Scholarship provides full funding for Masters or Ph.D. programs at any university in the United Kingdom (England, Scotland, Wales, N. Ireland) for one-to-three years. Applicants must be U.S. citizens who complete bachelor's degrees between April 2020 and summer 2023, whose cumulative GPAs are 3.7 or greater. Overview (Zoom recording).
​​​​​​​​​​​​​​$50,000 annually for two years for leaders committed to effecting positive change in society. Applicants must plan to be a first-year graduate student in 2022-23 in one of the following program types: MD, MBA, JD, MPP, MPH, EdD, or MS/MA in social science or STEM. Application period: February 14–March 31.
Virtual Global Learning
​​​​​​​​​​​​​​Gain real work experience related to your career goals while interning remotely for a vetted company based in many locations around the globe. Part-time and full-time options are available. Guaranteed placement. Info Session: February 9, 12–1 p.m. Register.
July 2022. This free opportunity gives students from around the world an understanding of key aspects of Brazil from distinct perspectives. Meetings in English will cover the underpinnings of Brazilian politics, history, foreign relations, geography, law, economy and culture. Apply. Deadline Extended: February 9.
Lauren Hong, undergraduate design major and computer science minor in the College of Letters and Science, shares her motivations for participating in the UC Davis Design & Fashion Virtual Summer Internship program.
Global Leadership, Internships, and Research
June 15–August 20. This fellowship is an opportunity for immigrant youth and allies who will be placed within social justice-based host organizations and work closely with their host organization to incorporate and strengthen the role of immigrant rights issues and social justice work. Deadline: February 11. Application Guide.
June 20–August 26. Are you looking for a paid internship this summer? The HACU internship program is open to all students. Apply for an internship with one of HACU's partners. Financial support is available for housing and travel. Virtual and in-person opportunities are available in all fields. Deadline: February 25.
The UN Millennium Fellowship is a free worldwide leadership development program for undergraduate students, offered virtually from August–November 2022. Benefits include a certificate, networking with global leaders, leadership training and community social change. Learn about the 2021 Fellows and their projects. Application Deadline: February 28. Apply.
​​​​​​​​​​​​​​UC Davis students can sign-up for free two-week internships (in April and May) related to a Sustainable Development Goal challenge of Climate Change, Health and Well Being, or Gender Equality. Selected students will work in online groups from around the world to innovate a solution and communicate their idea with stakeholders. Deadline: March 9. Login and apply.
June 13–August 5. This internship, 8-10 hours per week, is designed for undergraduate students interested in education, technology and international development who want to gain real-world skills by helping to devise and deliver remote solutions to assist East African NGOs. Deadline: March 20. Login and apply.
June 20–August 26. Intern this summer with a social impact organization (online or in-person) while engaging in a shared online learning space for ongoing critical dialogue and reflection. Explore new pathways for learning, sharing, connecting, and acting with purpose and humility in the face of global inequality and injustice. Funding opportunities available. Register.
Campus Orientation is recruiting 700 Orientation Leaders on a first-come, first-serve basis to implement Aggie Orientation. Orientation Leaders will help new students transition into UC Davis the week before fall quarter begins. This is a paid, entry-level leadership role that positively impacts incoming students.
Upcoming Info Sessions and Events
​​​​​​​​​​​​​​February 10, 2 p.m. (PST), Virtual. Hear from program representatives about this fully-funded summer study abroad fellowship program for students who identify as an ethnicity typically underrepresented on study abroad programs (e.g., American Indian/Alaska Native, Asian, Black/African American, Hispanic/Latino or Native Hawaiian/Other Pacific Islander). Register.
​​​​​​​​​​​​​​February 10, 6–7:15 p.m. (PST), International Center. Join the Global Ambassador Mentorship Program for an evening of exploring different languages and their history. Come learn fun facts and new ways to say hello, goodbye, etc., in Japanese, Punjabi, Spanish, French, and Cantonese/Mandarin Chinese. We will also have a raffle for participants. Register.
​​​​​​​​​​​​​​February 11, 12 p.m. (PST), Virtual. With $195,000 available to students for 2022, your chances of receiving a Study Abroad Award have tripled! Join this workshop to learn how to apply for the UC Davis Study Abroad Award for Summer Abroad, Summer Internships, and Quarter Abroad Fall 2022 programs. Register.
​​​​​​​​​​​​​​February 11, 12:10 p.m. (PST), Virtual. Would you like to become a UN–affiliated Fellow? Attend this info session to learn more about this free worldwide leadership development program for undergraduate students. Benefits include a certificate, networking with global leaders, leadership training and community social change. Register.
​​​​​​​​​​​​​​February 15, 5 p.m. (PST), Virtual. The Gilman Scholarship provides up to $5,000 for federal Pell grant recipients to participate in study abroad and internship programs throughout the world. Learn about the aims of the Gilman Scholarship, eligibility requirements, the application process, and how to become a competitive candidate. Register.
​​​​​​​​​​​​​​February 15, 1 p.m. (PST), Virtual. Learn about the Omprakash Widening Circles Program, which offers social impact internship opportunities in the summer with a curated curriculum and multimedia storytelling. Funding is available to cover the full program fee. Register.
​​​​​​​​​​​​​​February 23, 12 p.m. (PST), Virtual. Learn how you can work with an interdisciplinary team to help African NGOs improve education in their local communities. This remote summer internship is designed for undergraduate students interested in education, technology and international development. Register.
​​​​​​​​​​​​​​March 2, 4 p.m. (PST), Virtual. As part of the 2022 UN Sustainable Development Goals (SDGs) Action and Awareness Week, UC Davis is hosting a student-run virtual symposium to bring attention to the many ways that UC Davis students are leading efforts to advance the SDGs, and in particular, SDG 13: Climate Action and climate justice. Register.
​​​​​​​​​​​​​​March 28–April 1. The Consortium of Universities for Global Health (CUGH) conference will be virtual this year. Over 2,000 scientists, students and implementers from academia, NGOs, government and the private sector will present, learn and collaborate to address some of the pressing challenges our world faces. Email Dr. Wilkes to register for free.
​​​​​​​​​​​​​​April 2. This in-person conference is for undergraduates of all majors and will allow students to explore their global identities and careers. Network with global professionals and connect with peers interested in all things global. Learn more. Register before Friday for the $10 early bird rate.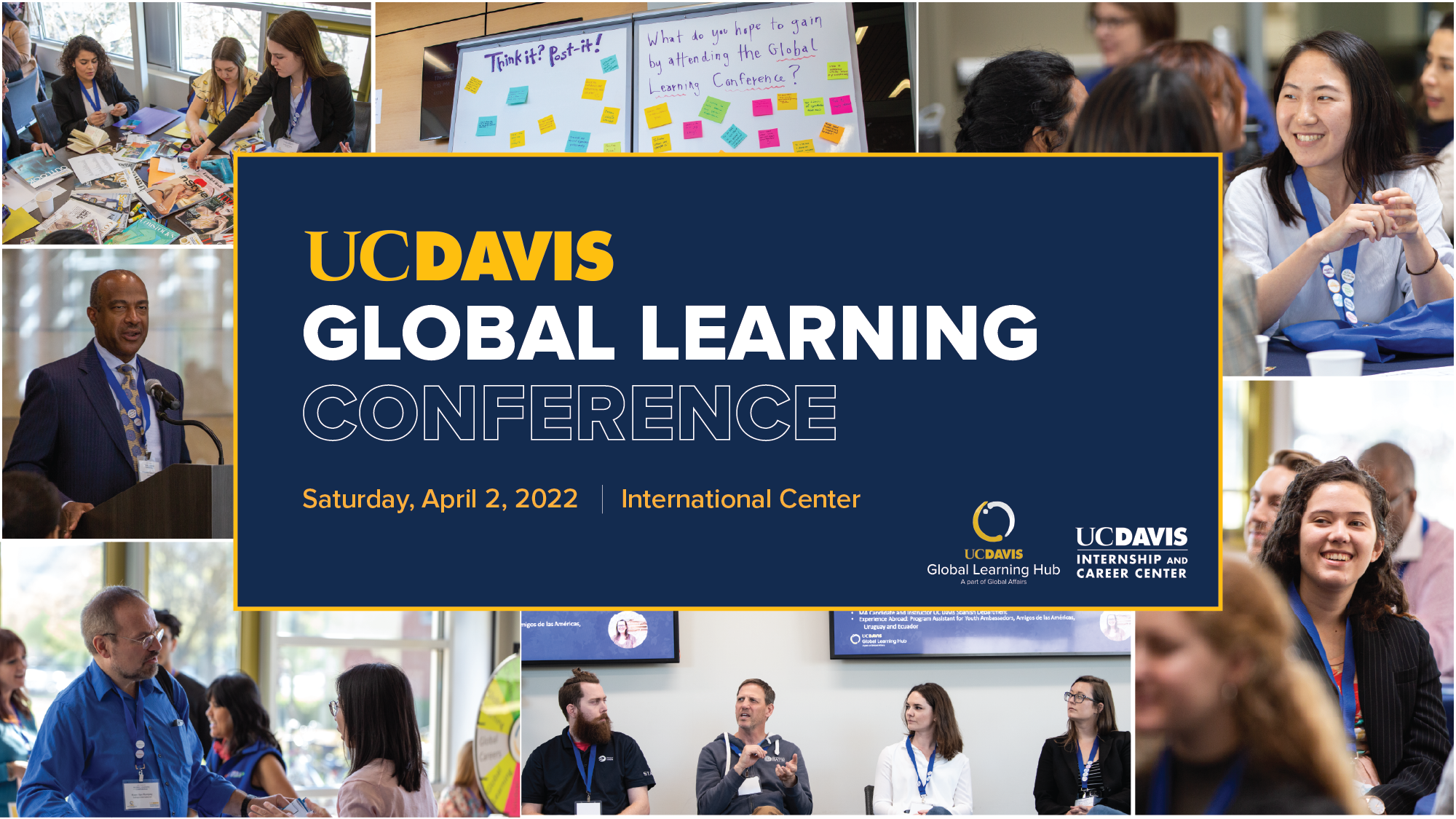 Primary Category