Writers in Greece
Aliki Dragona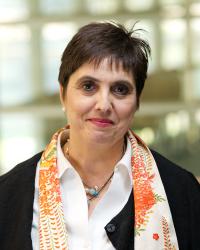 University Writing Program
A lecturer at UC Davis since 1990, Aliki Dragona has taught composition and literature in the United States and Greece. Born in Paris, France, and raised in Athens, Greece, Aliki holds a B.A. (University of Athens) and an M.A. and Ph.D. (State University of New York at Binghamton). She is also a certified literary translator (CRIT/TRIP SUNY Binghamton). Aliki has been leading her program in Greece since 2002. A native speaker and long-time Athens resident, she enjoys teaching her students about her country's rich culture and history; she believes that traveling with students around the country while reading about it is the only way they can immerse themselves in the culture and learn about it in a profound manner. Currently, apart from teaching upper division writing for the University Writing Program (UWP), Aliki Dragona is also the Faculty Director of Academic Programs at the Global Learning Hub, within Global Affairs.
A Message to Students and Parents
I was born in Paris but raised in Athens, in the neighborhood of Nea Smyrni. Both my parents spoke several languages and because of their jobs, consistently entertained guests from all over the world. My favorite childhood activity was to tag along with my parents when they took international friends to the different museums and archeological sites. Because my parents valued bilingual and multicultural education, I was enrolled in a Greek-American school, Pierce College: The American College of Greece, for middle and high school, whereas my brother went to a Greek-Italian school. Sending me to the U.S. for my graduate studies felt natural to our family—and as an international student in the U.S., I felt right at home immediately. Teaching a Summer Abroad program in my homeland was the next natural step for me, one that brings me full circle back to my origins. This program allows me to do what I love most: teach the history and culture of Greece through reading and writing to students who are learning to love the world around them.

I absolutely delight in teaching students abroad, and I cannot think of a more satisfying experience as a teacher. I often tell my students that one of the main reasons I teach abroad is my small contribution toward world peace. When my students are immersed in another culture and study it intensely for 4 weeks—and pursue global learning—they realize that what unites us all is our humanity; when they try to understand another people and their views, they glean that their efforts are acts of generosity and compassion that bring them closer to practicing kindness and affirming humanity."
Tags